The focus of health and wellness became more relevant during the coronavirus (COVID-19) pandemic. Fitness tracking systems like Fitbit have had a long journey as the competitive market of wearable technology grew. Learn how the strategy and journey of Fitbit has evolved over time. 
Updated on December 1, 2021
Fitbit has remained a top wearable tech company due to its ability to adapt its development, product, and marketing strategy to find a niche in a competitive market. 
Browse our list of top wearable app developers.
FitBit excels at executing a particularly effective type of branding and marketing strategy: Identifying and marketing the fitbit strategy to niche audiences. 
This pivot kept it competitive until its ultimate acquisition by Google in 2021. 
Its strategy and journey paint a picture for how a company can stay afloat as a wearable tech company – or broadly, any type of company – dominated by household brands. 
How Fitbit's Strategy Maintains Longevity
Who Invented Fitbit?
While Fitbit is considered one of the first fitness technologies in the app development world, the idea of fitness tracking has a longer history. 
The first pedometer, the "Manpo-kei," was invented in 1965 and encouraged people across Japan to walk 10,000 steps per day. 
Pedometers, however, were slow to catch on in the U.S. until one digital entrepreneur got fed up with his sedentary lifestyle and decided to do something about it.
I had been working like crazy at startups over the last three years and really let myself go in terms of fitness 
-Fitbit co-founder James Park explained as he described what motivated him to invent the Fitbit.
As a result, Park and his partner Eric Friedman developed the first wearable fitness tracker - called the Fitbit, which was released in 2008.
It was just what America needed to get up and get moving. 
Within four years, Fitbit rode the wave of wearable devices and app development. At one point, it owned 67% of the activity-tracking marketplace, and by 2015, the fitbit strategy led to 21.4 had sold 21.4 million devices being sold before going public the following year.
Fitbit's dominance was short lived, though, thanks to the release of Apple's Smart Watch in April 2015.
How Fitbit Competed With Apple and Samsung
Fitbit survived in the highly-competitive wearable fitness tracking industry by using niche marketing strategies. 
In 2017, the company began focusing on technology that provides exceptional medical features in its fitness tracking devices. In the same year, Fitbit launched its own version of a smartwatch, to keep up with competitors such as Apple and Samsung.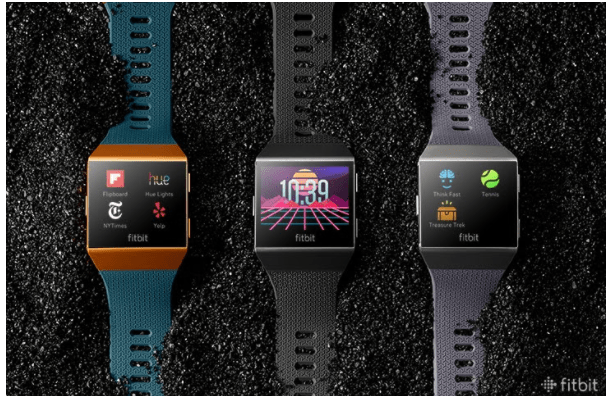 Along with a new look and feel as watch technology adapts, Fitbit's strategy now goes beyond tracking steps and workouts. 
Fitbit now caters to hospitals, patients, and health insurers by addressing four major conditions:
Sleep disorders including sleep apnea
Diabetes
Cardiovascular health 
Mental health
Early findings from a recent study conducted by Fitbit found that their devices could also identify early signs of the coronavirus at early stages. 
According to the study, Fitbit was able to identify, "...physiological signs of disease detected by Fitbit devices simultaneously with study participants' reporting the onset of COVID-19 symptoms, and in some cases even before. Based on the findings of our study, we can detect nearly 50 percent of COVID-19 cases one day before participants reported the onset of symptoms with 70 percent specificity." 
In addition to carving a niche within the medical industry, Fitbit's marketing strategy relies on community-building.
Its online presence reflects this: Their website content provides users with ideas and inspiration for improving wellness, along with virtual and local fitness activities to encourage participation.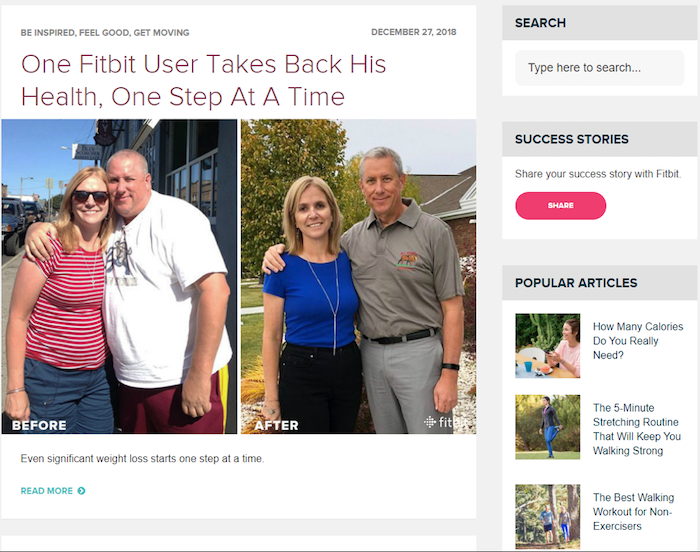 Source: FitBit
Fitbit's marketing strategy focuses on building a niche and catering to an audience that fits it.
Fitbit founder and CEO James Clarks insists the company is now unfazed by its competition. In an interview with CNBC, Park stated that the company has a community of over 50 million registered users who position the company as a strong competitor in the industry. 
How Fitbit Continues to Grow
Fitbit's growth was driven by developing custom software that catered to its niche audience.
For example, the company integrated Amazon's Alexa to provide features on its products such as:
24/7 heart rate tracking
Sleep scores
Additional apps
Competing directly with brands such as Apple and Samsung would have put many companies out of business: More than 80% of people use mass merchant retailers as their preferred shopping apps. 
To find a space where Fitbit could survive against this level of competition, it chose a narrower category to dominate and developed a marketing strategy to cater exclusively to people interested in improving their health. 
Choosing a Niche Market Can Businesses Succeed in a Crowded Market
There are several lessons developers, marketers, and brand consultants can take away from Fitbit's story. 
Pay attention to trends and implement them as Fitbit did with its own smartwatch release in 2017.
Tailor your marketing strategy focuses around narrow market within a specific industry 
Develop the best product for your target audience 
Instead of matching Apple's growing list of features on every new release, Fitbit developed medical technology that competes with, and in some cases outshined, what Apple and Samsung devices.
By encouraging users to take part in activities and providing information and support, they also developed a community that is eager to learn about new releases and features.
Many businesses in the B2B sector can learn from Fitbit's strategy while building their own app development projects. 
Additional Reading
Need Help Finding a Company?