A newsletter is an effective tool that communicates updates and delivers value to your customers. Explore 14 popular newsletter examples from different industries to see what can work for your small business.
Information overload is more prevalent than ever – especially when it comes to your inbox.
It is challenging to separate what's important and what belongs in spam. Inbox users and small businesses with an email marketing focus face the same issue.
Subscribing to an email newsletter can give users the information they want and need - but as a small business, how do you determine that? If done well, an email newsletter can serve as a trusted resource. But if not, expect that email to hit the trash folder.
This article acts as a guide for small businesses on how to structure their business newsletters, who to send them to, and 14 examples of successful email newsletters from popular brands.
In need of help with your email marketing efforts? Explore our directory of email marketing companies.
What Should Your Business Newsletter Include:
An email newsletter should be personal and customized to each subscriber.
All business newsletters should include:
A compelling subject line
Concise bodies of text
Images, audio, or video
Your company's logo or masthead
Additional promotions, special offers, or updates
An email footer with social media links, subscription information, and contact details.
Newsletter content and design are key to getting your target audience to hit subscribe.
Why Should You Send a Newsletter?
The goal of every email newsletter should be to provide ongoing value to your target audience.
An email newsletter can:
Increase the influence you have on your audience
Improve your credibility and authority in the marketplace
Email newsletters only work if there is relevant content to attract readers' attention – think critically about if your business has the bandwidth to invest in this content marketing strategy.
Additional Reading: 'Why Newsletters are Essential to Your Marketing Strategy'
Who Should Receive Your Newsletter?
To avoid seeming spammy, your small business should only be sending email newsletters to customers that have been involved for a period of time. Avoid new customers for now.
Receiving an email newsletter should feel like getting an update from a friend – not a hard sell from a salesperson.
To get started, craft a list of potential customers that have engaged with your team in the past. You can even include sharing capabilities (like promoting a giveaway) within the newsletter to trick them into sending the email to others that would be willing to hit subscribe.
Now that we've broken down the ins and out's of email newsletters, here are some email newsletter examples that your small business can use as templates.
14 Newsletter Examples for Your Business
Hung Up
From entertainment journalist, Hunter Harris, Hung Up is a pop-culture enthusiast's dream.
To describe her obsession with celebrity gossip, Harris crafted the media newsletter for paid and free subscribers.
In the weekly newsletter, Harris includes everything from essays, interviews, reviews, gossip, and more.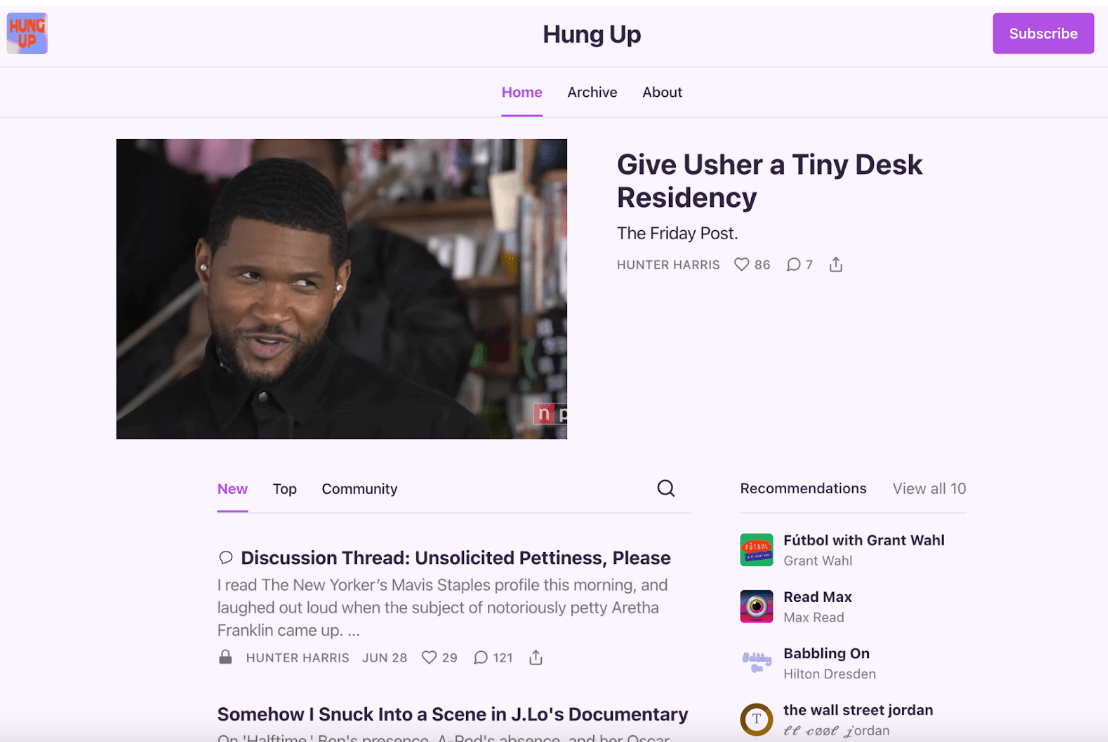 Paid subscribers receive specialized content, but all subscribers can receive Harris' witty anecdotes about the current celebrity climate.
By including email content that balances newsworthy information and funny musings, Harris can attract her target audience with an overall great email.
Small businesses can balance news and commentary for their audience base.
Amazon Prime
For Amazon Prime subscribers, their newsletter content focuses on the e-commerce side of the business.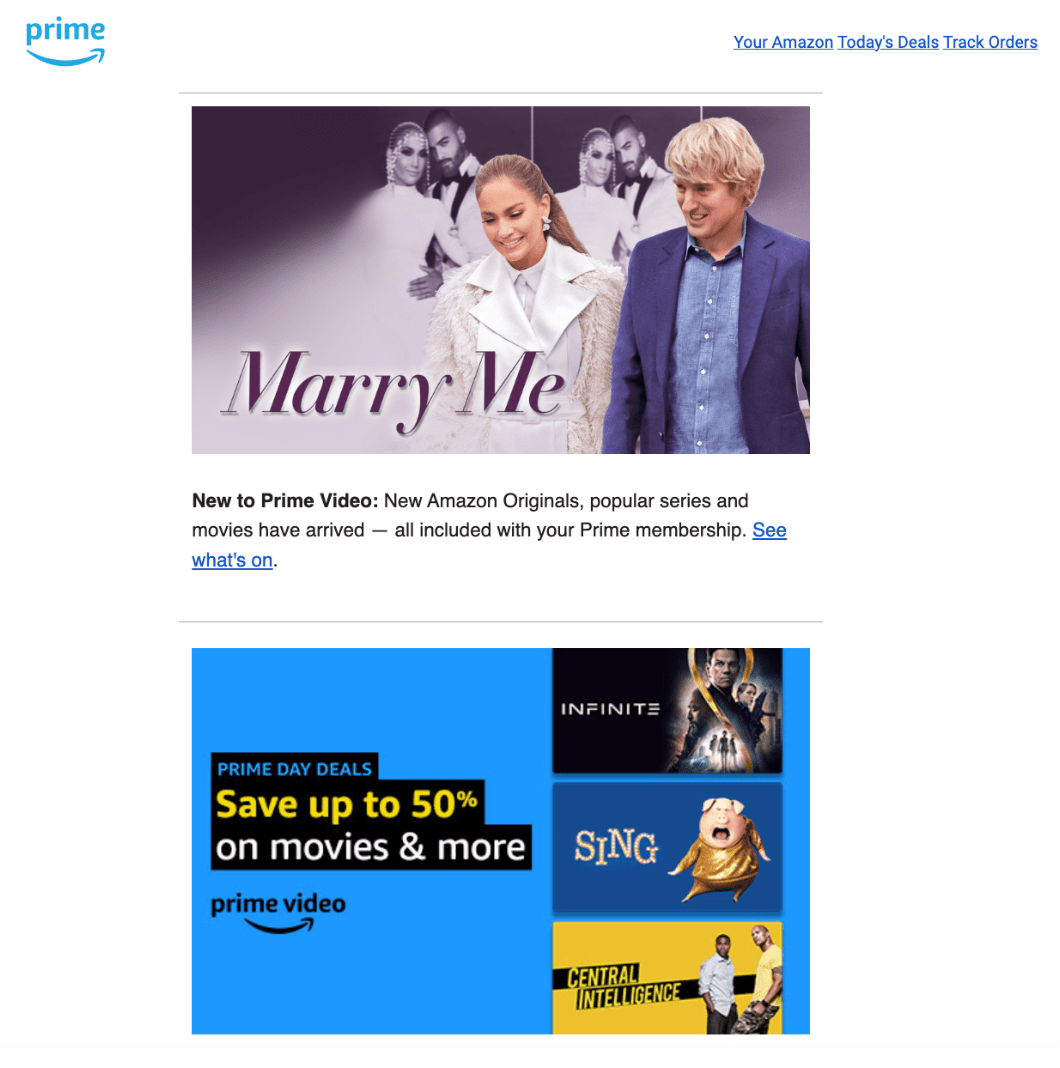 The newsletter provides promotional offers, information on upcoming releases and new products, and more to attract their email list to make a purchase.
Depending on your company's email subject, you can turn email readers into conversions by including attractive deals within your email newsletter.
The Lady Gang
One of the best email newsletter examples comes from the pop culture podcast, The Lady Gang.
Their weekly newsletter combines promotional content with creative font choices and design elements.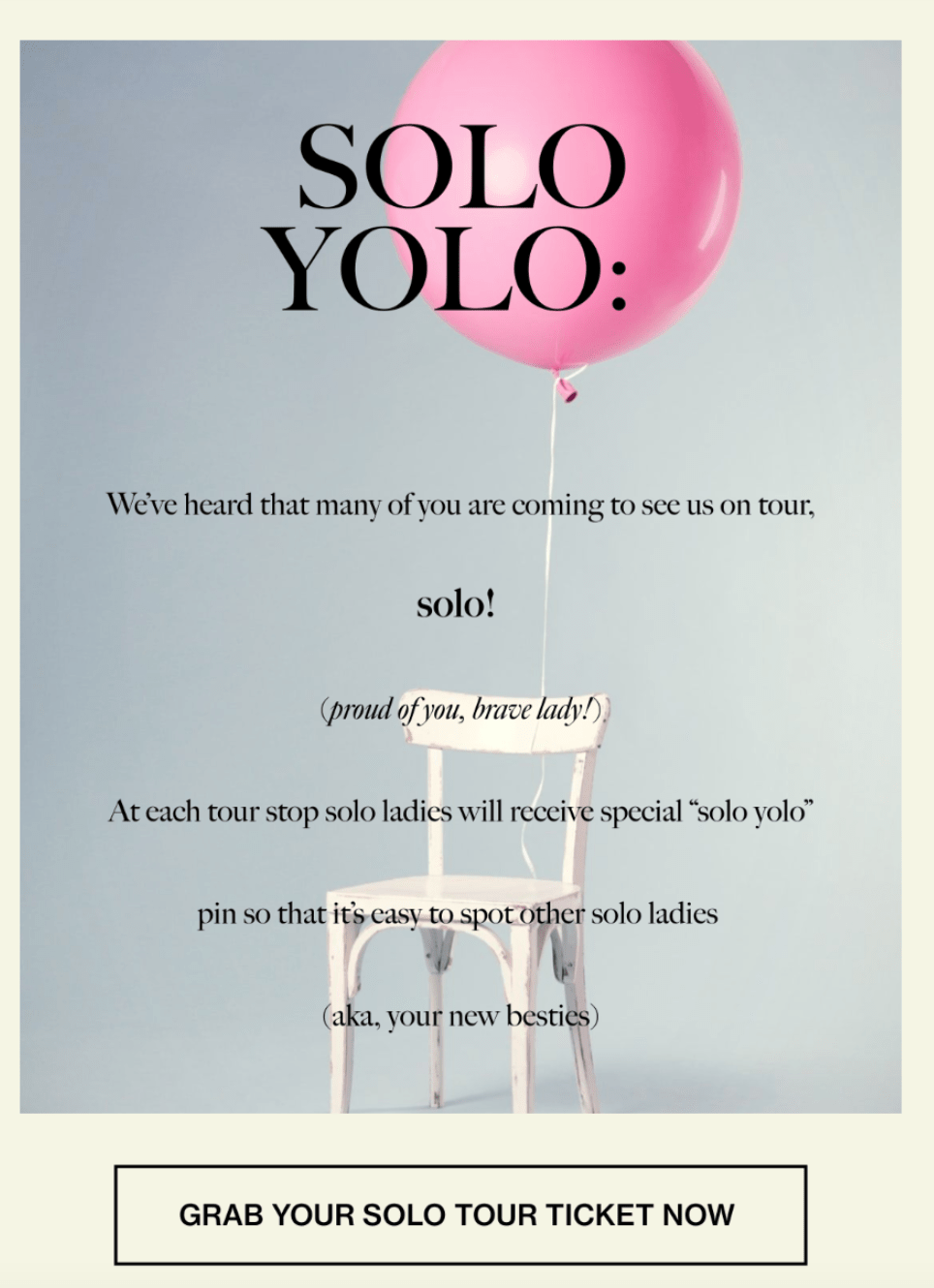 A recent newsletter from the ladies includes an image that promotes their upcoming podcast tour. With the header "SOLO YOLO," the group is encouraging solo ladies to go to the show with a special promotional offering.
Business owners can mirror this tactic with product updates and pricing details within their email newsletter.
Additional Reading: 'Email Acquisition & How to Convert Leads'
Search Engine Journal
An engaging subject line can increase open rates.
In one of their round-up article newsletters, Search Engine Land plays around with an engaging subject line.

The use of "Must-reads" encourages users to click and see what they're missing out on. The emoji use also provides a flair for creativity.
Small businesses can experiment with engaging subject lines without going over the top.
TheSkimm
TheSkimm is one of the popular, daily email newsletters. For companies looking for email newsletter ideas, TheSkimm is a great place to start.
Along with daily email newsletters that provide news content, blog content, testimonials, and more, they release a "Weekend" edition with top stories and recommendations and promotional emails that feature new products and giveaways.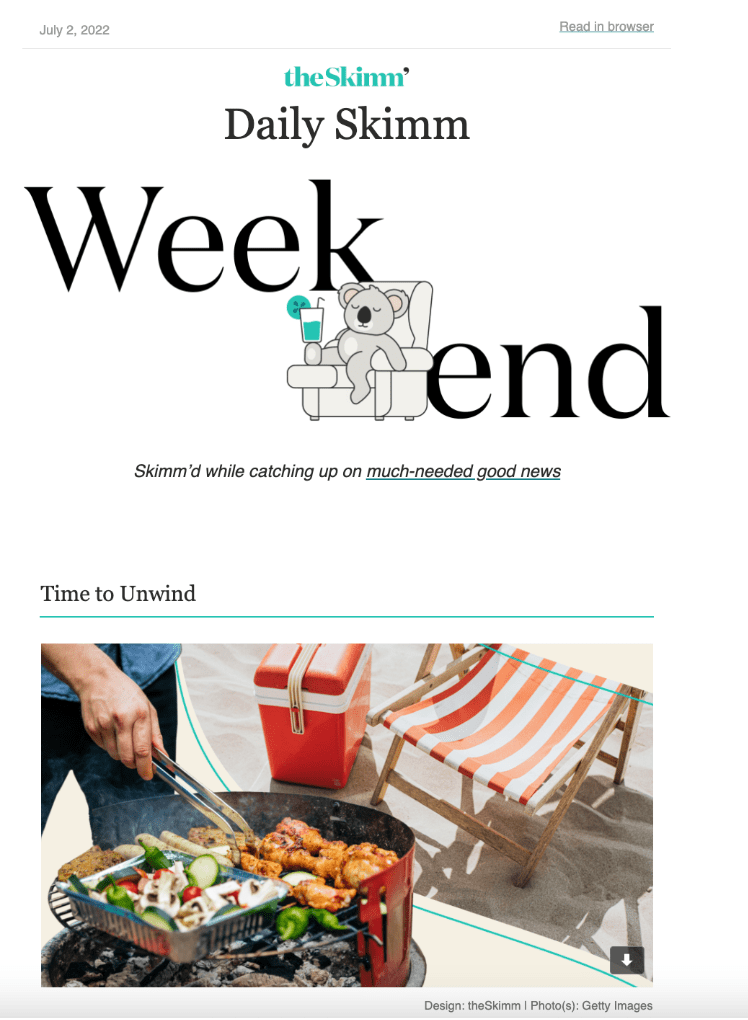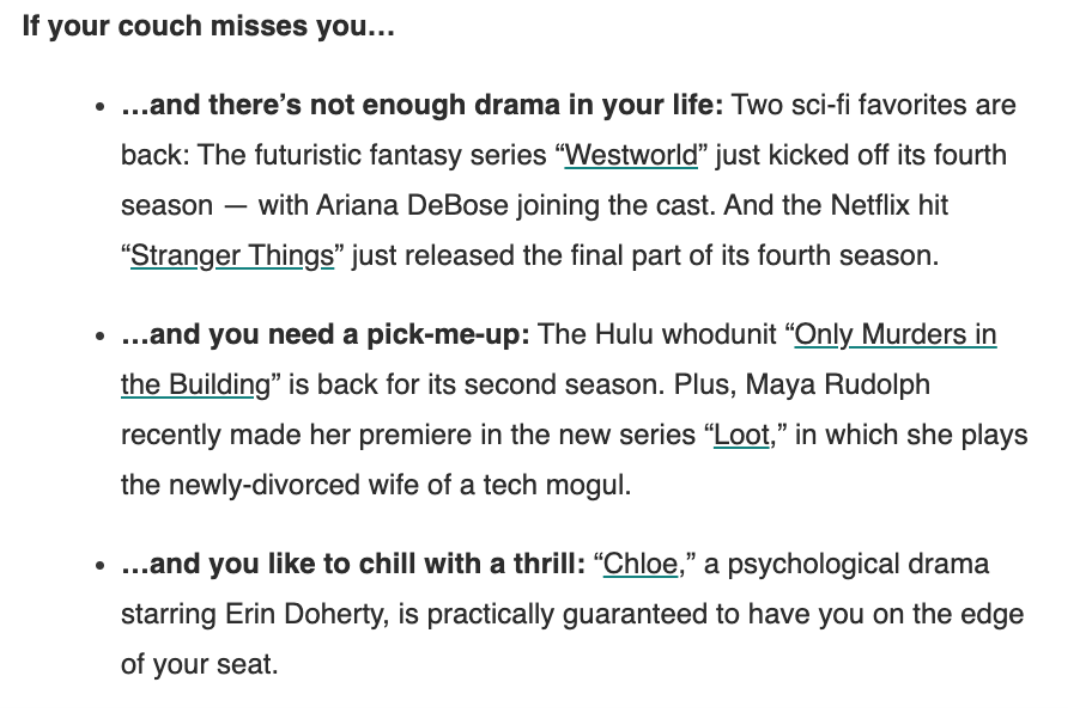 Business owners can provide valuable content in their email newsletters while balancing fluff and serious news.
Amtrak
With frequent promotional emails, Amtrak's goal is driving business while attracting new subscribers and riders.
With the promise of "easier travel," their emails promise low fares, upgrades, hotel deals, and more.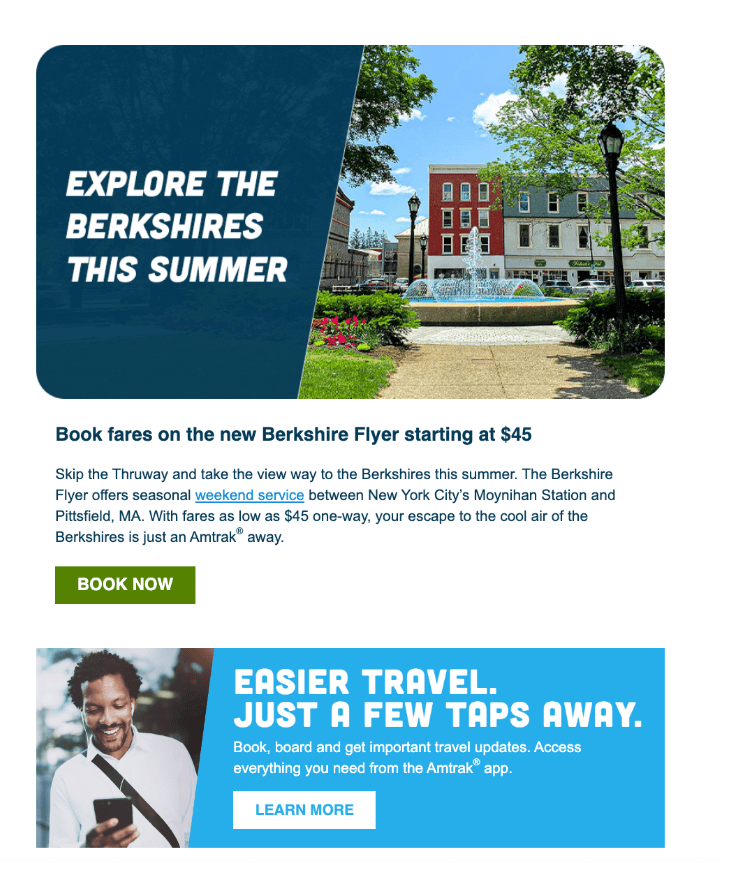 Their use of the CTA button also drives users to click.
If your business is looking to drive conversions, use eye-catching language, buttons, or even gifs to draw clicks.
BuzzFeed News
BuzzFeed News' daily newsletter provides commentary about some of the biggest stories as digestible blog content.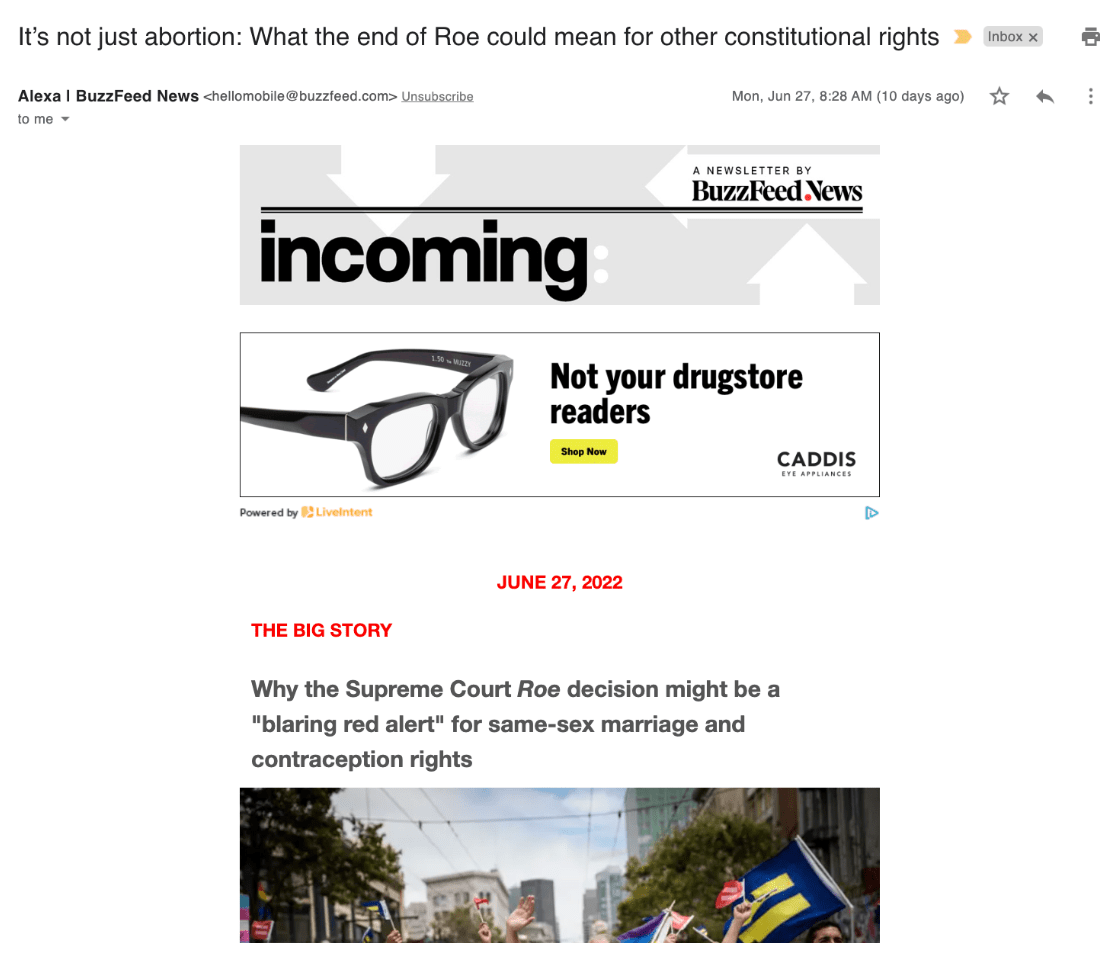 With a roundup of some of their more recent stories, the newsletter focuses on current events that their readers want to see.
The email is organized in a clear and concise way, which could work for businesses looking for ideas for newsletter templates.
GoodReads
GoodReads caters each of their newsletters to their direct customers.
For users with an account, you receive a status update on your current book, blog content on popular books, and other recommendations from avid readers.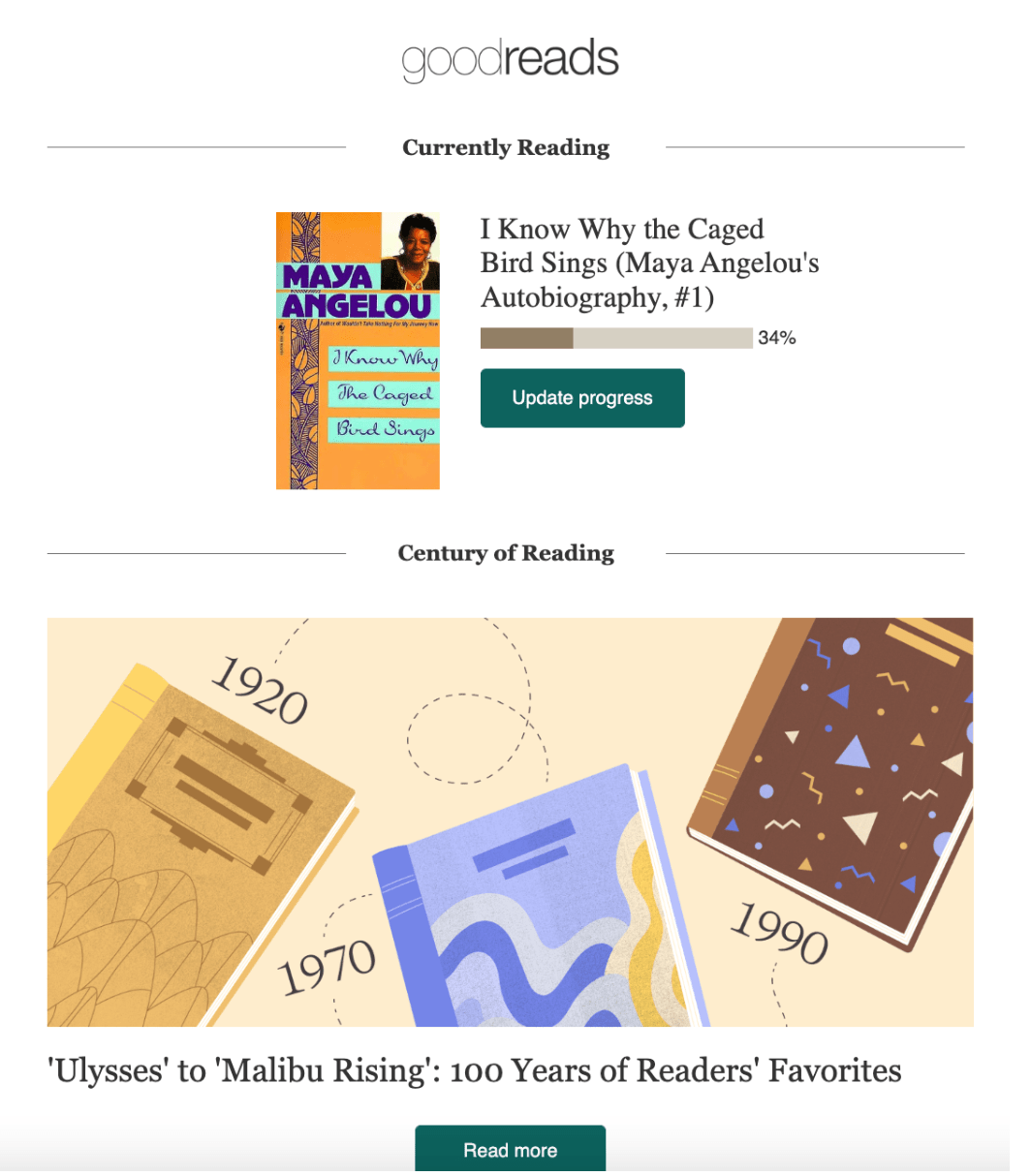 The email newsletter design is very clean but adds color with the featured book covers and other icons.
Small businesses can add a personalized touch to their email newsletters if their business has an account offering for the customers on their email lists.
#SEOFOMO
If your business specializes in digital marketing, content marketing, or even email marketing, experiment with a blog-style roundup newsletter.
The popular #SEOFOMO newsletter focuses on trends within the SEO space.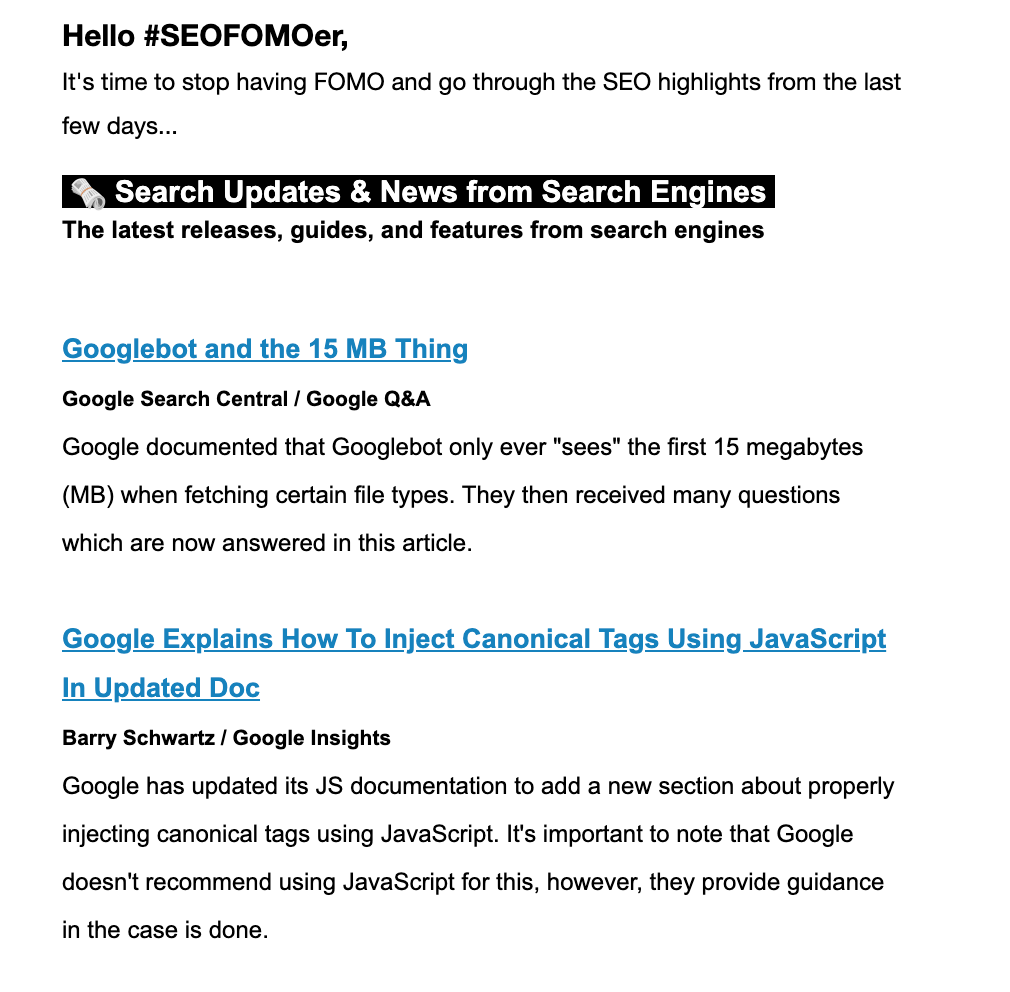 The articles include expert thought leadership, examples of SEO strategies, and free tools.
While the newsletter is very content-heavy, the headers are organized to help guide a reader's journey.
Your small business can showcase your expertise with an email newsletter that helps build trust and credibility with your target audience.
Read this: 'Best Practices for Email Marketing Automation'
Shondaland
Shondaland focuses on blog content and testimonials for their email marketing strategy.
Their weekly newsletter provides interviews, recipes, news stories, and more for their target audience.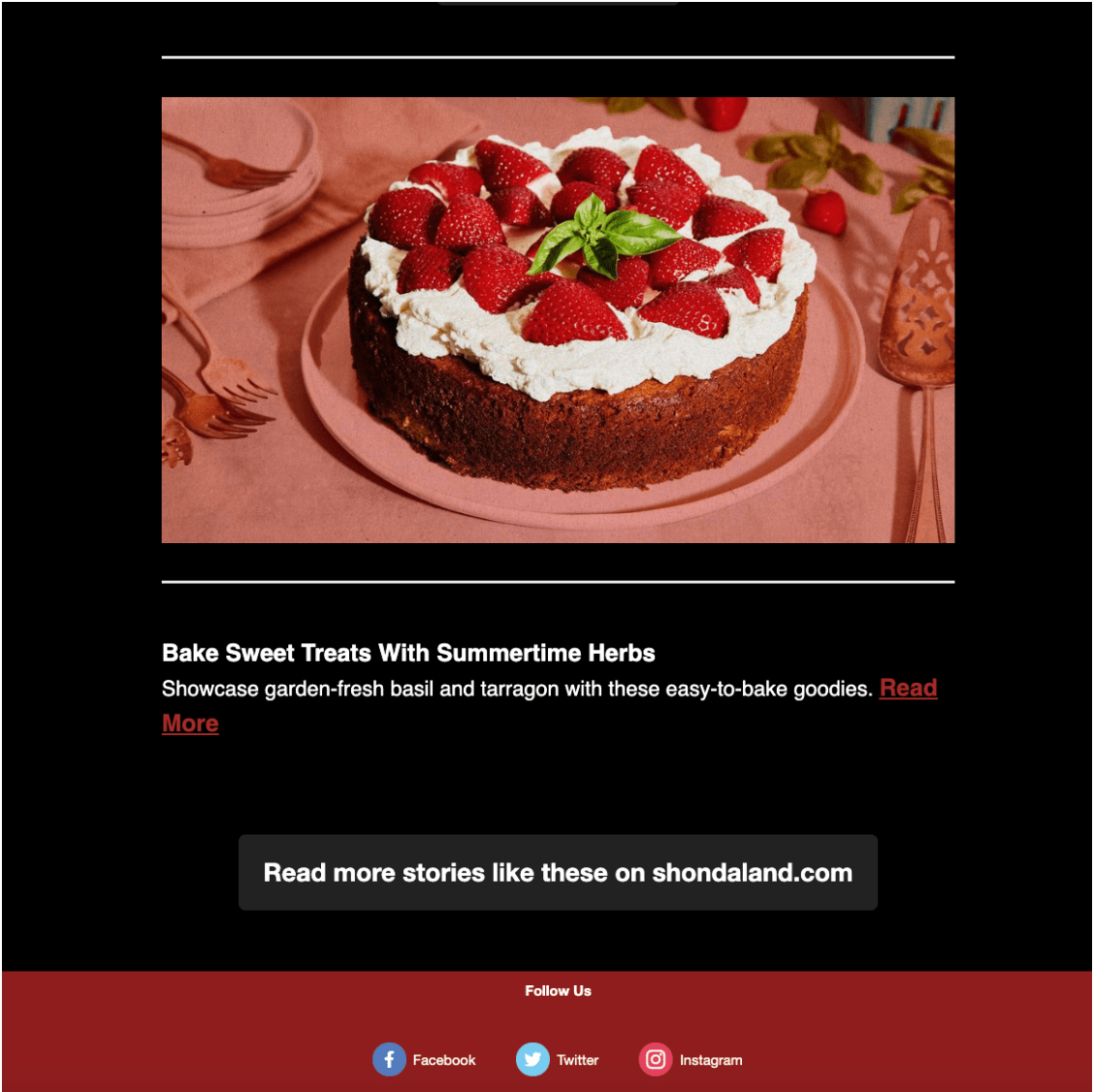 At the bottom of the email, there is a CTA button that takes users to their website, social media follow buttons, and an unsubscribe button.
Small businesses can experiment with the content in their newsletters to see what drives users to their website.
Barkbox
Barkbox is a monthly subscription service for dogs. Each month, subscribers receive a themed box with treats, toys, and other inspired gifts for their loved one.
They also send out holiday newsletters to promote deals.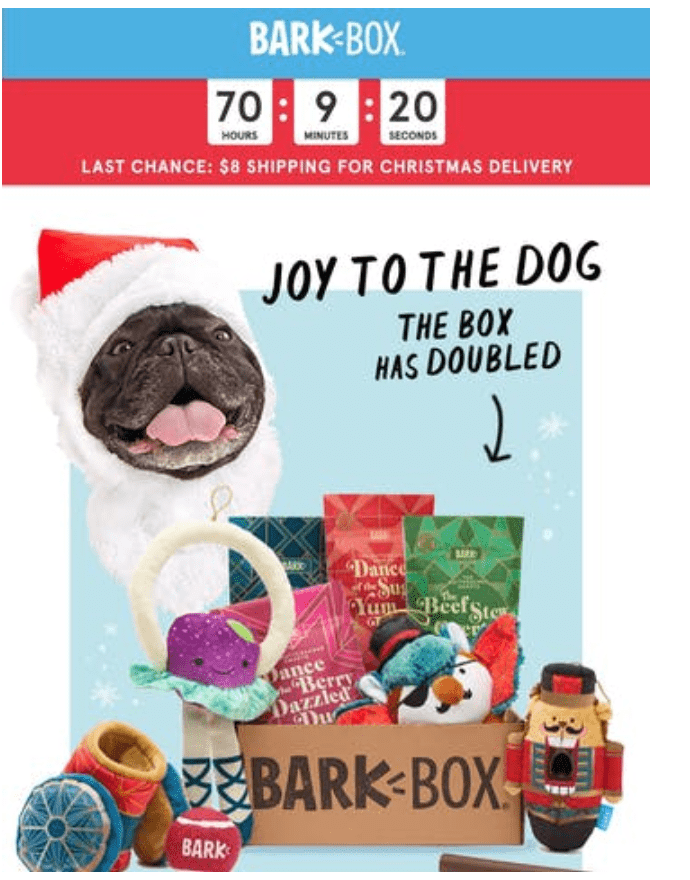 Be creative with your email newsletter content by experimenting with headings, visuals, and real-world trends and events.
Spotify
Spotify is a major gameplayer in the music industry. With many aspects in the world of music streaming and audio, Spotify is able to focus on the niche side with one of their newsletters.
"Show Notes" is their podcast recommendations newsletter.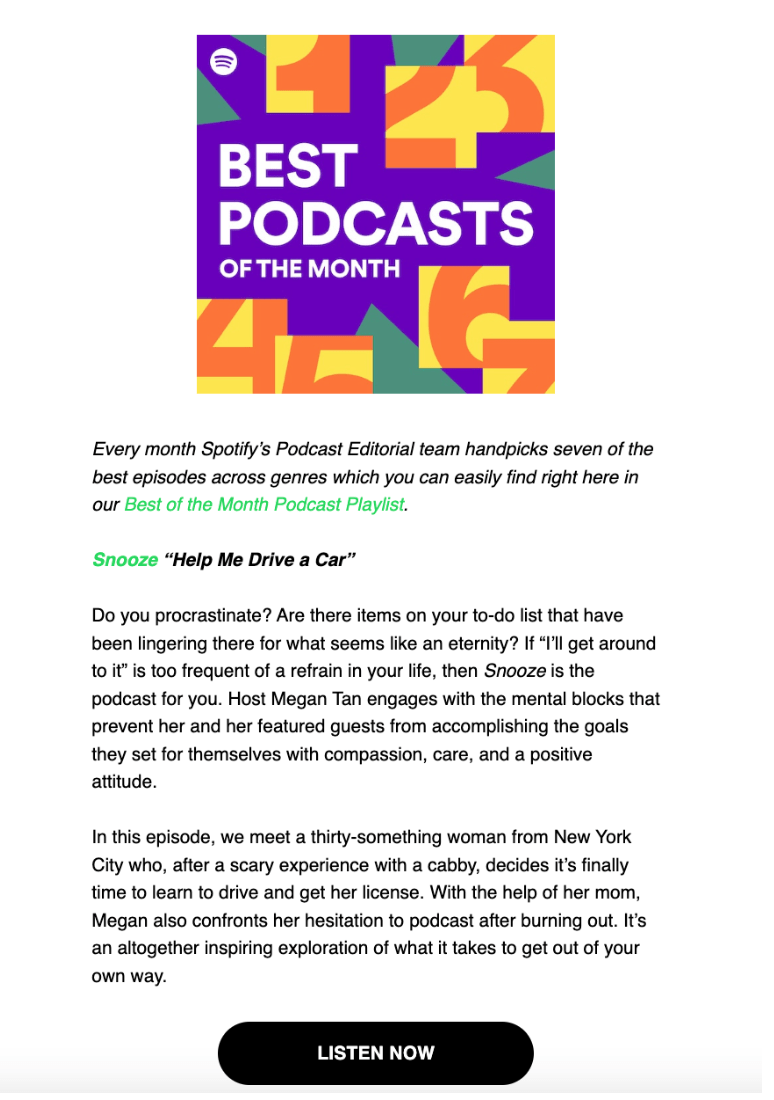 The newsletter provides a roundup and description of recent podcast episodes and podcasters that are on the rise.
If it works well for your marketing strategy, your business can create specific email marketing campaigns for your services or products by using your email newsletter as an outlet.
NYT Cooking
Each month, The New York Times releases a newsletter that focuses on new and fresh recipes.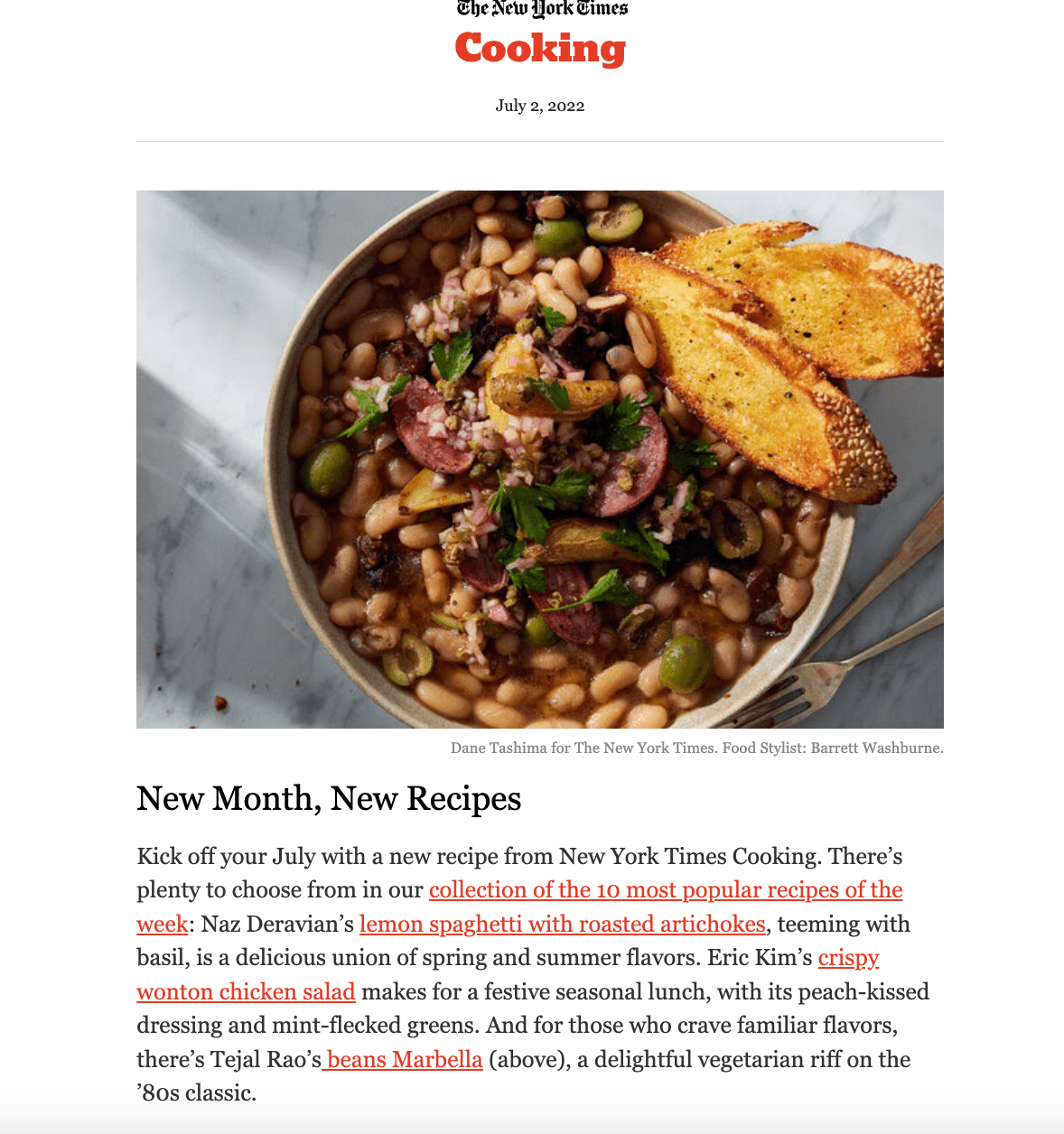 One of the best newsletter examples, The Times includes fun and simple recipes with eye-catching images.
Imagery is an important aspect of email newsletters – ensure that your email copy includes several within the body.
Beauty IRL
Newsletters that combine different aspects are more popular with audiences.
BEAUTY IRL is a newsletter that focuses on the intersection of politics and pop culture through trends, experiences, and breaking news.
Along with providing their thoughts on today's political climate and news cycle, the newsletter sends out weekly and monthly beauty product reviews.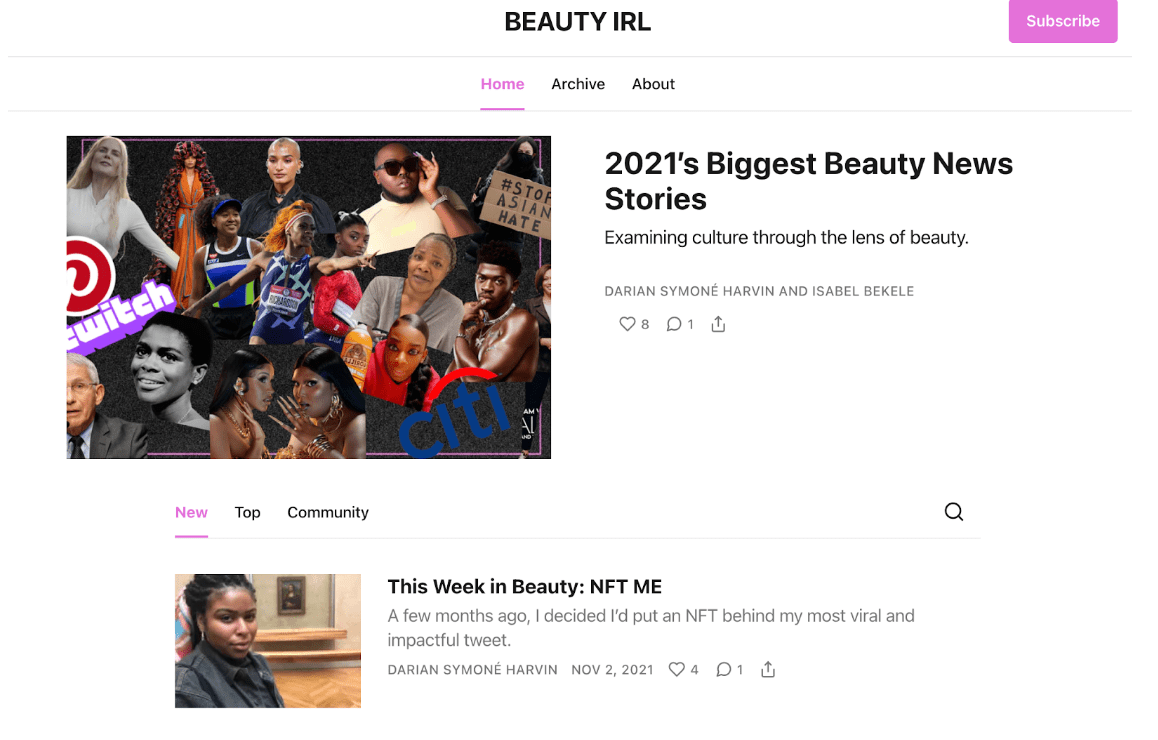 Beauty is a global industry so it makes sense that the newsletter combines its importance and relevance with topics in the healthcare, tech, and political world.
Experiment with creative angles for your email newsletter.
Think Outside of the Box for Your Company Newsletter
It might seem easy to send an email – but it is actually one of the hardest elements of a successful content marketing strategy.
These email newsletter examples should provide your small business with the right amount of inspiration and creativity for your venture.
Additional Reading:
Need Help Finding a Company?