This article is a guide to strengthening your customer relationships for CRO success. We've covered the four easiest ways to improve your post-conversion relationships and ensure your brand stays relevant in the market.
Did you know that 86% of B2B marketers claim that customer experience will drive success in the coming years?
One of the easiest ways to improve conversion success is to hang on to the ones you already have. Loyal customers attract loyal customers. Whether you reel in prospects through word-of-mouth marketing or rely on social content engagement, retaining your current customers can aid your brand in finding new ones. 
Hire a digital marketing agency by browsing our directory. 
Why are Customer Relationships so Important?
Improving your conversion rate optimization starts with changing the way you think. While it may seem smart to invest your time and energy in making that first sale, it's important to look further than short-term success.
A business that focuses only on increasing conversions tends to lose customers either during the purchase journey or not long after. Failing to foster a trusted relationship with a buyer can reduce the chances of repurchasing and cause the connection to go stale.
As a result, many short-term thinking companies find themselves paying out over half of their budget on acquiring new leads. 
According to new findings by Bain & Company, investing just 5% of your budget into customer retention strategies can increase profits by a whopping 25-95%, as repeat customers create more conversions and encourage their peers to convert too.
If a customer feels as if they're listened to, and their needs are met, they are more likely to recommend your brand to a friend. Word-of-mouth marketing is popular for a reason, and it is rated by 28% of consumers as their favorite way to be introduced to a brand.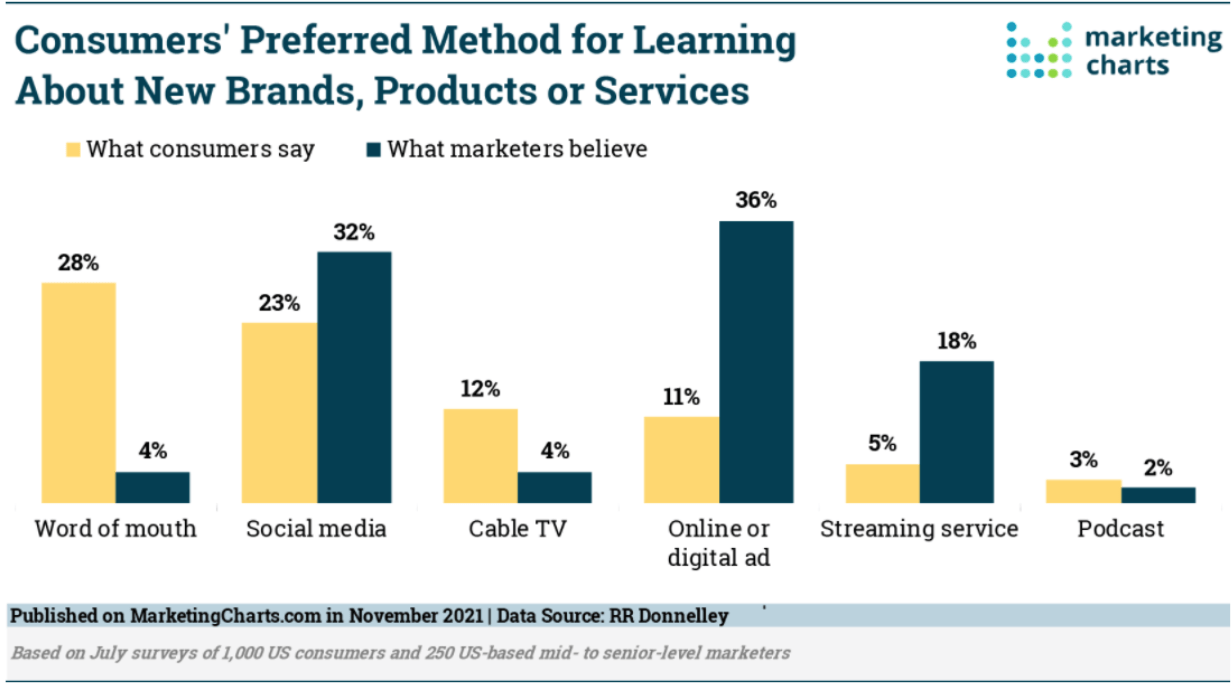 On the flip side of things, if a customer is dissatisfied with a brand's service and does not receive the aftercare they require, they could tell an average of 13 people negative feedback about a business and possibly leave a bad review. If you want to avoid gaining a bad reputation and remain authoritative within your niche, prioritizing customer loyalty and retention is key.
So, are you ready to start strengthening your customer retention techniques? Stick with us as we delve into four of the easiest ways to improve your post-conversion relationships.
4 Ways to Strengthen Your Customer Relationships
Understand What Your Customers' Value
Did you know that companies that revolve around their customers are 60% more profitable? Taking time to know your customers' value, what makes them tick, and what makes them click is vital if you want to build a relationship that sticks.
While some customers require long reels of personal contact, some require little to no follow-up at all. The key here is to get to know your demographic and find out what they desire. 
There are a number of ways to learn more about your customers. From social media to analytic programs, it's important to keep track of trends consistently.
Social Listening: One way to get to know your consumers is to start looking at what they're engaging with on social media. With nearly 5 billion users worldwide, just about every demographic interacts with a social platform in one shape or form. Social listening consists of monitoring social mentions of your brand and tracking audience engagement on your own profile and posts.
Analytic Tracking: Tracking your site analytics can also help you learn more about your audience. Using platforms such as Finteza or Google Analytics is a great way to discover what keywords, content, and products are receiving the most attention, as well as demographic-specific information such as age and the location of viewers. 
Web Hosting: Investing in a professional web host server can also streamline the data harvesting process. Good host providers allow for a much larger server bandwidth, opening your site up to large influxes of users from around the globe. With more data to play with and a built-in analytics platform to track trends, your web host will unlock more information about your consumers.   
Whether you engage in web hosting or analytic tracking, taking a deeper dive into your demographic's profiling is a great starting point for building effective B2B and B2C relationships.
Stay In Contact
Once you know what your customers value, it's time to show them that you care. Connecting with a customer can be hard, especially if it has been a long time since they last converted, so it's important to start with something positive, such as special offers for the products/services they have shown the most interest in.
Whether you connect via social media, warm calling, or in an email format, customers value consistency. Make sure you touch base with your customers regularly and not only when you're trying to sell something. Taking time to update customers on business happenings, industry news, and plans for future campaigns/products is a great way to make them feel part of the company family.
According to digital marketing pioneer and Wall Street Journal best-selling author Ann Handley, email is currently the best way to keep in contact with your consumers.
"Newsletters are vastly undervalued, and they're a huge opportunity that we're not doing well."
"Yours should provide value and be personalized to the preferences of the human being on the other end, as well as where they are in their customer journey. You're trying to be a part of someone's life for the long-haul, right?"
In fact, just under half of all customers told Statista that they would like to receive emails from their favorite brands weekly, updating them on promotions and offering loyalty benefits.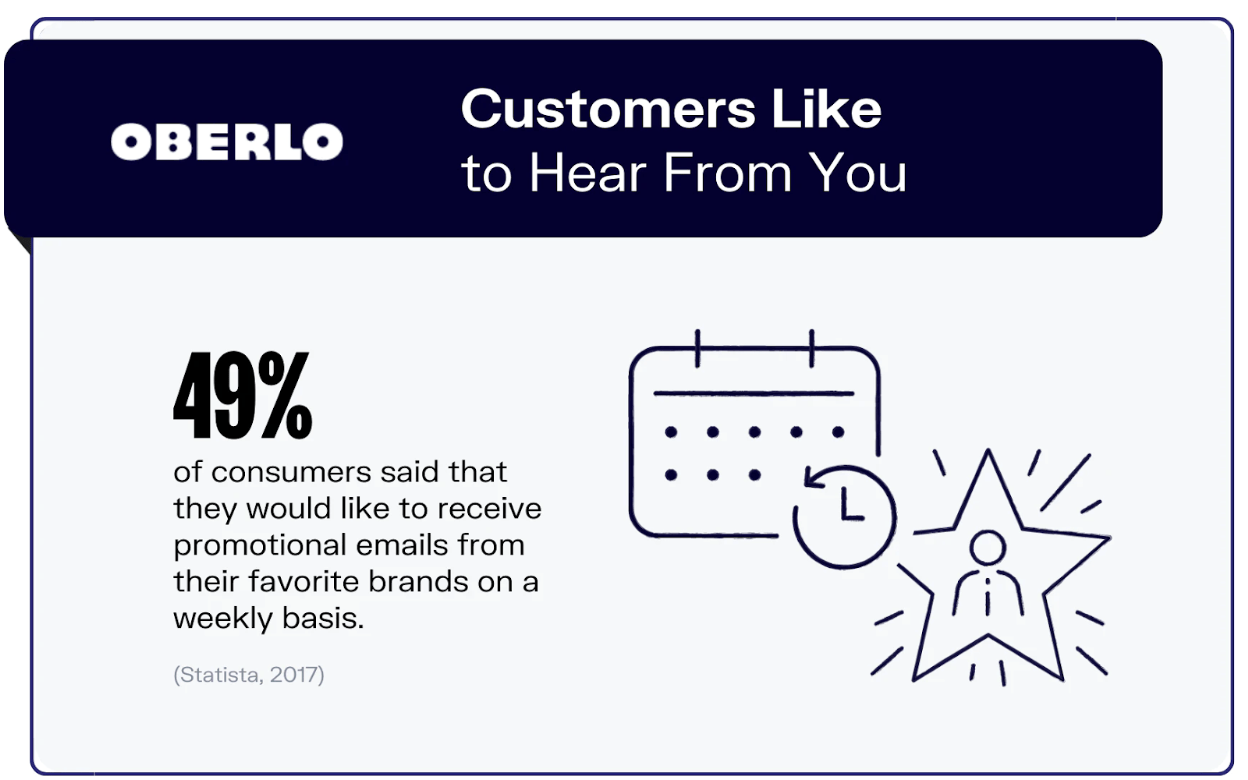 Taking time to stay in contact with your customers demonstrates that you're invested in your relationship and are dedicated to providing the best customer experience.
Start Asking For Feedback
Presenting yourself as a customer-centric business is much more likely to draw consumers back to the checkout, especially if you give them a say in what you're producing and selling. 
Ask customers what you can do better, send out feedback forms and start social media polls. Gathering as much feedback as possible is a great way to find out what is working and what needs to be worked on.
If you can show your customers that their recommendations are being taken seriously, they will likely trust you and stick by you in the long run. 
Taking the time to simply create a feedback popup after purchasing still counts as a form of communication with your customer. Creating a two-way relationship, where both parties feel as if they have power, could render your conversion twice as likely to convert again. 
Better still, positive feedback encourages new conversions too. If users see long strings of positive reviews on your site and across social media, they are much more likely to believe word-of-mouth marketing than a promotional campaign with little-to-no consumer input.
Establish Trust & Reward Loyalty
Did you know that loyal customers are up to five times more likely to convert again and a up to four times more likely to refer a friend to your brand? 
Prioritizing customer retention as a marketing strategy could be your most valuable asset when aiming to improve your CRO. So, it's important to establish trust early on and keep rewarding loyalty. 
One way to establish trust with customers is to be honest with them, even when things go wrong. If you're experiencing a delivery delay, or their favorite product has flown off of the shelves, it's important to keep them updated and in the loop. Humanizing your connection with a consumer is a great way to build trust.
When you gain a loyal customer, it's also important to let them know you're grateful for their business. Start rewarding their loyalty with benefits programs, special deals, and even early access to your newest releases. These incentives retain your conversions and are most definitely worth your time.
Are Customer Relationships the Key to CRO Success?
22% of SME businesses are currently unhappy with their CRO. As e-commerce competition skyrockets, it's time to go back to basics and prioritize the one factor that drives success, the customer. 
Setting aside a budget for a strong customer retention campaign can be the difference between becoming a one-conversion company or a leading player within your industry.
Need Help Finding a Company?