Girirajsingh Rajpurohit
10/31/2019
If you want a campaign that results in increased revenue and impactful results, you need to get organized. Your business can improve its chances of success with its digital marketing campaign through goal-setting, budgeting, and mapping out your workflow.
A well-organized digital marketing campaign is essential to derive meaningful results. A successful marketing campaign helps generate more revenue for all businesses. However, what do you need to consider while running an ROI-focused campaign?
This article is a step-by-step guide to planning a digital marketing campaign that boosts revenue for your business.
3 Ways to Plan a Successful Digital Marketing Campaign With ROI
Set clear goals
Set your budget
Map out your marketing campaign workflow
1. Set Clear Goals
Goals are the blueprint for a digital marketing campaign. Clearly defined goals not only help achieve intended results, but they also improve productivity. When you set an agenda to identify the primary purpose of the campaign, you need to create SMART goals.
Source: Buffini & Company
A SMART goal must be the following:
Here is an example of a SMART goal: "As a digital marketing team, we want to achieve a 20% increase in customer retention within six months."
Whether you want to achieve higher web traffic, get more subscribers, or increase customer engagement, your goal should be SMART. It will help you achieve metrics efficiently, and you can drive in more profits for your business.
2. Set Your Budget
The budget is the most crucial element of a digital marketing campaign. Setting up and fulfilling the criteria within your budget is a challenging task.
Understand how much costs you need to spend on each effort. For instance, if you are using Google's PPC (pay-per-click) program, AdWords, you can set the amount that you want to spend. Likewise, be clear about how much you are spending with email marketing, social media, etc.
To be more precise you can follow these steps to set the budget for the campaign.
Acknowledge Your Sales Funnel
Developing an efficient marketing budget entails a deep dive into your sales funnel to track results throughout the revenue cycle, from prospect to customer. Get the data about lead generation per month, conversion rates, a ratio of new leads, etc.
The complete understanding of sales funnel allows you to set a definite amount for the budget that usually is idle.
Decide Operational Costs
Determining the operational cost of your campaign is also an important aspect. Besides the core efforts, analyze if there is another operational cost involved for your campaign.
This will help you to manage the unexpected expenditure while running the campaign. And surely it won't let you down without budget situation in the middle of your plan.
Align Business Goals
Never forget to align your business goals while setting a budget. After all, your marketing campaign should be driving toward the primary business objectives. Generally, small businesses are spending up to 10% of their budget on marketing.
More importantly, know the business goal for the quarter, which you need to run a campaign. Analyze the past and future trends within the industry. Once you align the business goals with your budget, it will be easier to generate revenue with the efforts you will put in.
Crunch the Numbers
Once you set your goals and analyze your past campaigns to understand the sales funnel, it's time to break down the budget into separate categories. Define a specific cost for each element that you need to use to market your campaign.
For example, here is the breakdown of your budget that needs to use for the special division.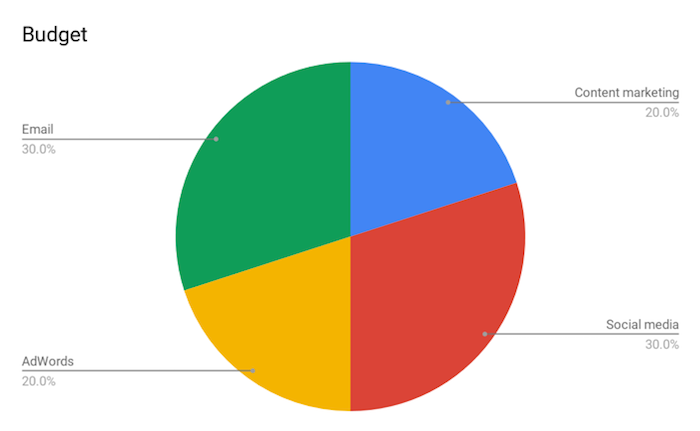 I recommend you spend 30% of your budget on social media and email marketing each. Meanwhile, Google AdWords and content marketing should take up no more than 20% of your budget apiece.
3. Map Out Your Marketing Campaign Workflow
After you have defined the goals and budget, it's time to map the workflow. Outlining your digital marketing campaign enables you to streamline the entire project.
It allows you to see benefits such as:
Detailed insights into the campaign

Ways to catch redundancies

Increased accountability

Better communication

Improved quality of work
Workflows are usually reflected using charts or diagrams. They can be as simple as checklists that outline the steps needed to complete a task. You can also use dedicated tools to map out your to-dos and assign them appropriately among your team.
Use a Marketing Project Management Platform
Using a project management platform will speed up the process, and each team member can stay connected with one another. The streamlined and well-managed campaign is essential to generate the intended results. Most of the time, marketers use some kind of project management tool to run a successful campaign.
Have a look at the key advantages of a marketing project management platform:
Collaborate with your team more easily

Improve your scheduling

Standardize your processes

Manage work remotely

Ensure accurate documentation
Rely on your business requirements and the nature of the campaign to select the best platform. It will help you to achieve your goals systematically.
Create a Successful ROI-Driven Marketing Campaign Agenda
When you are looking for a revenue-driven digital marketing operation, you should define SMART goals, determine your budget, and map out the workflow effectively. Also, using a project management platform will boost your productivity.
In addition, while you want to generate more revenue through a digital marketing campaign, you should approach various marketing channels. You can choose email marketing, online display ads, content marketing, search engine optimization, and many more. But you need to align the different channels for the campaign with your business goals.
Using the steps above, you can be sure to run an influential, successful digital marketing campaign.
Need Help Finding a Company?