Giselle Waters
11/12/2019
With the ever-growing hospitality industry, it is hard for businesses to keep up amongst the crowd. In this article, we'll break down how to use a tailored content marketing strategy to drive awareness and consideration to your hospitality business.
While some businesses lean on paid media as their primary way of gaining traction in the market, an ambitious organic approach will help your business in the years to come.
Content marketing encompasses everything from on-page content and social media to blogs and influencer marketing. In this piece, we'll discuss how you can increase your brand awareness and engagement through these tactics, from drilling down on your ideal customer to finding the right keywords and brand voice.
Travel is booming. With the hospitality industry's projected revenue of more than $200 billion in the U.S. alone, knowing how to differentiate yourself in the crowded market has the potential to grow your business more quickly than ever before.
Taking the time to target the right keywords (and ancillary keywords) means you'll reduce your paid strategy costs over time by building a truly engaged audience. By employing content marketing, you're building a sustainable strategy. So, how can hospitality businesses get started with content marketing?
5 Content Marketing Strategies That Will Benefit Your Hospitality Business
Create a concrete content marketing plan
Build social media engagement
Use influencer marketing
Focus on quality on-page content
Think about native advertising tricks
1. Create a Concrete Content Marketing Plan
Building an executable content marketing strategy with the help of a digital marketing agency means starting from the beginning: your customers. When you build a content marketing strategy, you want to be aware of your consumers' needs, priorities, and characteristics.
For example, the persona of an eco-conscious traveler shows that he or she is engaged with world events and interested in new ways of exploring while doing good.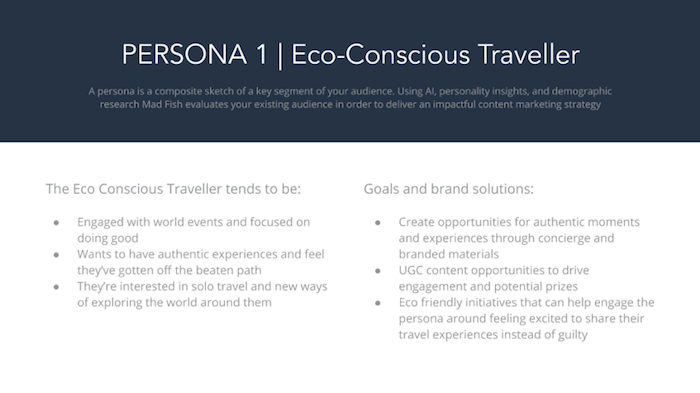 The persona also goes into what their personality is like, their interests, and ideal experiences.
By completing persona research, competitive analysis, and an existing content audit, you can start to see where you need to build up your presence and what might speak to your target customers.
Use this data to help you identify exactly who you're hoping to reach and where they're spending time online.
2. Build Social Media Engagement
Maintaining social media accounts that engage followers and drive decision-making is no easy feat. However, when you spend time learning and understanding your audience, you can create beautiful content that resonates with them.
By collecting user-generated content (UGC) and showcasing the most relevant visual, from video to images, you can evoke the experience that your hospitality business provides visitors.
Using social media to drive brand awareness on and off your owned channels is crucial to growth.
For example, our company started the hashtag #MyPacificYurt to help collect the images of Pacific Yurts' beautiful structures in the wild. We have used these images to highlight the company's community and build brand awareness for its products.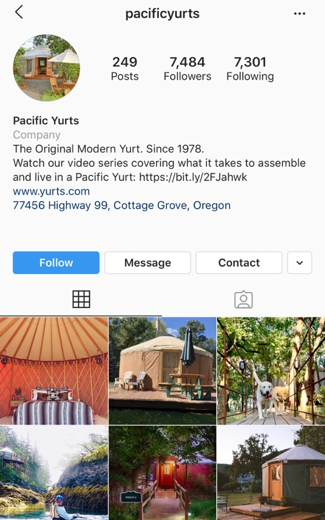 We took different pictures of parts of the yurt while maintaining the same aesthetic throughout. Doing something similar to a hotel, campground, or resort can help you ensure people know what the experience looks like. In addition, you'll expand your reach through individuals' personal social media channels.
For your hospitality business, building anticipation and excitement has to involve engaging your audience in the ongoing discussion. Creatively engaging them around the things you already know they're passionate about, whether it's a luxury stay, rustic experience, or hipster getaway, helps you effectively increase brand awareness and help move consumers toward consideration.
Don't forget to measure your progress. Whether it's the number of saves on your Instagram posts or video shares on Facebook, you should be informed of what's working and what's not so you can continue to refine and improve your content strategy over time.
3. Use Influencer Marketing
You've probably heard of influencer marketing. The influencer space, from micro-influencers to large scale celebrities, is growing fast. Did you know the influencer marketing industry is now valued at $5-10 billion dollars?
In addition, influencer marketing has a distinct impact on ROI with 89% of companies reporting it's more valuable than other tactics.
For brands, finding a way to incorporate influencer marketing while staying authentic is crucial. A brand's authenticity is an important factor when it comes to a customer's decision to purchase.
Our team has developed unique and holistic ways to integrate influencers into our strategies. One example is our video marketing series with two influencers on how they built their yurt. Other options have included recipes created by users shared to Instagram and even testimonials from happy customers.
4. Focus on Quality On-Page Content
Whether it's blogs or web pages, on-page content helps you build trust through unique, valuable content. You can use blogs to offer insights, travel tips, and experience suggestions.
Another idea? Getting customers who have stayed with the hotel to write a brief review of the experience in exchange for a free night.
An example we love is from our client, Schoolhouse, who creates home tours featuring customers who have purchased its products.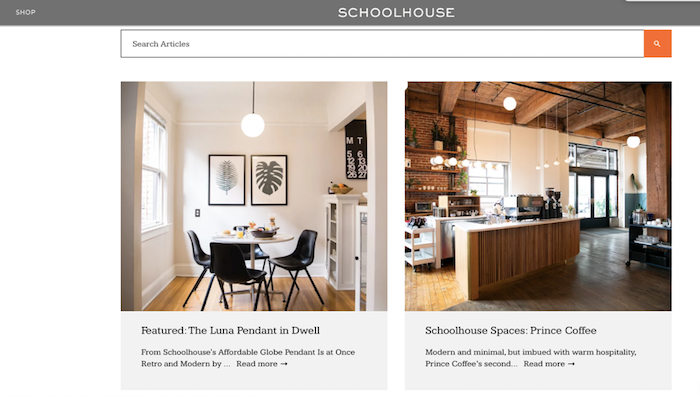 The website has a variety of articles that reviews information about different spaces. As seen above, one featured piece talks about a coffee shop.
Other on-page content ideas could be videos centered around the travel experience or location of your hospitality business.
Through magazines, long-form web pages, travel guides, and video stories, you'll improve your on-page performance and provide engaging content to your audience based on their interests and queries.
5. Think About Native Advertising Tricks
In such a crowded space, the right piece of branded content or native advertising can make a huge difference.
Whether it's being featured in a roundup of the best places to visit or building a native advertising plan you create, you'll ultimately want to choose the publication and topic based on what will resonate best with your audience.
Take the time to experiment on your own website and social media before diving into branded and native content.
Here are a few tips that will help you take advantage of a full investment.
Keep your content real and authentic: If you're just making a case for staying at your resort or location without clear reasoning, it will come off as fake. Take the time to share how the experience will make a difference in the lives of those who do choose to make memories with you.
Tell the story of your experience: You'll help ensure your content resonates with the audience by aligning your brand with an already engaging topic or idea.
Find the right publications for you: While travel and leisure may seem enticing, finding local publications or more niche audiences may be a better way to get traction. Use your persona research and focus on where your audience is already spending time online before investing in a big feature.
Through this list, you can also find what resonates best for your business. All of these content-related strategies can be effective ways to gain prestige in the hospitality industry.
Integrated Content Strategies Lead to Successful Businesses
While using any of these tactics individually may yield results, driving engagement through multiple channels will help you reach more of your potential audience. Try putting together an integrated content strategy that centers around your audience and their needs with creative, valuable content.
Empower your customers to live their lives to the fullest and feel supported through your hospitality business's content marketing strategy. When you've succeeded in building the brand awareness and affinity necessary for success, you'll see them convert into customers and support your business.
When your customers feel understood and feel a personal connection to your brand, you can support them and form a longstanding relationship on and off the web.
Need Help Finding a Company?