Darshan Ruparelia
12/13/2022
This article is all about the impact of social media in e-commerce. It will give you a better understanding of the role social media plays in e-commerce and how it can be used to generate more sales for your business.
In 2021 and 2022, the growth of e-commerce sites in the world just experienced an incredible boom that will continue for years to come. And it's undeniable that social media platforms have had a major contribution in this because they greatly impact people and their buying decisions. 
For example, before purchasing, you just can't help but go on Instagram or Facebook to inquire about the product whose ad you just saw. You go through the comments and reviews and decide based on that.
Or, you go on a brand's social handle to see if there's a new addition to their collection or if there's any event or sale happening.
Thus, it's a very useful tool for e-commerce businesses to convert their potential customers into buyers.
With a good social media e-commerce strategy, you can raise brand awareness, engage with your customers, and in the process, generate more sales for your online business.
But there are still a few who doubt the potential of social media and its impact on e-commerce. If you're one of them, we got some reasons to change your mind.
What Role Does Social Media Play in E-Commerce? 
Social media, for a long time, has been the champion of the marketing arena. As it influences potential customers from the start until the purchase stage, it is expected to have a long reign. 
Hire a social media marketing agency to promote your business. 
Here are a few reasons why social media is a great investment for e-commerce companies:
1. The Stats Says It All
Let's cut to the chase and talk about social media numbers. Out of 7.82 billion people worldwide, 50.64% of the population uses social network sites, and out of 4.57 billion internet users, 83.36% are using the internet actively. 
Now just imagine the potential your business could leverage with the correct use of social media! 
2. Social Media Deals and Offers
People love discounts and sales, online or offline. 
Around 64% of online shoppers wait for a sale to purchase items, and around 59% of online shoppers search for coupons when purchasing online.
Discounts, promo­tions, and sales on social media draw people in and affect their buying decisions.
Let's see an example from Vessi's Facebook page:
This is a post that is announcing a 40% discount for their Black Friday sale. This draws customers for the great deal they are getting as well as creates a sense of urgency because it is only for a limited timeframe.
Announcing it on social media is just the thing to do. Look how easy Vessy has made it for the customers by sharing the page link in their bio. From a platform like Facebook, it'll surely bring much traffic to their product page. 
Social media is a low-cost medium for communication. It can help you get better conversion results without spending much. What you need to do is just keep posting consistently.
3. Influencer: a Valuable Asset
Gone are the days when famous movie stars used to advertise products. This is the age of social media influencers. 
Today, 92% of marketers believe that collaborating with social media influencers has benefited their business. 
Influencers have systematically built a keen and enthusiastic audience. So it is not hard to believe that these people follow influencers rather than a brand. The audience couldn't care less about your brand. They only care about the opinions of the influencers.
And when an influencer with lots of followers begins to be vocal about your brand or products, that is when people start flocking to your account or website.
The collab between Charli D'Amelio and Dunkin' Donuts took place in 2020.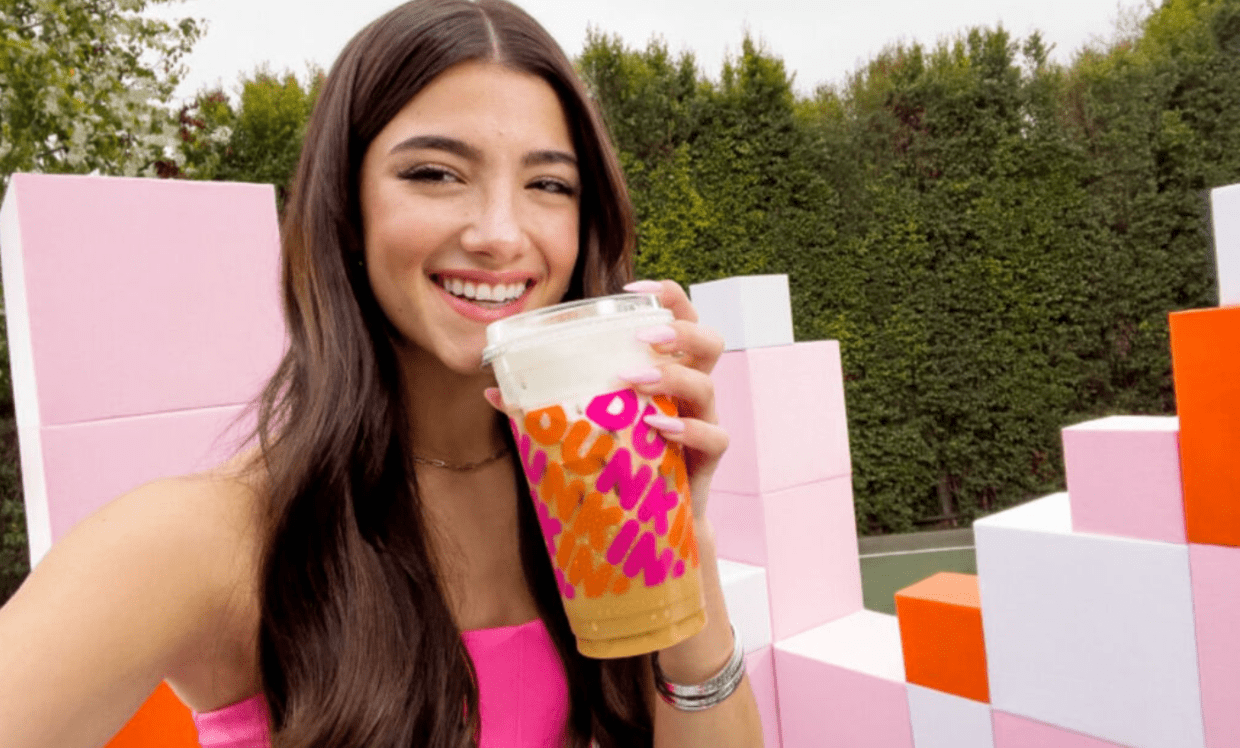 The young TikTok influencer would often videos of her drinking her signature "The Charli" and munching on donuts. Believe it or not, this had lead to a 57% increase in people downloading the Dunkin' app!
4. Gets Your Audience Talking
As mentioned earlier, people prefer to rely on social media for reviews and recommendations. 
But why is that? 
People are very verbal about their experiences with products and services. Word of mouth is still the best form of marketing because people trust people.  
Social media allows satisfied customers to share and recommend your brand and product easily. Facebook has a feature that lets users leave a review on your page, which you can also post on your website. 
Or you can repost user-generated content like testimonials, unboxing, competitions, giveaways, and a user showcasing love for your product. 
Such things create a social footprint for your company. It has numerous advantages, like, improved customer engagement, increased exposure because of people, and increased revenue. 
Now you have reasons to commence building your brand's social media presence, the next thing you need to know is: how to leverage social media for your e-commerce business.
Leveraging Social Media for Your E-Commerce Business
Most companies have already shifted from bricks-and-mortar to e-commerce.  So, the next logical step for them is to set up an effective online marketing strategy.
Social media has the potential to help companies gain a strong internet presence, increase their customer base, generate leads, and improve their overall revenue.
To achieve this maximum potential, here are some key strategies businesses can implement: 
Set Clear Goals
The first step to successful social marketing is defining your goals. Each piece of content that you share on your social media will have people trying to relate to it. 
Being in the e-commerce industry, setting clear goals will help you achieve higher reach and engagement. Whether your goal is to attract new visitors or increase conversions, your clear mindset will lead you toward providing the right kind of experience to your audience.
Prioritize Visuals
Over time, the attention span of humans has decreased a lot. Now attention span of someone born in Gen-Z is just 8 seconds. 
Now the trick to engaging a customer in such a short time is to leverage social media for visual content marketing. To execute this successfully, you'll need to invest in affordable graphic design software and hire graphic designers. 
Social media strategy paired with top-quality graphic elements can help create a positive image of business offerings. This ultimately results in the attention, interest, desire, and action part of the customer.
Choose the Right Platform
Creating accounts on different social networking sites is easy, but choosing which social network site best matches your product or service needs requires some effort. 
You need to consider your objective and the value you want to offer to your consumer.
For example, if your product or service caters to an audience whose age bracket is 28-38, then using Instagram won't fetch you the desired outcome. This is because most people using Instagram are Millennials and Gen Z. 
You might want to use a social platform whose user's age bracket is around the same as yours. Though don't ignore other social media platforms; use every tool in your arsenal! 
Additional Reading: 'What is BeReal? A Guide for B2B Providers'
Add Links
Platforms such as Facebook, LinkedIn, Twitter, and Pinterest allow you to include custom links for each post.
Whenever posting on these platforms about your products or services, always add either link to your website or a link to that product. This way, you can convert a customer from the interest stage to the desire stage while also driving traffic to your website. 
Let's see an example of Reebok's tweet where they have shared the link to their gift page so people can directly land there and start exploring: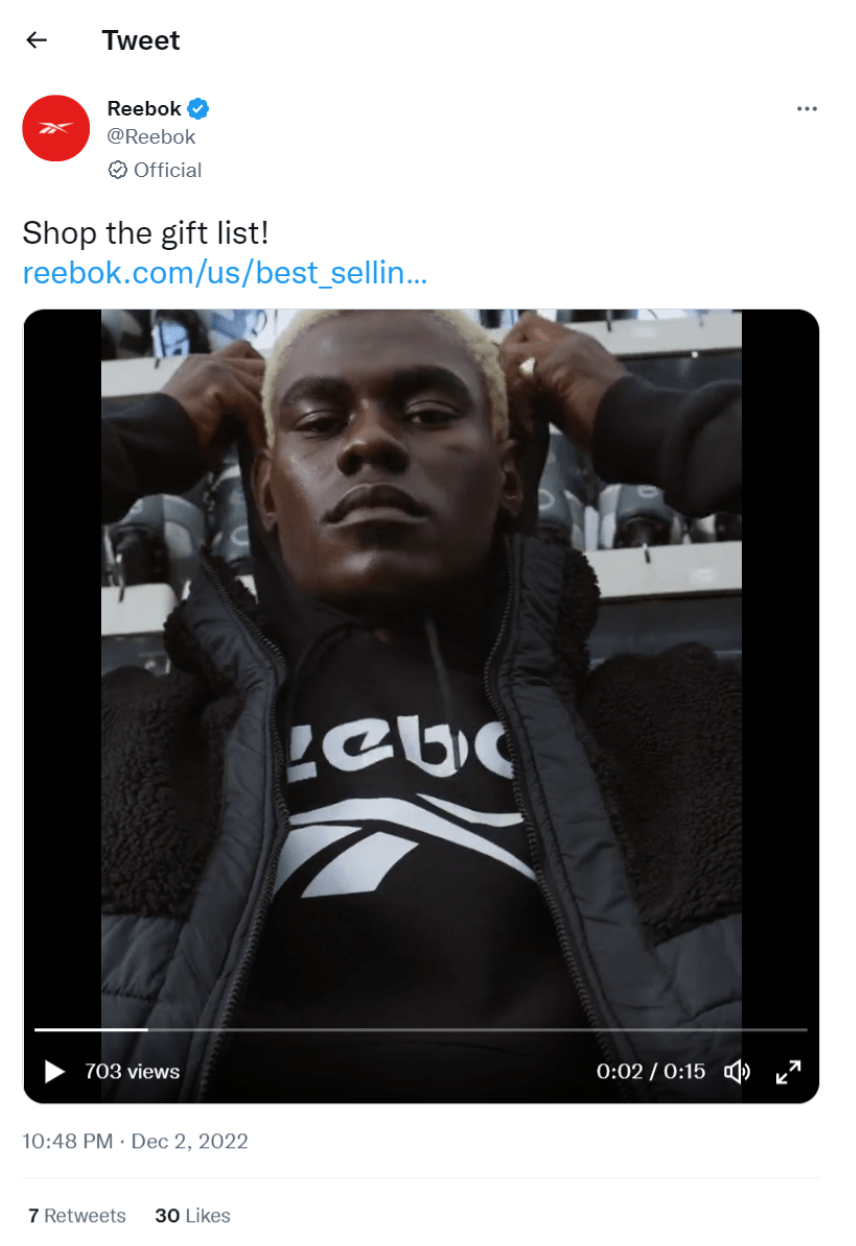 On platforms like Instagram, you can't add links to posts. In such cases, add a link in your Instagram bio.
Use Social Media Automation Tools
Creating good quality content takes a lot of effort, and publishing it across multiple social media platforms is even more tedious. In such a situation, you make the most of your resources by using social media project management tools. 
Using social media planning tools can help you manage, build, simplify and streamline your content for your target audience. 
Create Keyword-Rich Content
If your content isn't searchable, why create it? The content that gets the best views is the content that has the highest number of relevant keywords. And that is true not only for Google but for social media as well. 
When it comes to using social media for marketing purposes, planning out your keyword usage and hashtag usage can help increase your content's online reach and engagement.
For example, algorithms pick search results based on captions and tags.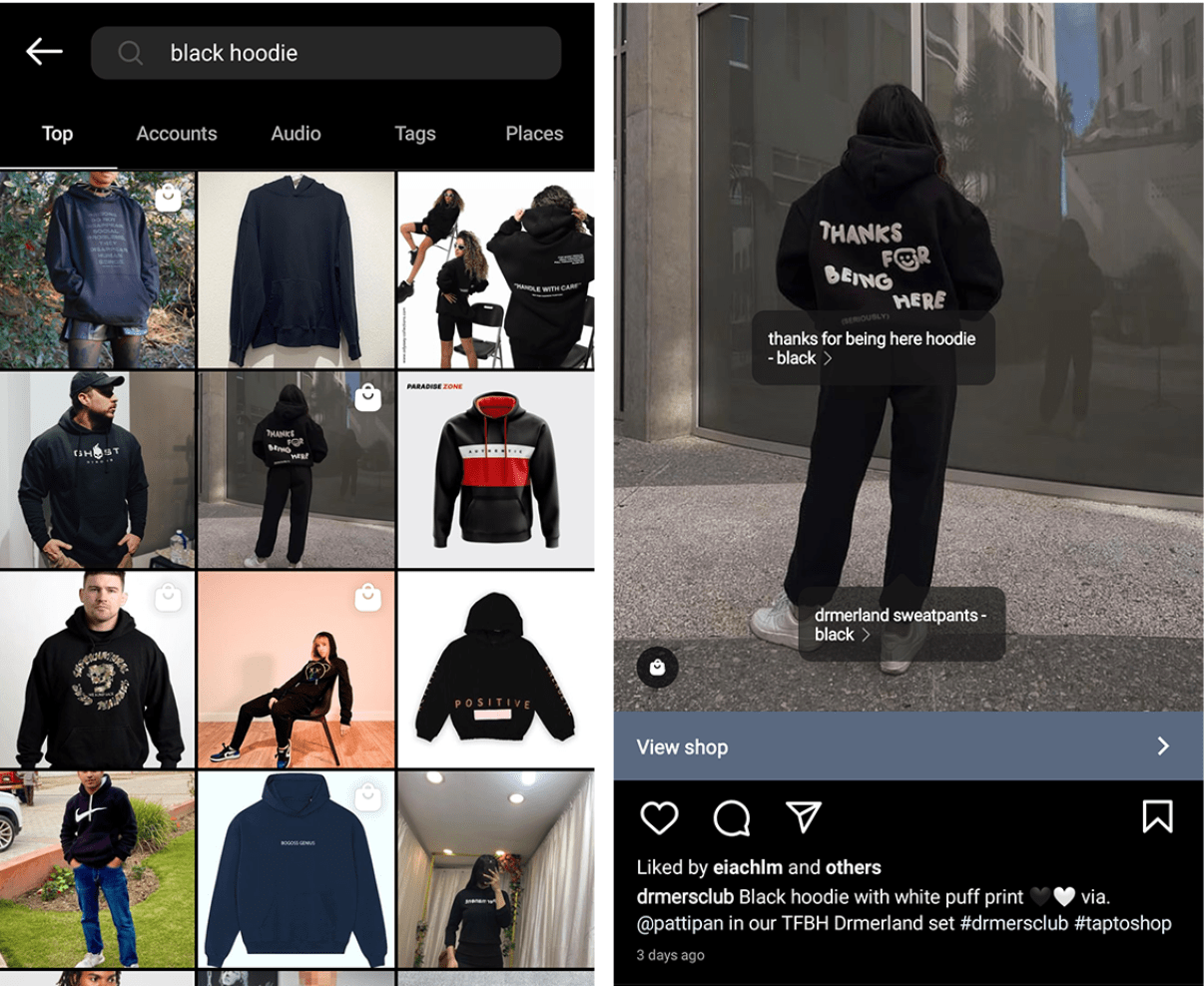 So if someone is searching "black hoodies'' on Instagram, and you have included the term in your caption, it is bound to pop-up in the explore feed.
Make Your Post Shoppable
Recent updates in a few social media platforms have brought branded e-commerce functionality directly into social media that can give your customers a more personalized and targeted in-app shopping experience. 
Instagram lets you add product tags in an image. People who click on these get redirected to a page where they can see all of your tagged products in one go. Facebook also lets you create your own shop page. 
For instance, when you make your posts shoppable on Instagram, a shopping bag appears on the posts. Users can find more product details when they tap on it and can even add it to their cart!
With more people than ever flocking to the Internet for purchases, Instagram shopping makes perfect sense - you can set up an Instagram Shop as a free storefront for your products, and your consumers will be able to buy and checkout without ever leaving the app! 
This implies you may create a virtually seamless buying experience while also expanding your consumer base.
Here's an example of a shoppable post from the Drmers Club. When you click on the "View Shop" button on their page, this is where it takes you.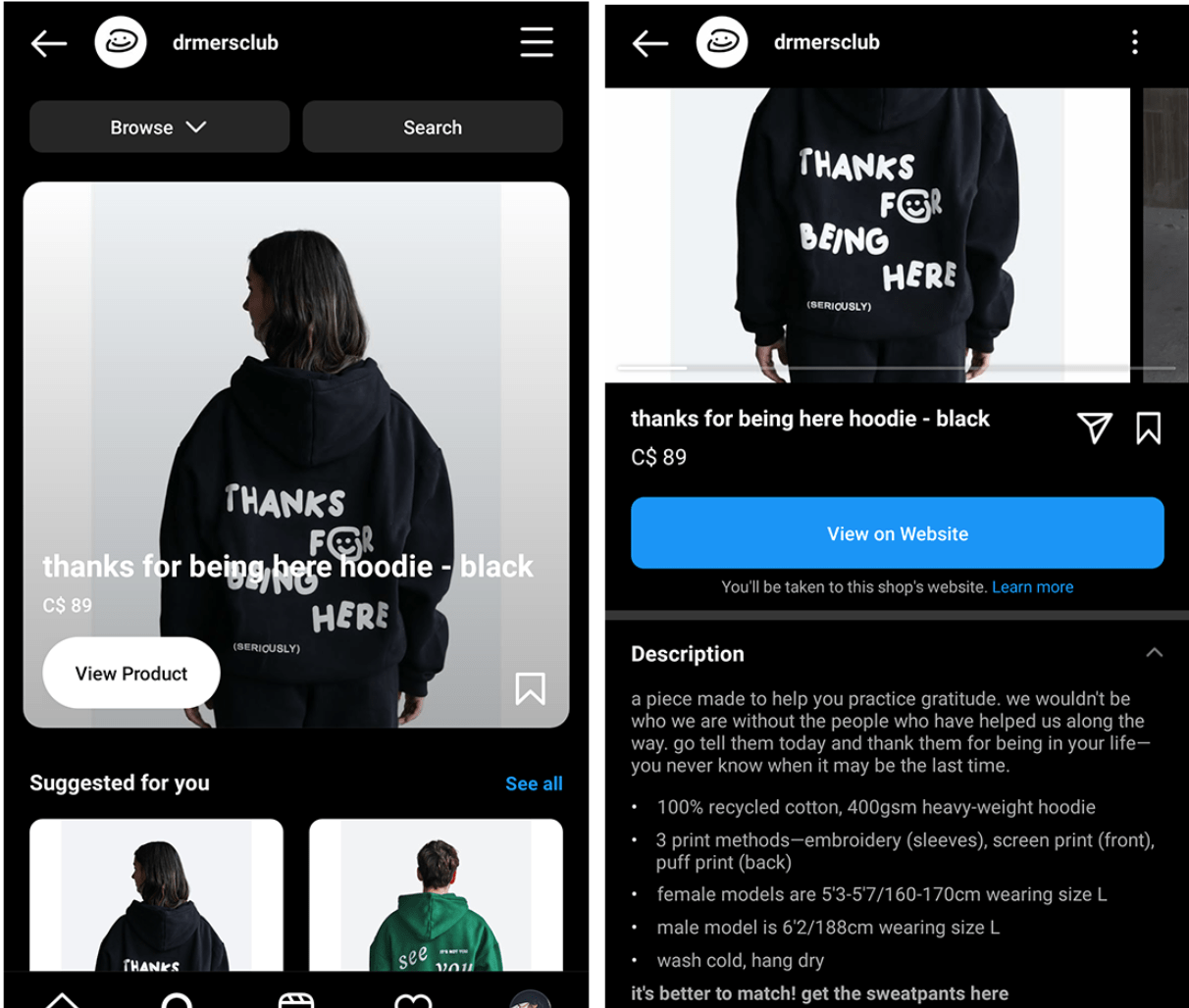 It's just like an e-commerce page where you can see product details, order it directly from the given link and even share it with your followers. 
Form a Relationship with Your Audience
An e-commerce business doesn't necessarily need to be focused on selling products. You can focus on building relationships with your audience by providing them with content that offers value and helping them solve their problems.
Make them feel like they are being listened to. Validate them.
Keep an Eye on Analytics
Businesses often analyze their growth monthly, quarterly, and annually to avert short and long-run risks. Analyzing social media's growth is just as vital as analyzing a company's profits and losses; social network platforms are your business's virtual faces.
But how can you do that?
As mentioned earlier, social media has its own analytics and marketing data visualization. But going on various platforms, collecting data, and analyzing it can be a hassle. 
So what should you do? 
Use an advanced social media analysis tool If you want to analyze the effectiveness of your content and marketing efforts on social networks.
Social Media, The New Flagbearer for E-Commerce  
Now that you know the importance of using social media to grow your e-commerce business don't let the fear of going digital hold you back from taking your business to the next level. Start your social media marketing today and see your business goals become a reality.
Additional Reading:
Need Help Finding a Company?