Businesses that understand Facebook Messenger can use it to drive engagement with customers through integrating customer service and marketing to Messenger. 
Updated September 19, 2022
Originally, a Facebook account was the prime social network to connect with friends, find events, and like Facebook pages with their interests. Now, it can be seen as a business tool through their messenger app. 
Facebook Messenger (along with Facebook business pages) has grown to be a force for social media consultants.
Specifically, its value derives from the level of engagement it can drive for businesses with social media users. 
As of July 2022, it had over 1 bln users worldwide
Every month, businesses and individuals exchange 20 billion messages via Facebook Messenger. 
More than 300,000 bots have been set up to solve standard tasks.
Customers engage with messenger much more so than other outreach channels: According to data in 2020, Facebook Messenger boasted an 88% open rate and 56% click-through rate. On top of that, chatbots and CTA buttons  through messaging apps help you improve your sales funnel.
Businesses that understand Facebook Messenger can optimize it to grow their social media exposure and drive customer engagement with active users and customer service benefits. 
To better understand Facebook Messenger for your business, follow these steps to set up and take advantage of its functionalities: 
Create and Customize Your Business Page 
You can only access Facebook Messenger via your business page on Facebook.
To create one, you first need to set up a personal Facebook page. 
In the upper menu, click "Create" and then select "Page."

As for your page name, it's best to use the name of your brand. Your profile name must be longer than 5 characters and contain both letters and digits. Also, feel free to add a brief description of your company when setting up your page.   
Additional Reading: 'Company Naming Services: Choose Your Brand's Perfect Name'
These are the main branding elements of your Facebook page. Here are a few useful guidelines:  
●    Use your corporate logo as your profile picture. The best logo designers create images that are simple and visually appealing. The benefit of such a logo can carry to your Facebook page. 
●    Your cover image and your profile picture must be visually coherent. Your cover can contain various information, such as your company slogan, contact information, product imagery, etc. 
Also, be sure to use your logo as a watermark on all your photos. If you don't have a corporate logo yet, don't hesitate to benefit from one of the online branding services. 
Hire a branding agency to support your business. 
Enable Messages and a Create a Greeting Message
Facebook messages can help build connections with your target audience. 
To enable Facebook messages for your Facebook business page, click "Settings" in the upper right corner of the page. Click the "General" tab and select "Messages." Enable all types of incoming and outgoing messages.

Once a user visits your page, a chat window will appear automatically. Create a greeting message to welcome the user and encourage them to engage with you.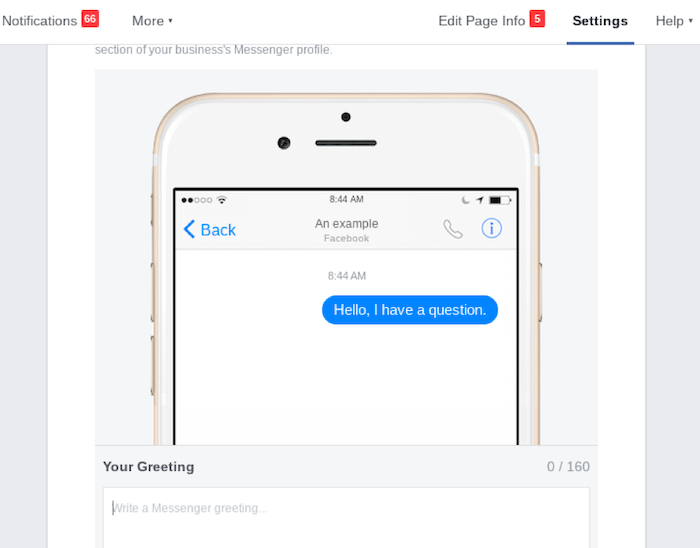 To check if your greeting message appears, click the "Inbox" tab and select "Start conversation".  Enter your greeting, and it will instantly appear in the chat.
While you can use the default greeting, it's best to come up with a custom, original message that will stand out. Also, you can personalize your greeting by using the name of the user you're addressing.  
If you respond quickly and regularly, your chat window will display the "Responds within …hours" notification. If you can optimize your response times, customers can be confident that you will quickly address any concerns they may have. 
Instant messaging might not be possible, but it's important not to keep your customers hanging.  
You want to respond to any new message to establish a relationship with potential customers. But it isn't likely that your team has a consistent social media monitor - this is where automation can come into play. 
Set up Facebook Automated Responses
Automation can benefit your Facebook interactions with customers. 
To set up Facebook automated responses, click the "Inbox" tab and select "Automated responses." Browse through the multiple settings and enable those that you need.
Facebook automated responses can help answer simple customer inquiries and incoming messages immediately, providing critical information potential customers may need about your business during their purchasing journey. For example, automated messages can serve to address FAQs such as: 
Hours of operation
Pricing
Contact information (phone number, email, WhatsApp number, etc.)
Return policies
When crafting automated messages for a messaging platform, think about if you were a customer and how you need to gather everything you need to know about a business. 
Other Facebook Messenger Features to Take Advantage
Once you've set up and understand Facebook Messenger, explore some of its other features to increase the level of impact it can have on your customer support, outreach and engagement. These include: 
Message Tags and Sponsored Messages
Facebook Messenger allows you to tag messages and send them outside of a 24-hour response window. This can apply to updates about events, connecting users to a live human agent, or following up on a purchase. 
It's important that businesses understand Facebook Messenger's tagging policy. For example, you can't use tags when sending advertising content. 
You also can use Sponsored Messages to users to promote you business. To set up Facebook Messenger ads, you have to customize and activate via an advertising account on Facebook. 
Set Up a Chatbot
If automated responses are not enough for your business needs, be sure to set up a chat bot to send messages.   
Chatbots can create channels to drive engagement with your business. A properly structured chatbot funnel, for example, can generate new clients. 
Website Integration
You can install the Facebook chat on your website using a plugin. It's a one-stop tool for bringing together and systemizing all your communications. 
The Messenger integration has fewer features than on Facebook. Hiring a software development companymay be a better route for businesses that want to build a complex chatbot. 
Understanding Facebook Messenger Helps Businesses Use It To Engage Customers
Every business should have a Facebook account to communicate with their customers and receive message requests. 
Facebook Messenger can create engagement benefits for companies that understand how to use and optimize it.
Through simple processes of creating and curating a business page, enabling greeting and automated messages, and testing features such as chatbots, businesses can grow the impact of their social media presence. 
If you're a business owner, it is time to download the Facebook app today. 
Read more about how businesses use Facebook in our 2022 advertising report. 
Need Help Finding a Company?