With their extensive user base, Google Ads have become a popular choice among digital marketers to promote their brands. Learn how to do audience targeting on Google ads and generate high quality audience for your business.
One of the biggest reasons why many businesses or independent business owners use Google as their advertising platform is because of their ability to deliver measurable outcomes with precise audience targeting.
Just imagine being able to identify your ideal target audience and reach them immediately through Google Ads - isn't that amazing?
When it comes to advertising on Google, audience targeting plays a critical role in achieving the desired return on investment (ROI) for your ads.
While factors like ad copies, creatives, and call-to-action are essential, without the right audience targeting, they may not generate the desired click-through rate (CTR) or conversion rate. 
But creating good audience targeting is not easy as it sounds, there are many aspects that you have to consider. Within this blog, we will guide you through the audience targeting options available in Google Ads for the Search Network and Display Network.
Hire a PPC agency to manage your Google Ads campaigns.
The Difference Between Google Search Network & Display
Google Search Network and Google Display Network are two different types of advertising networks that exist within Google Ads platform. In fact, even the most commonly used type of advertising in Google.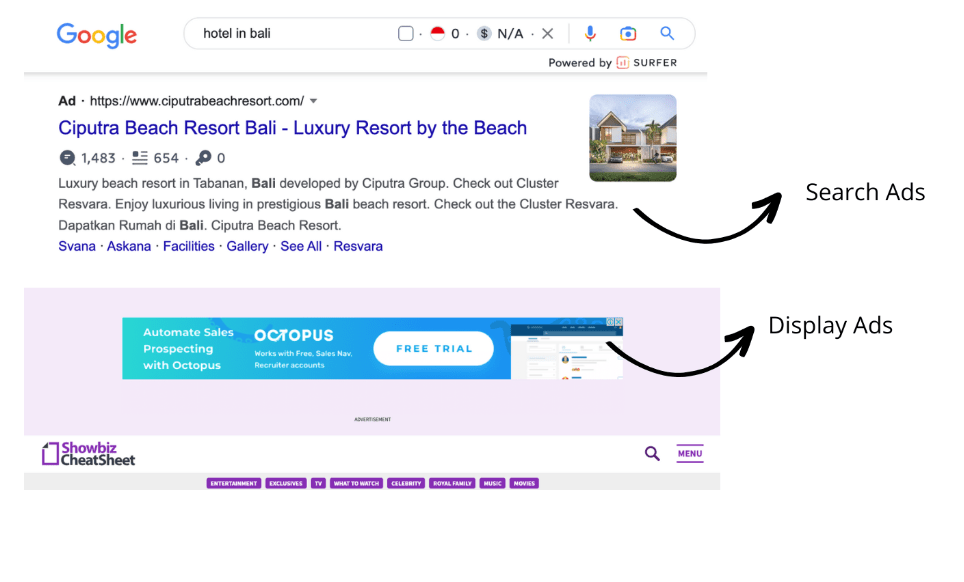 Then what is the difference between these two types? Simply put, in the beginning, the main difference between these two types is what they display and where they appear.
Google Search Network displays text ads that will appear on Google's search results pages (SERPS). Your advertisements will be displayed to users when they search for specific keywords related to your products or services.
On the other hand, Google Display Network displays visual ads such as banners, images, and videos that will be displayed across the entire Google Display Network (third party). Display ads can potentially be displayed on millions of websites, apps, and videos, including Google-owned properties such as YouTube and Gmail. 
Therefore, to display your advertisements to a valuable audience, it is crucial to execute proper audience targeting.
Google Search Network & Display Audience Targeting Guide
Despite differences, Google Search and Display Networks share quite similar guidelines regarding audience targeting. Explore the audience targeting options that can help you to reach a valuable audience.
Locations
The locations feature allows you to choose the location where you want your search ads to appear. You can target a broader location, like multiple countries or cities, or narrow it down to specific cities or areas for local campaigns. 
If you already have the exact data where you believe you won't get any valuable audience. Your business may also exclude different locations to ensure that your ads won't be displayed to the wrong audience
To maximize these options, Google provides more further locations with these options : 
Presence or Interest: People in, regularly in, or who've shown interest in your targeted or excluded locations
Presence: People in or regularly in your targeted or excluded locations
Languages 
This option allows you to choose one or more languages for your targeting or even all the languages available on Google. Therefore, your business can reach your ideal customers who might only speak a certain language.
However, if your business is planning to target not only local audiences and you are confident that your target audiences understand at least one additional language, then attempting to target multiple languages could be helpful for your ads!
Audience Segments 
There are four types of segments that you can use or create for your targeting: 
In-Market Audiences: This audience is segmented based on what they are actively searching for (products or services) or planning for in the near future. Google identifies these users based on their search behavior and online activities.
Affinity Audiences: This audience is segmented based on users' long-term interests and habits, determined by their search behavior, online activities, and other online engagements.
Custom Audiences: This option allows you to target users based on your own customer data, such as email lists or website visitors.
Retargeting Audiences: This option allows you to target users who have interacted with your website or app before, such as those who have added products to their cart but didn't complete the purchase. Therefore, you can create remarketing lists based on various criteria, such as user viewing specific pages or products on your website. 
Optimizing your audience segment settings can help ensure your business effectively targets the right audience with the right message or media about your product or business. This effort will ultimately lead to better outcomes.
Demographics
This option allows you to target users based on various demographic criteria, such as age, gender, and household income.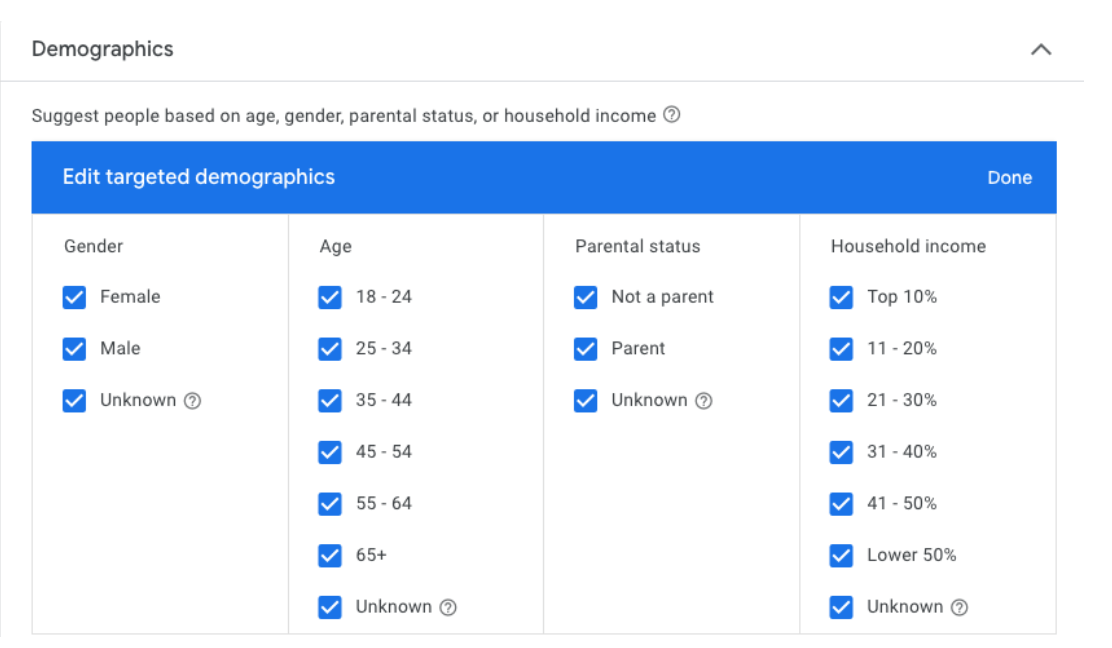 This is the part where you must thoroughly comprehend your business and refine the targeting to enhance your ads' audience reach and avoid unnecessary expenses on users who don't match your intended demographic criteria.
Keywords Targeting
This option allows you to target users based on the keywords that users use in their search queries. Therefore, it's crucial to identify the right keywords that align with your products or services.
However, it's important to know that even though both types offer keyword targeting options, targeting keywords in search and display advertising operate differently.
In the Search Network, keyword targeting is essential as it is the primary factor determining when your ads will appear in search results alongside your bid.
Meanwhile, within the Display Network, keywords work as the identity of your business brand. This is because Google uses keyword targeting to identify what products or services you are selling.
As a result, Google will display your ads on pages with content that closely matches your chosen keywords or the webpage's subject matter. This also helps to ensure that your ads reach the most relevant audience possible.
For example, Google Ads might show ads about coffee shops or coffee machines on a webpage that includes coffee brands.
To wrap it up, to achieve optimal results, it's essential to conducting keyword research and select the right keywords that well describe your product or services. Additionally, adding negative keywords can help filter out irrelevant searches that may waste your ad budget.
Topic Targeting - Display Only
While keyword targeting is available on both Search and Display Networks, topic targeting is only available on the Display Network.
With topic targeting, you can show your ads on specific pages, apps, or videos that cover topics relevant to your business, such as music, games, or sports.
By adding topic segmentation to your Display Network advertising, you can ensure that your ads are only shown on pages that cover relevant topics. Whenever content on a specific page or app changes to no longer cover your selected topic, your ads will no longer be served to that page or app.
This helps ensure that your ads are only shown to people likely to be interested in your products or services.
Placement Targeting - Display Only
Similar to topic targeting, placement targeting is only available on the Display Network. With placement targeting, you can choose specific YouTube channels, videos, apps, and websites in your ads to appear in. This targeting method allows you to reach your ideal audience in the right context.
For example, if you sell running shoes, you might place your ads on a popular running blog or YouTube channel. This way, you can reach people who are already interested in running and are more likely to be interested in your products.
Which Google Ads Type is The Best For My Business?
The best types of advertising depend on your specific business goals and target audience.
Google Search Network is more focused on direct response advertising. Search Network mainly aims at users who already have a specific query in mind to enter into the search bar, indicating some level of intent already there that can be related to your products or services.
Let's say a traveler searches for "best Italian restaurants in Bali" on Google. We can infer that the user is a traveler craving Italian cuisine in Bali, indicating a specific intent.  In such cases, an advertisement for a restaurant that has bid on that keyword should appear on the search results page.
Therefore, Google Search Network is good for driving sales, leads, or website traffic
If your goal is to boost brand awareness, the Google Display Network is the best option for you to optimize. With over 2 million sites across the entire display network, you can reach up to 90% of the global internet users. Hence, the Google Display Network is better suited for achieving brand awareness and reaching a wider audience.
Understanding your business goals and aligning them with the strength of each advertising option will lead to a successful advertising campaign that meets your business needs.
Additional Reading:
Need Help Finding a Company?