Many social media users aren't interested in branded content across channels. Companies should follow social media optimization best practices to boost engagement and conversions on social media.  
Social media is a powerful tool for brand marketers. It enables companies to reach and connect with their audiences and showcase products seamlessly within their individualized social feeds. 
However, many people actively avoid branded social media content. Forty-one percent (41%) of consumers aren't interested in content that brands share.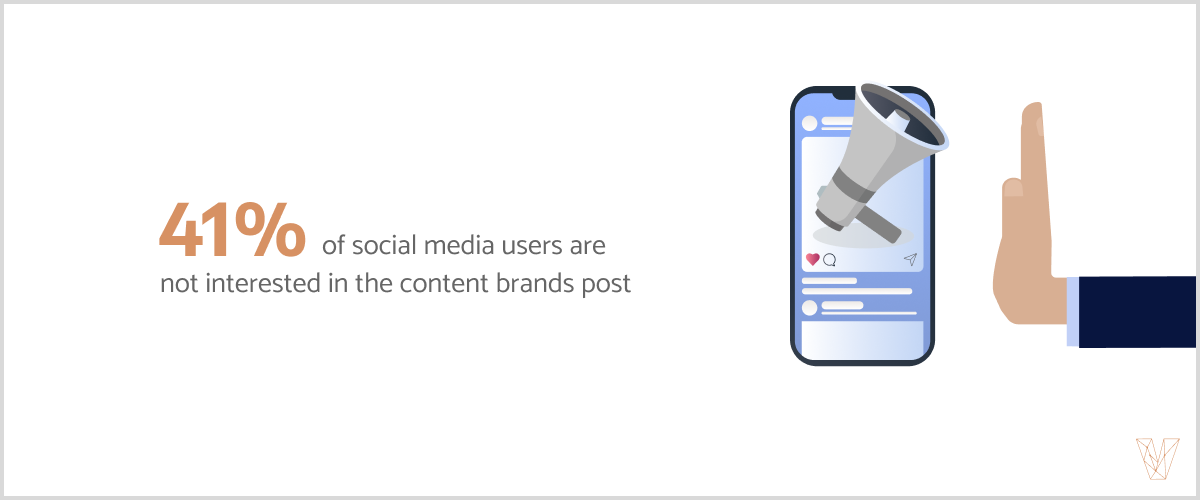 Consumers choose not to engage with run-of-the-mill branded social media content. In order to rectify audience disinterest, companies should turn to social media optimization best practices and audience preferences to create content that will attract qualified leads. 
Visual Objects surveyed 501 social media users in the U.S. in order to determine the nature of their interactions with brands on social media channels and identify top tips for brands hoping to more effectively connect with audiences. 
Our Findings
Many social media users (41%) are not at all interested in content that brands post, highlighting the importance of authentic content that stands out from that of similar brands.
Consumers most regularly follow food (26%), apparel (25%), and sports (21%) brands while fewer follow tech brands (15%). Companies in any industry can model aspects of their content strategies off brands with engaged followings.  
Content that communicates important information is the most attractive to brand audiences (23%), emphasizing the value of substantive, informative content.
Only 9% of people will interact with a branded post because of its brand voice, indicating that companies might be over prioritizing a distinct voice on social media channels.
Only 11% of people will engage with brand posts because of their visual aesthetic, showcasing the need for visuals to support informative content.
Many social media users (36%) believe brands regularly post clickbait or spammy content, highlighting the importance of authenticity and the dangers of posting overly promotional content.
Seek Inspiration From Successful Brands
While it can be difficult to engage an audience on social media as a brand, not all companies are struggling to connect with consumers. 
Currently, social media users most regularly follow food (26%), apparel (25%), and sports (21%) brands.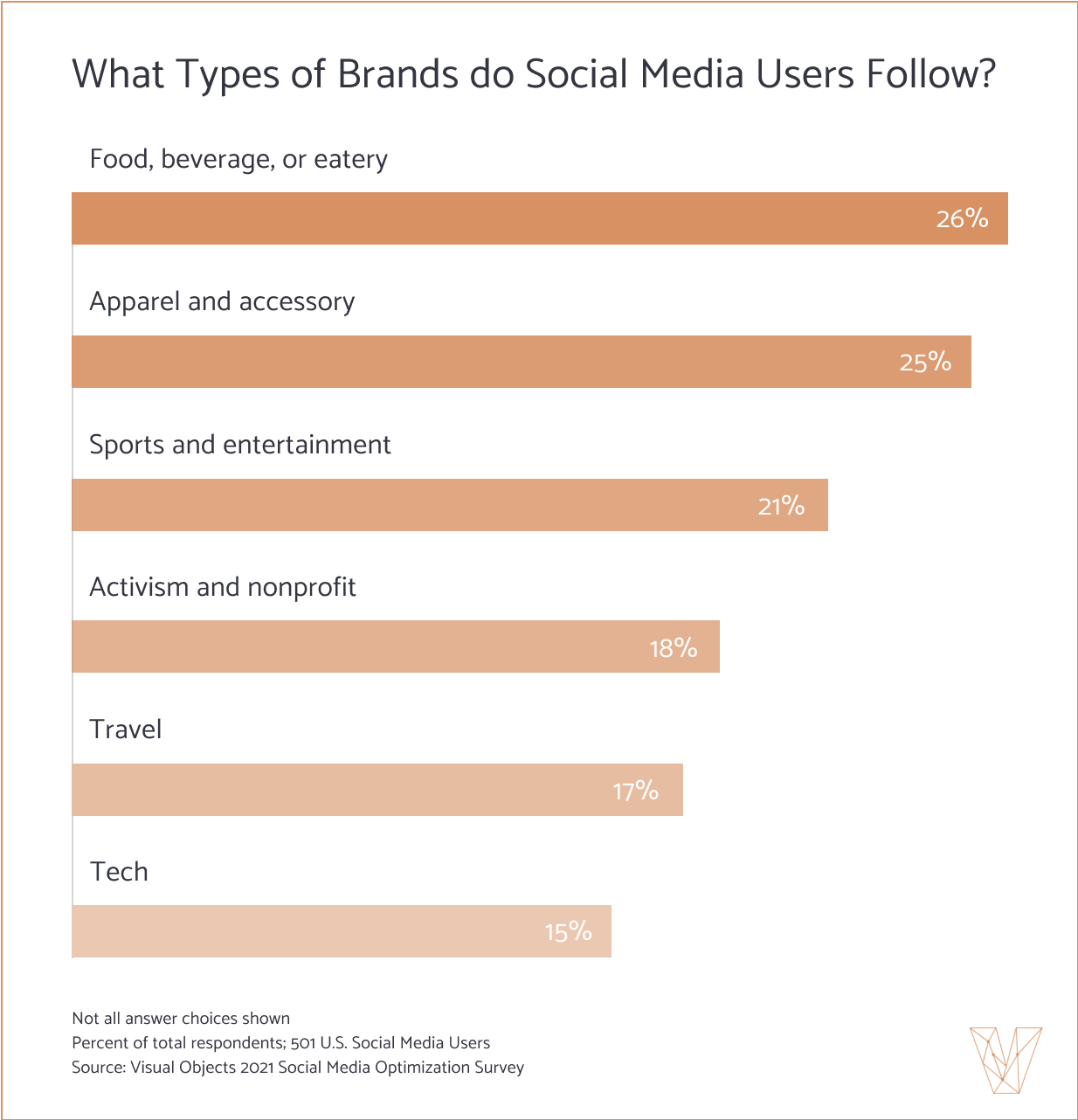 Tech brands (15%) are less popular than others across social channels. 
Emerging brands can follow the lead of established companies with large social followings to get a feel for social media engagement best practices within a specific industry. 
As social media manager at Axle Eight Marketing Agency, Peyton Grahovac manages social content and strategy for a number of brands. While Grahovac endorses drawing inspiration from other companies, she urges businesses to differentiate themselves by innovating on existing social content and trends. 
"There's nothing wrong with drawing from inspiration, but there are infinite creative ways out there to improve upon an already great idea," Grahovac said. "Plus, being a trendsetter goes super far with today's consumers."
Grahovac maintains that companies who take inspiration from branded content should expand upon existing social media trends to stand apart from other brands, especially in competitive markets. 
Grahovac finds that GoPro continues to stand out from other brands on social media.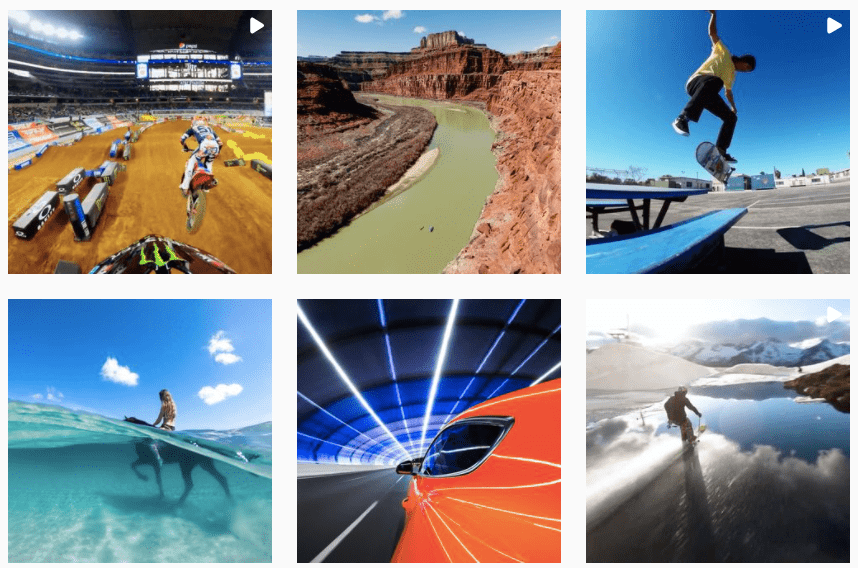 Source: @GoPro
With 17.9 million followers on Instagram, the adventure-focused camera company leverages the unique benefits of its products to create compelling content for social media.
"They use real, unfiltered, UGC (user-generated content) that makes you feel some type of way every time they post something new," Grahovac said. "They do a great job at making their followers experience FOMO (fear of missing out) simply through their product posts."
GoPro takes advantage of user-generated content by highlighting a "Photo of the Day." These photos were originally taken and posted by GoPro users, allowing prospective customers to see what their various camera models are capable of capturing.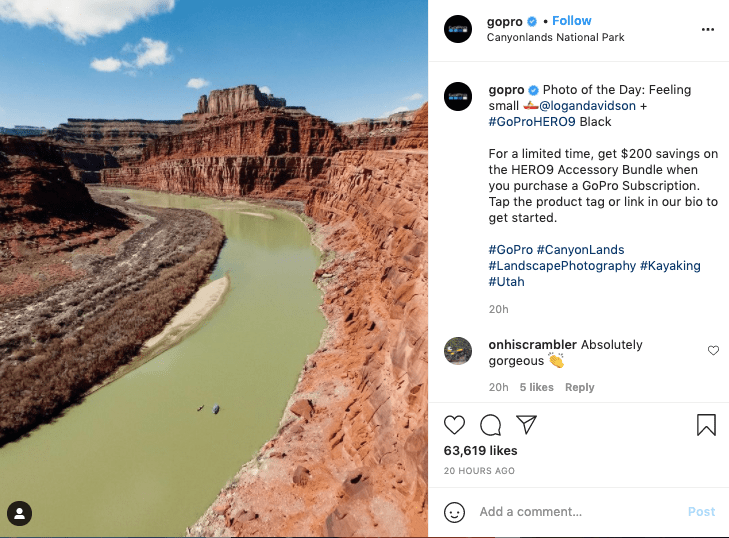 Source: @GoPro
Despite being a tech brand, GoPro has achieved success on social media. The company leaned into travel and adventure content, both popular on social media, to showcase products. 
By highlighting the breathtaking images their cameras can take rather than the products themselves, GoPro attracted a large audience of interested customers across platforms. 
Brands in search of audience engagement should seek inspiration on the social platforms they're using. By examining what kind of content is popular on a social channel, a company can best tailor its content to an audience while innovating on current trends.
Use Branded Content to Deliver Helpful Information
Customers appreciate informative content from brands. They're more likely to engage with branded content that conveys new or interesting information.
Currently, 23% of social media users actively interact with brand content that communicates important information, which was greater than any other engagement motivator.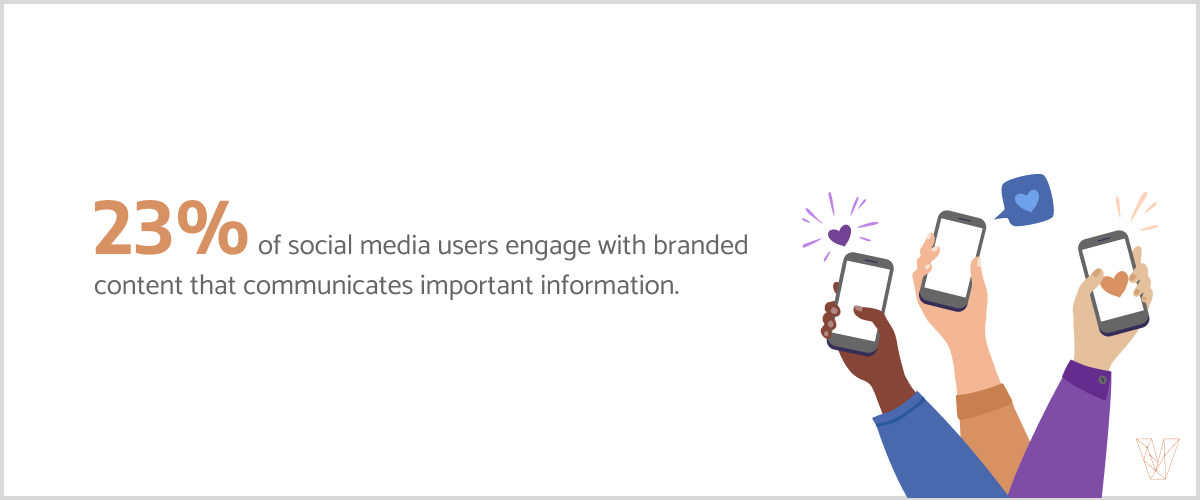 Social media users engage with content that is relevant and enriching to their lives. Instead of posting content that resembles an ad, companies should think about how they can leverage their product within informative social media content. 
For instance, The Washington Post has been able to connect with Millennial and Gen Z TikTok users through its quarantine TikTok series. The publication delivers news through the lens of popular TikTok audio and trends.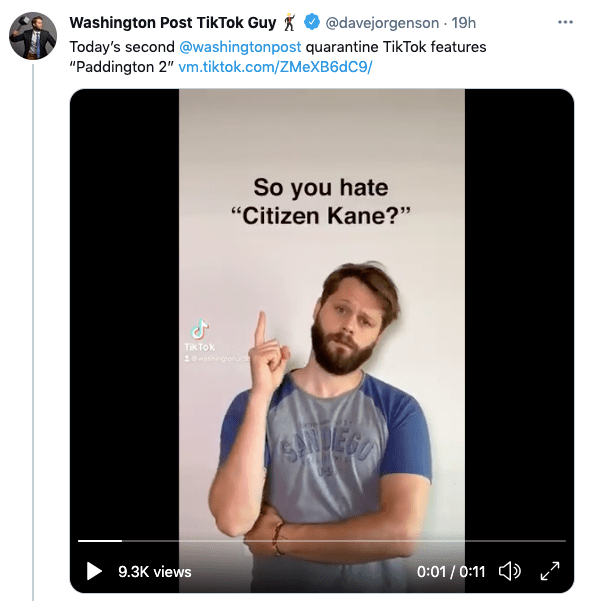 Source: The Washington Post TikTok channel
With over 900,000 followers, The Washington Post has successfully interested audiences with its informative, substantive content.  
Xander De Luca, communications and audience growth expert, commends the Washington Post for engaging with younger generations on the app.
"The Washington Post has absolutely nailed TikTok and took a risk in their approach with great reward: connecting a legacy publication with a massive Gen Z and Millennial audience," De Luca said.   
Other industry experts echo the need for purpose behind social media content. 
Lara Schmoisman, CEO of business strategy and marketing agency The Darl, believes that companies must define objectives for content before posting it.   
"Every piece of content that you generate needs to have an intention: either to generate interaction with your users, to share information, or something else," Schmoisman said. "Content is king and consistency is queen."
"Content is king and consistency is queen."
Companies looking to increase engagement should aim to post content that informs audiences.
Don't Over Prioritize Brand Voice 
Achieving a distinct brand voice is an important step for many companies in developing their brand identity. Brands may see social channels are the perfect arena to display these identities through interactions with consumers.  
Customers on social media, however, aren't attracted to companies for their brand voice alone. 
Only 9% of people will like, comment, or share a company's post because of its brand voice.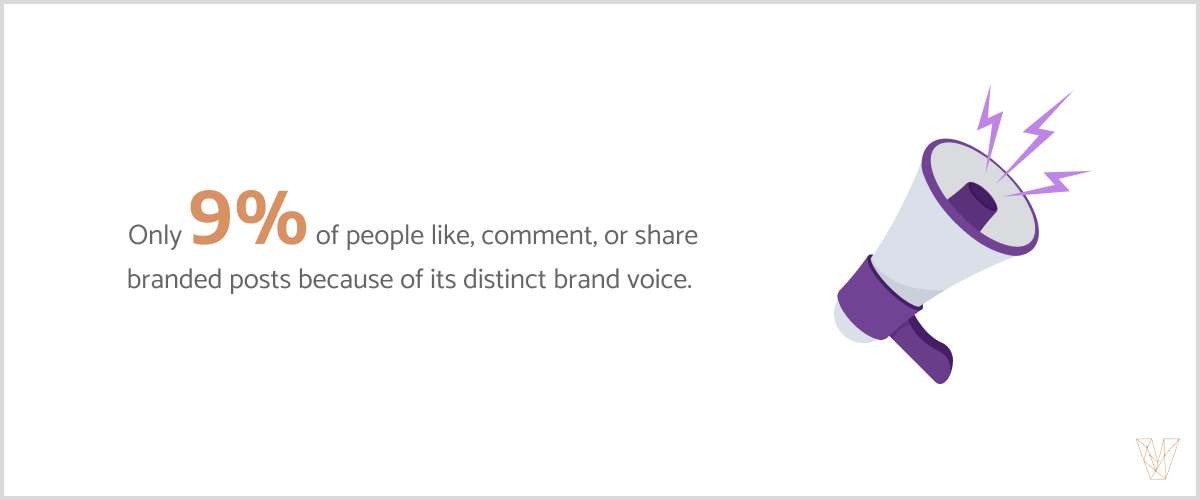 Social media experts find that having a distinct brand voice can be very effective, but it shouldn't be prioritized over being genuine, substantive, and informative.  
Abby Herman, director of strategy at Snap Agency, believes that brand voice should be approached strategically as a support for important information. Herman stresses that voice must complement company style while maintaining a sense of authenticity. 
"Having a brand voice certainly makes a difference, and if you feel that fits your brand style, then go for it. The trick is to be original and genuine," Herman said. "You should definitely be posting informative content that connects, relates, and best of all drives traffic to your website or sales page. Otherwise, you will be just collecting likes."
Having a brand voice can make a company stand out from others, but an effective voice is just one component of what makes a successful social media presence. A striking voice may attract attention, but companies need substantive content to turn interested buyers into converted leads.
Starbucks, with about 18 million followers on Instagram, has mastered integrating their consistent brand word with substantive content that reflects the company's values. Known for their commitment to corporate social responsibility, the coffee company created a content campaign for Earth Day, promoting a borrow and return program for reusable cups.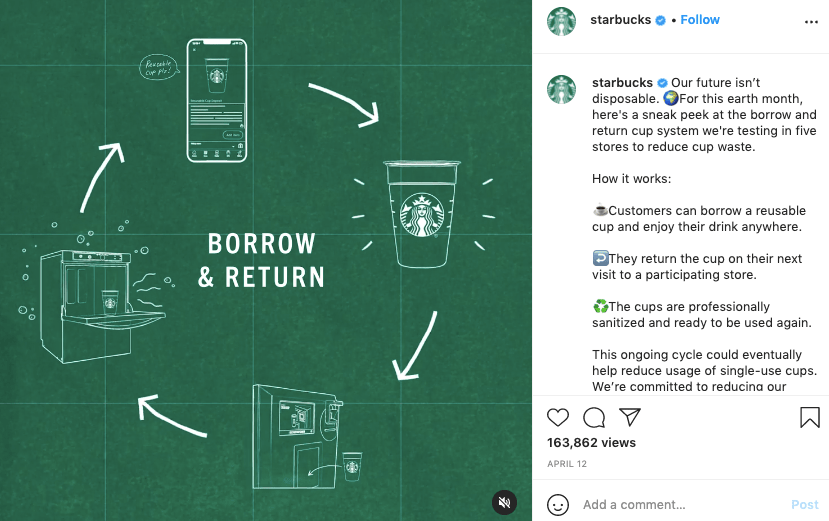 Source: @starbucks
While their youthful, light brand voice is still present in earth-tone emojis and short, skimmable paragraphs, brand voice is secondary to delivering an important message that aligns with brand values. This post helps people better understand Starbucks programs as well as the company's mission itself, which is very likely to resonate with an audience. 
A brand voice shouldn't supersede the helpful information businesses must communicate to meaningfully engage with online audiences. If companies are hoping to connect with audiences authentically, they should keep in mind that crafting a brand voice is one of many components of an effective social media marketing strategy.   
Visuals Should Support Content, Not Replace It 
Brands often prioritize developing a strong visual aesthetic to attract customers on social channels.
Social media platforms are visual, so it's not surprising that brands want to perfect their image and create visually appealing content to attract customers. 
However, only 11% of consumers interact with branded posts because of their visual aesthetic.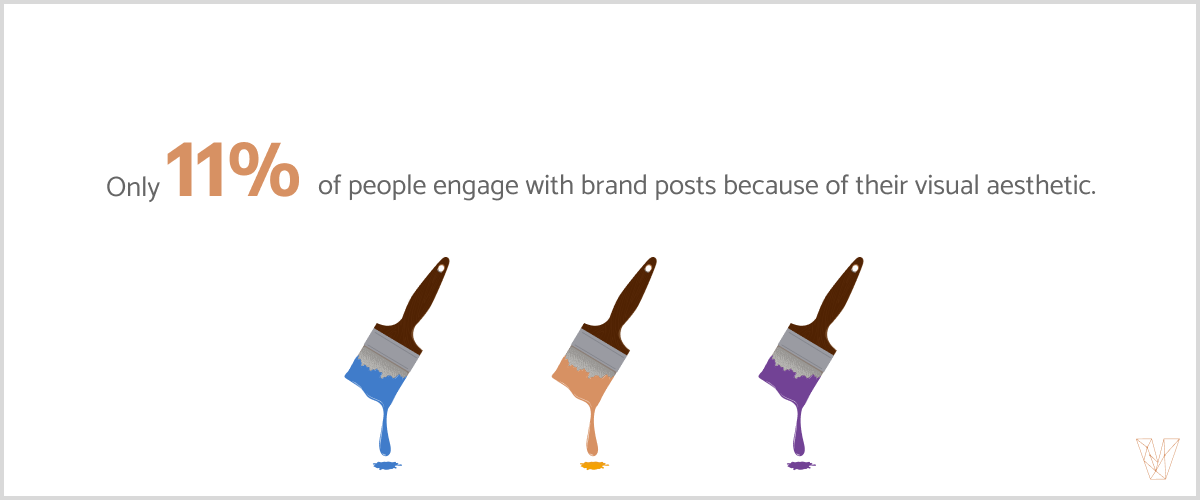 Visuals are powerful, but they should be treated as a support for informative, helpful content. Companies may struggle to engage audiences past superficiality by relying too heavily on aesthetic content. 
Audrey Truitt, digital marketing manager of real estate virtual assistant company Virtudesk, encourages companies to search for ways to keep content informative, even on social media. Truitt advises that there should be a healthy balance between substantive informative and engaging design elements within posts.
"In order for you to balance your social media content with substantive information, remember that the design should never distract or take away the substantive information that is displayed or given," Truitt said. "The design should aim to complement the information you are broadcasting."
 "The design should aim to complement the information you are broadcasting."
Truitt recommends experimenting with these design formats to balance visuals with informative content on social media:
Infographics
Quote cards
Borders around text
Image carousels 
Informative videos  
These visual marketing assets combine graphics and written content effectively, allowing businesses to convey important information while catching the attention of their intended audience. For instance, the U.S. Food and Drug Administration effectively combined visuals and text to convey an important message about COVID-19.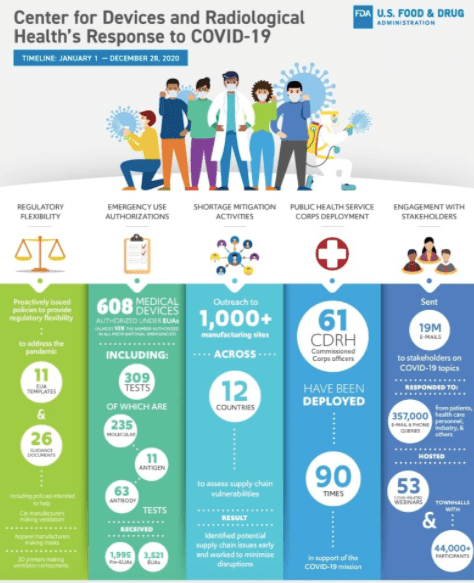 Source: FDA Response to COVID-19
The infographic seamlessly communicates how the organization was addressing the global pandemic in 2020 across five different focus areas. Rather than being used primarily for aesthetics, the graphics are facilitating the dissemination of a critical message.
Audiences want more than beautiful graphics from brands on social media. They're looking for credible information that's supported by engaging design and brand voice. While design is important to the success of companies on social media, brands must ensure that design elements support rather than replace substantive content.  
Avoid Overly Promotional Content
Companies creating content for social media should aim to avoid posting content that may appear overly promotional to audiences. 
Currently, 36% of social media users think brands typically intentionally provocative or misleading content for the sake of high engagement, rather than substantive content across channels.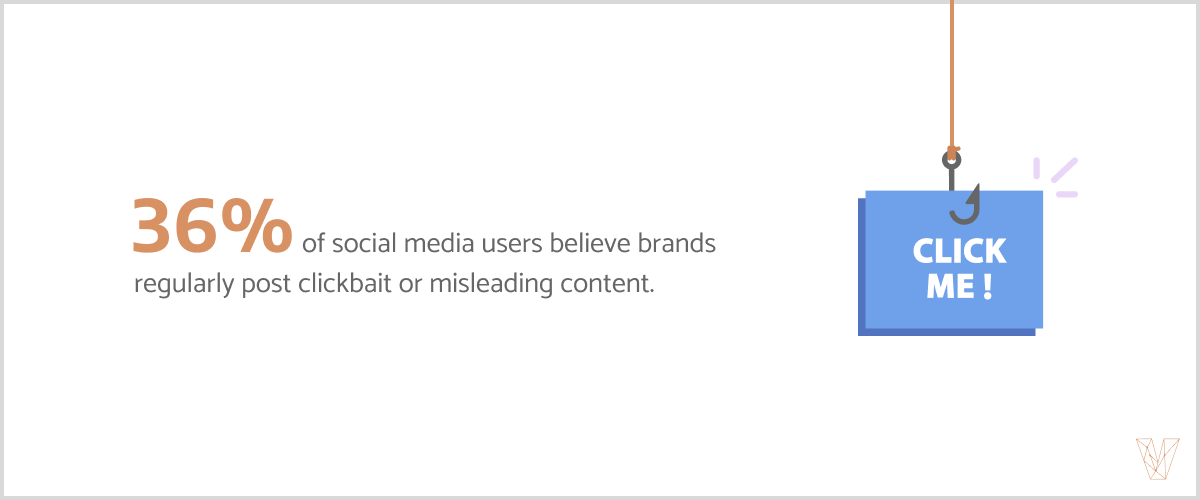 Audiences are less likely to engage with a brand's content if it comes off as clickbait. Experts recommend that companies define what clickbait looks like in their industry and take strides to avoid these clickbait red flags:
Headlines that don't align with content
Shocking or sensational content
Content doesn't fulfill promises in the headline
Devin Schumacher, the founder of digital marketing agency SERP, encourages brands to look out for sensationalism and aim to make content unique to avoid appearing like clickbait. 
"If you write a sensational headline to generate clicks and the actual content is completely separated from your initial promise, it tends to leave your audience feeling disgruntled," Schumacher said. "To avoid this happening in your own branded content, make sure that the content stands in its own right without a call to action or advertisement."
"Make sure that the content stands in its own right without a call to action or advertisement."
Schumacher suggests that companies offer a story, anecdote, or statistic to connect with the audience before promoting the branded product or service. Offering background or context will leave an audience feeling enriched and more invested in the brand. 
"Remember that emotion is as much of a currency as likes or shares are, even if it can't always be monitored or quantified," Schumacher said. "Therefore, making your reader feel something is a massive win when it comes to inviting engagement and achieving success."
Social media is a space to connect with audiences past the superficial. Sharing stories and information will take brands far in creating meaningful relationships with potential customers. In the process, company content won't feel as much like advertising to followers.
Implement Best Practices For Meaningful Social Content
Social media optimization is important for any brand aiming to digitally connect with its audience. Companies struggling to foster strong connections on social media should consider implementing these tips into their social media strategy:
Seek inspiration from successful brands without emulating too much
Use branded content to deliver helpful information
Don't prioritize brand voice over providing informative content
Visuals should support content rather than replacing it
Avoid overly promotional content that may come across as clickbait
By monitoring and adapting to audience preferences for social media content, brands in any industry can grow their business using social media channels.   
About the Survey 
Visual Objects surveyed 501 US social media users in March 2021.
Forty percent (40%) of respondents are male; 35% are female; 24% did not identify.
Eighteen percent (18%) are 18 to 34; 29% are 35 to 54; 28% are 55 or over; 25% did not provide their age.
Respondents are from the South (35%), Midwest (30%), West (20%), and Northeast (14%).
 
Need Help Finding a Company?