Madhura Samarth
5/23/2022
This article is designed to help B2B marketers formulate a video content strategy. It will help businesses understand how to create compelling, engaging, and relevant videos that will help drive engagement and sales.
B2B marketers sometimes ask whether it's worth their while to spend money, time, and effort on creating marketing videos. After all, video marketing is expensive. Written content or a nicely designed brochure or PDF should do the job, right?
Wrong. And here's why. 
Today more than ever, in a world where prospects are bombarded with information, B2B marketers need to find a way to get their message across. B2B buyers are as human as B2C ones and B2B marketers can, therefore, garner some influence and engage their audiences through the strong visual narratives offered by video.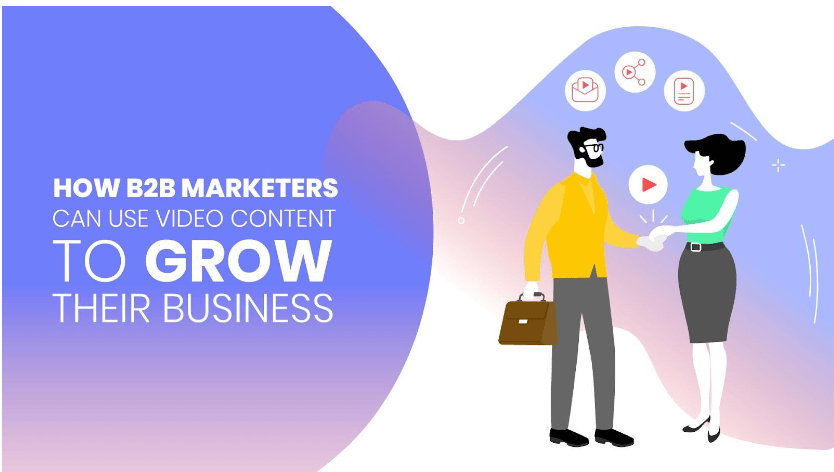 B2B video marketing, if done well, can help drive engagement rates, conversion rates, and sales. But first, you need to formulate your video marketing strategy. 
Additional Reading: 'How to Find & Hire Video Marketing Services'
Here are 5 tips on what you need to do before you get started:
Sharply define each segment of your target audience
Come up with unique insights that will resonate with different sets of prospects 
Know how you want to influence them
Craft a personalized message for each segment
Think of a strong 'Call To Action', preferably with an incentive
How Can You Engage Your Prospects as They Move Across the Marketing Funnel?
Remember, it's different strokes for different folks and so you need to create different videos for people at different points in the buyer journey.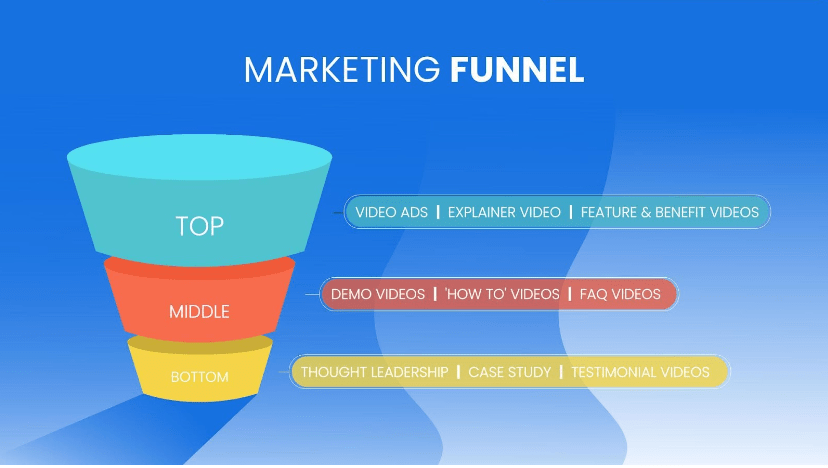 Marketers are filling the top of the funnel, driving the middle, and converting the bottom by using video content mapped to each point in the buyer's journey.
Here are the types of videos you can create for each segment of the marketing funnel:
Top Of The Funnel Videos
Teaser videos
It's a good idea to address a pain point that your product or service addresses in your teaser video.
Teasers should be no longer than 15-30 seconds and your viewer should feel that you 'get' them. Make your teaser informative or interesting enough to spark audience interest and drive your prospects to your website or landing page.
Keep your teasers hyper-relevant to each segment of your target audience.
For example, if you have a product that you need to sell to the accounts team and the procurement team within the same enterprise, create two versions of the same video and alter each version just enough that each team feels like you're speaking specifically to them.
Remember that for any compelling video, a strong script is key. 
Explainer videos
Once people visit your landing page, make sure you have an explainer video or a benefits video to show how your offering can help your prospect save money and time, or become more efficient.
Show them why your offering is better than others and how it will help them. 
Demo videos  
If you have a physical product, an app, or a website, create a demo video to show how useful or easy to use your product or service is.
Give your target audience the opportunity to actually see your product in action. 
Read this: '5 Ideas for Your Company's 30 Second Explainer Videos'
Middle Of The Funnel Videos
Once your audience knows about your product, it's a great idea to reach out to them again and show, rather than tell them how your product can help them:
FAQ videos 
At this point in the buyer journey, create a video or videos, that help alleviate any potential concerns that prospects may have about purchasing your product.
If your offering is, for example, more expensive than others, show people why that's the case.
FAQ videos are also a great way to get back in front of your potential customer and present them with new information that they may not have seen earlier. 
'How-To' videos
Create a 'how-to' video or a deep dive demo video that shows how easy your product is to use or how cool it is. These videos can also help maintain prospect interest and are a great way to get in front of your prospects again. 
Bottom Of The Funnel Videos
Once you know that people are interested in your product, send them a series of videos that helps them make the purchase decision.
Testimonial videos 
Happy clients can help prove to prospects that others in the same position as them have benefitted from your offering.
These videos help build trust and persuade your prospects to make the purchase. 
Case study videos
Case studies are useful to show a 'before' and 'after' scenario. Use quantifiable data to showcase how your product or service has helped bring about positive change. 
Thought leadership videos
These videos can help you clearly establish your business as a leader in the industry.
Create insightful videos on topics within your domain of expertise and send them out regularly. 
How to Use Your Marketing Videos
As you create each video, think carefully about your call to action.
Have one call to action that is unambiguous about what action you want the viewer to take. Make sure you have analytics in place for each video so that you can track key metrics and analyze them once you have enough data.
Once you have created all these videos for different audience sets, designed the right landing pages, and set up analytics, make sure to personalize your videos when you send them out in your campaigns.
There are software services through which you can mass personalize your videos to delight your prospects or customers.
You can address them by name, use their company name, insert their company logo and even personalize further depending on how deep you'd like to go. 
Now that you have a repository of videos, you can leverage them across platforms and channels. Most videos described here are likely to have a long shelf life. 
Read this: '10 Types of Videos for Your Marketing Strategy'
Here are some ideas on where you can use your videos to get the biggest bang for your buck:
Corporate website & landing page
LinkedIn & other social media channels
WhatsApp marketing
E-newsletters/campaigns
Demos on third-party channels
Channel partners' sales channels
Industry events
Shareable content
Embed in email signatures
Create Engagement Across Your Funnel by Creating Different Types of Videos 
Remember that you have several options in terms of the style of videos you can create. 
Broadly, they fall under 3 categories:
Live action videos
Live action videos are shot with actors, on location or on a set, with a full crew, equipment et al. These can be expensive, depending on the script.
In case the script calls for serval different locations and multiple actors the cost can skyrockets as you have to pay the people involved in creating the video on a per-day basis and the locations too can be expensive to hire. Then you have to edit the video and get into post-production. 
Animated videos
Animated videos are a great option as they are more pocket friendly than live-action videos. You can have as many locations and characters as you'd like without increasing the cost dramatically. Animated videos are usually charged on a per-minute or per-second basis.
If you need realistic animation, then 3D animation is a good choice. However, it's more expensive & time-consuming than 2D animation. 
Stock footage videos
Stock footage videos work well when you need to show real people or real scenarios but don't have the budget to shoot live.
In stock footage videos, you can select clips from the many stock footage sites available and add text (also called supers) or overlay graphics on the clips that you use.
Make sure to choose clips that go well together so that your video looks cohesive once the clips are strung together. 
Get Started on Your B2B Video Strategy
Now, you might wonder if there are any examples of success where a B2B company has used video marketing to grow its business. This case study will show you how Zycus, a tech company, increased conversion rates by 30% by using explainer videos to talk to different types of prospects and to cross-sell and upsell their suite of products. 
Creating a video strategy and then producing multiple videos can be daunting. It's a good idea to make sure you work with specialists with strong video creation processes and a track record of success in B2B video marketing. The scripting team, visualization team, animation team, and sound post team should all be seasoned. 
Check out our directory that will guide you on how you can use videos to drive business results. 
Additional Reading:
Need Help Finding a Company?