Event landing pages inform people about upcoming events, generate excitement, and, ideally, encourage people to buy tickets. Make sure your landing pages include everything potential buyers need to know by following these tips.
With more than 160 million people vaccinated across the country, the United States is finally allowing large gatherings. At last, people can dress up for concerts, see their favorite comedians, meet their colleagues at networking events, go to beer and wine festivals, or even travel for industry conferences. 
Excited to get out, people eagerly click on event links, hoping to be sent to a landing page that can help them learn more about an upcoming event. 
There, customers will decide whether or not they want to attend the event. Even though people are ready to get out and mingle, your event needs a well-designed landing page to build excitement, earn your potential customers' trust, and encourage people to register for upcoming events. 
When creating your landing page, follow these design tips to increase your ticket sales: 
Include event details
Highlight your call-to-action 
Feature eye-catching visuals
Add social media buttons 
1. Include All Event Details 
Imagine getting an invitation to a birthday party, but you don't know where it is or what time it starts. Would you go? 
Of course not. Not only would it be impossible to plan your time around the party, but it would look like a fake invitation and feel like a scam. 
Your event landing page needs to include everything someone would need to know to attend your event. That consists of the time and location of the event so that potential attendees can plan logistics and determine if they can go. 
Web designers should highlight these details so customers can quickly find necessary information and reference it in the future. Especially post-COVID, be clear about whether the event is in-person or online to prevent any confusion. 
You should also include a description of the event ,so potential attendees know exactly what they're purchasing. Depending on the type of event, add information like an overview of the schedule, parking details, or opening acts. 
Just a few sentences can excite potential buyers enough to get them to buy a ticket. Like a product description on a retail site, this information can influence buyers and encourage them to attend the event. 
For example, The Kennedy Center, a performing arts venue in Washington, DC, includes specific details about upcoming events. Here, they're advertising tickets to see comedian Hasan Minhaj. 
Source: The Kennedy Center
They include the dates he will perform, the price range, and where he will be performing. To buy tickets and learn about when he is performing, a user just needs to click on "View All Times." 
2. Highlight Your Call-to-Action
As a key part of any webpage, call-to-actions (CTAs) clarify what steps a potential buyer needs to go through to move through the sales process. For event landing pages, that means including actionable CTAs such as "Buy Tickets Now" or "Register for Event." 
By using clear verbs like "buy" or "register," readers will know what to expect as they move on to the next page of your website. Once clicked on, CTAs should redirect users to the next step in the checkout or registration process. 
To increase your conversion rate, make sure that your CTAs are visible and grab the user's attention. Using bright colors or adding 3D effects will make your CTA appear clickable and make it stand out. This makes it easy for users to RSVP, register, or buy tickets. 
3. Feature Eye-Catching Visuals
Visuals can be impactful marketing tools. In fact, videos can boost conversions by 86% when strategically placed on a landing page. 
By including images, videos, or animations on your landing page, you can engage your audience and make them more likely to attend your event. Additionally, you can use these visuals to brand the event and increase your company's name recognition. 
For annual or recurring events, use the content you collected the last time you held it. Pictures and videos of people having fun at the event can get people excited about participating again while encouraging new people to register. 
Color Run, a 5K fun run famous for dousing participants in colored powder at each kilometer, does a great job promoting the atmosphere of their events by including bright images of participants throughout their website.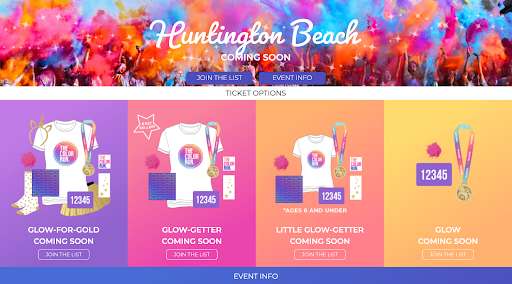 Source: Color Run
They've created a banner on their landing page that illustrates how the event looks: with colorful powder in the air falling over smiling, laughing, and jumping participants, who wouldn't want to attend? 
New events, however, might need to get more creative. Rather than reusing content, they can partner with a creative agency to develop videos, animations, and pictures that convey the feel of the event. For example, a wine tasting would need images conveying sophistication and taste, while a concert might highlight dancing and fun. 
4. Add Social Media Buttons 
Finally, be sure to add social media buttons to your landing page. This interactive element can generate leads and add to the hype even after customers decide to attend your event. 
Popular website builders, such as Wix, WordPress, Shopify, and Squarespace, know how important social media is to building brand awareness. As a result, they've made it easy for web design companies and developers to add social media icons. 
To get customers to engage with these buttons, make sure they're located where users are likely to click on them. People who buy tickets and register for the event can then use these icons to share the link with friends and family that they want to invite to the event. 
These Design Elements Will Increase Ticket Sales
An event landing page serves to increase excitement about upcoming events and encourage attendees to buy their tickets. 
First and foremost, your landing page should include all event details, such as the time and location of the event. This helps attendees plan ahead, while eye-catching visuals such as pictures or videos can get people excited about the event. 
At the same time, be sure to highlight your call-to-action and social media buttons to generate leads and increase sales. 
Need Help Finding a Company?