The future of web designing is growing and evolving. As excellent web design becomes increasingly important for businesses, it is time for your company to consider some of the top trends in the industry for your next web build. 
 
Web designers and developers need to adapt to keep up with the future of web designing. 
With new technologies and movements arriving on the digital scene, the landscape of web design is a bit unpredictable. It is important for businesses to stay ahead with the latest trends, tools, and technologies. 
Developers and designers need to adapt their own skillsets to keep up with the demand. 
This article goes into a few of the trends impacting the future of web designing.
Accessibility
Chatbot Support
Green Hosting
Single-Page Layouts
Voice Search
Accessibility
Your website should be accessible for all potential customers and users. 
Web accessibility means that websites, tools, and technologies are developed so that people with disabilities can interact and contribute to the web. 
This involves all disabilities that affect access to the web, including:
Cognitive
Physical
Neurological
Visual
Speech
Auditory
People without disabilities also benefit from web accessibility. For example, if an older individual is losing their eyesight due to aging, a website with big fonts and typography will help them use the company's website.
Chase, the banking service, uses accessibility throughout its homepage.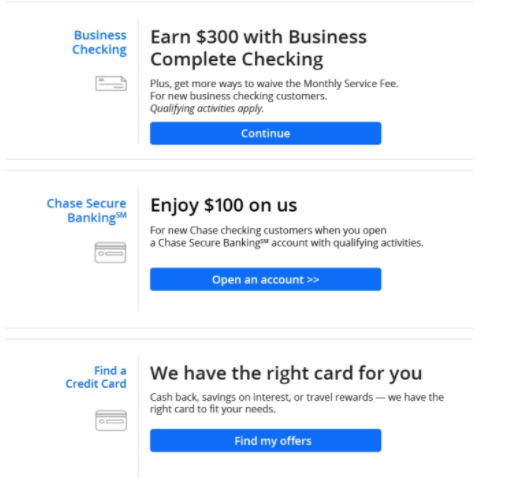 The website contains strong, bold fonts, eye-catching buttons, and icons to capture the attention of users in a clean and accessible way. 
An accessible website is increasingly important for individuals, society, and businesses. 
Chatbot Support
With the increasing need for swift online support, chatbots are offering assistance for consumers all over the world. 
Chatbots are there to ensure the user receives the help that they require in the best way possible, and within the shortest amount of time possible. 
Businesses must brainstorm innovative ways to make their chatbots user-friendly and unique. 
Brooklinen, the bedding retailer, has a live chatbot located towards the bottom of their homepage.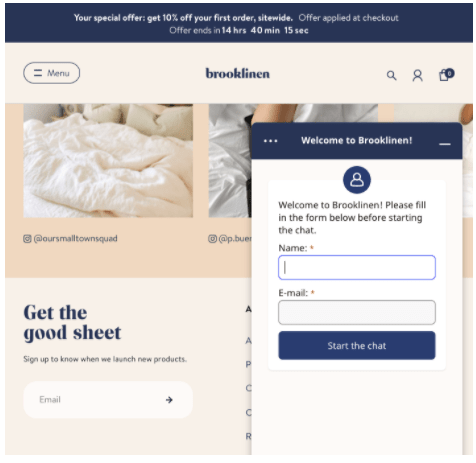 This chatbot allows the conversation to continue after logging off by prompting the user to add their contact information. 
As the future of web designing becomes more efficient, businesses should ensure that their site visitors are receiving that round-the-clock support. 
Green Hosting
The future of the world is impacted as much as the future of web designing. 
Green hosting refers to web hosts actively trying to carry out eco-friendly initiatives to mitigate any impact that their data centers and companies have on the environment. 
Web hosts can give back to the environment through renewable energy and carbon offsets. Your business can invest in searching for a green hosting provider that is energy efficient and eco-friendly. 
The web design industry is one of the many industries looking to make the world a little greener. 
Single-Page Layouts
A majority of websites don't need to incorporate a lot of interactive elements and pages. 
With financial considerations, it's sensible for your business to embrace simple websites if your service calls for it. 
A single-page or one-page website contains all of the information on one page while their navigational links serve as anchors to different site sections.
This layout often allows businesses to invest in smooth scrolling backgrounds and parallax effects. 
Upstate Laundromat uses a single page to their advantage by providing all information to potential customers on their front page.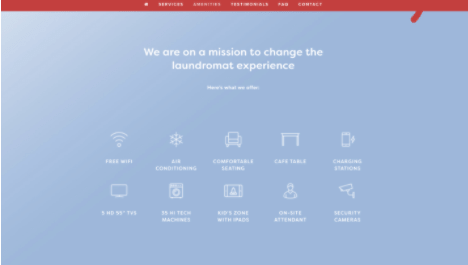 Along with information about their offerings, the laundromat includes customer reviews, FAQs, and other website sections on their main page.
The single-page website is more convenient for mobile users as well – they can scroll up and down to see all of the relevant information.
The future of web designing involves quick offerings and efficiency, which can be found in a single-page website.
Voice Search
A majority of people own smartphones and devices, making the idea of voice search even more popular for the future of web designing. 
Going beyond viewing info on a screen, users can ask questions or navigate to different pages using these methods. 
A lot of major tech companies are leveraging Apple Siri, Google Voice Search, Amazon Echo, and more within their websites. 
The future of voice search is still promising, so businesses should start looking ahead to see how they can implement it in their own platforms. 
All Developers Should Invest in the Future of Web Designing
As the digital landscape changes, the overreliance on technology is becoming part of the human experience. As technology grows and the use of smart devices becomes a staple, the future of web designing is set to innovate. Your business should start considering how to make your website stand out from the pack, meet current trends, and remain unique within your industry.
Need Help Finding a Company?