A successful formula for how to become a web designer can be a combination of continuous learning, understanding your value, and learning from the experiences of other web designers. 
Some argue that learning from your own mistakes is paramount for how to find success as a web designer. We argue that the best web designers learn from the mistakes of others. 
If someone has been down the web design road before you, and they tell you what to watch out for, then you had better listen to them!
As a top web design firm in Atlanta, we've seen countless would-be designers making the same simple mistakes. We've even made a few of them ourselves!
This guide is meant to give you an edge in your journey to a successful web desgn career. We're going to talk about your mindset, pricing, clients, and tools of the trade.
Establish the Right Headspace When Starting Your Career
The most common misconception about working as any sort of specialist is that skills and knowledge come first. That's simply not true. The proper mindset comes first. The rest follows.
This might seem unnecessary or even silly, but it's not. The top-performing athletes and artists in the world work on their mental game every single day.
Do you actually believe that you can succeed in this industry? If you don't, you will subconsciously undermine yourself without realizing it. Before you purchase tools, pitch to clients, and start working, upgrade your mindset.
Get a journal and write out the reasons why you want to win as a web designer. Develop ten-strong affirmative statements about yourself to repeat every morning. Practice visualizing your success. 
Determine the Accurate Value of Your Services
As a startup web designer, you will be tempted to bid extremely low in order to secure jobs. This goes hand-in-hand with mindset development. If you don't believe you can actually bring value to your clients, you won't feel good about charging a high rate.
You will be downright shocked at how much people will say yes to when you simply ask. You have an extremely valuable skill that will help their business immensely. They are willing to pay top dollar for that. If they aren't, then run in the opposite direction.
Think of it this way: If your design helps a firm bring in $10,000 in extra revenue, they will have no problem paying you $2,500 for your work. At the end of the day, they're making an extra $7,500.
If you have no portfolio yet, it makes sense to set a lower rate. Do not stay there. Determine the highest rate that you feel comfortable asking for. Then ask for more.
Maintain Your Personal Website
In web design, your personal website is a showcase of your skills. 
Invest time and money into making it shine. Don't think that simply having a decent portfolio, a testimonials page, or solid online reviews is enough. The best way to convince someone that you can create amazing websites is to create an amazing website.
Here's a look at the front page of our website.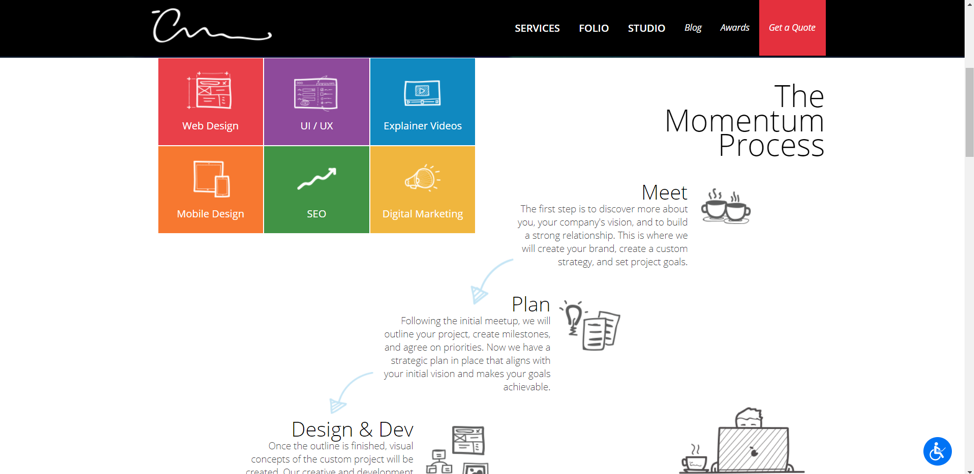 Notice the brand consistency. Also, notice the arrows which naturally guide the reader's eyes exactly where we want them to go.
It's going to feel more difficult to work on your own site because you're not getting paid. The professional cook sometimes loathes meal prep at home for this reason. It will, however, pay off when a prospect sees it and decides to go with you. Consider your website as both practice and portfolio-building.
Partner With Win-Win Clients 
Once you complete a project, feel the freedom to move on. You don't owe any client lifelong loyalty. 
At the end of the day, make sure the work you do satisfies you emotionally and financially. Only you can be the final judge of that. 
Some clients pay well in money, but they cost you in opportunity and emotional energy. If you have a client paying $100/hour, but they consistently micromanage, set harsh deadlines, and have a never-ending list of revisions for you, consider going with a $75/hr client who meshes with your system.
If you have a lower-paying client who takes up a big chunk of your time, have a candid conversation with them. You may be able to invest that time in building your business and finding a client who meets your needs.
In short, do what works for you: if helping startups with web design provides the best experience and professional fulfillment for you, pursue that. The same goes for enterprise firms, small businesses, healthcare companies, etc. 
Find a Network to Share Experiences and Solicit Support
Many beginners think that they need to go it alone. If they bring other people in, then they could take a share of the profits away. That's the wrong way to think about it. We're not suggesting you hire a few full-time employees from the jump. We're suggesting you establish good relationships early on.
You need a network. When you network, you gain expertise and referrals. When you have too much on your plate, you can refer a prospective client to a friend. Later on, they'll return the favor. Consider joining a Facebook group of like-minded designers, like this one:
 
A group like this is a fantastic way to meet people. You can also gain free tools and knowledge!
You also need to delegate tasks. If designing is your main strength, consider bringing in an outside writer to edit your pages or developer to code and QA the backend of the site. 
Think about hiring a social media marketing company to help you build your audience or a marketing consultant to expand your clientele. The top designers stick to their strengths, get paid generously, and outsource the rest.
Invest in Learning 
You need a consistent diet of continuing education in order to get to the top and stay there. When you first start out, you have to do a ton of research: Keep this as a persistent habit.
You must constantly learn new things. This means investing in courses and webinars, on top of the free resources out there. You may argue that you don't make enough to afford paid training. However, the best way to get paid more is to upgrade your skill set.
Study Challenges Others Have Faced to Succeed as a Web Designer
Learn from others' mistakes
so you don't make the same ones. In order to get the results you want, you'll likely have to experiment, fail, and try again. These tips will give you an advantage over others who are starting out.
Now that you've gotten some tips regarding common mistakes, put them into practice. Do you need to work on your mindset in order to bring your best? Is it time to establish your network? How much time and money are you investing in your own training?
Take one or two, and make a plan to work on them today!
 
Need Help Finding a Company?