Outlining key questions do ask when designing a website will help your business organize and navigate the web design process effectively. Your questions should be based around key topics that drive website success, for example, what is the scope of your web design project? How well your website aligns with your goals? How well does it align with your brand? 
Whether you are planning to create your website or redesign an existing one, it is important to know what your website needs. You can do this by asking yourself key questions. The answers to the questions will help you identify the essential information, process, and results you want to achieve with your website. 
Asking the right questions will help you identify the milestones of the design process: Having a specific plan plotted out for your website design helps your web design partners to stay on course. A defined web design workflow plan keeps you from going beyond the scope of your website and prevents you from adding unnecessary tasks to the project.
While there will be features you would like to add or change as the website is being developed, a well-thought-out plan will help you stick to the essentials. 
Knowing what you want to see on your alo website helps vet how you source your web design project: It helps you quickly determine whether a particular web design firm can execute your vision for the website.
Your questions can serve as guides to your web design team. Whether you are working with a web design agency or with your team, guideposts are necessary to move the process quickly. 
Key Questions to Ask During the Web Design process
During the web design process, outline a series of questions to ask yourself to stay on track during the design process, especially around topics including: 
Scope of the project
Contribution to business goals 
Alignment with your brand
1. What is the Scope of Your Web Design Project? 
Defining the scope of the project can help you determine:
Services and features: For example, do you expect high traffic? This will impact the amount you need to invest in storage and ensuring your site has solid user experience. 
Expected expenses: Having a set budget for a web development company partner helps you manage your options, the type of website you can afford to create and maintain, and know which features to prioritize.
Timeline: Outlining a web design timeline allows for easier progress monitoring, keeps team members focused on the task, sets a realistic launch date, and helps your marketing prepare their campaign
Finally, align on who is responsible for the various elements of the web design process: Assign the right roles to the right people. Some of the tasks you have to assign include consulting with your web designers, individual page approval, website launch, and content management.
Clarifying all of these details as you begin your web design process will help you avoid key web design challenges such as project creep.  
2. What Are Your Goals For Your Website?
Set short-term and long-term goals from which you can measure the success of your website: 
What action do you want users to do while on your website? 
How is your website building your brand identity in the long run? 
Base those goals in the purpose of your website, for example:
Is it a product catalog? 
Can users purchase products on your site? 
What kind of information do you want your website to offer? 
Keeping the purpose of your website should help inform what kind of features your website will have. It also identifies what users may do when inside your website. 
Identify your ideal audience by demographic data and skill in navigating online sites. Your target audience will help determine how your website will look and the kind and level of the user interface to employ.
Finally, prioritize which important information you want your users to know the moment they enter your website. Show this information prominently on your website and make it easily accessible.  
You also should use your website to maintain competitive advantage: What will make your website, and company, unique compared to your competitors? 
Analyze competitors' websites to recognize what works and what doesn't. The features that make their website good may work for yours as well.
Avoiding what you dislike about their website might make your website more effective.
3. How Will Your Website Align With Your Brand?
Define your brand or company identity. What are your brand's values, vision, objectives, size, location, market share, target market, strengths, and weaknesses?
Define what image, feel, or look you want your website to portray. This allows you and your design team to streamline designs and choose options that fit your brand's identity.
Nike, for example, populates the home page of its website with a variety of images of individuals wearing Nike gear in some sort of sporting posture.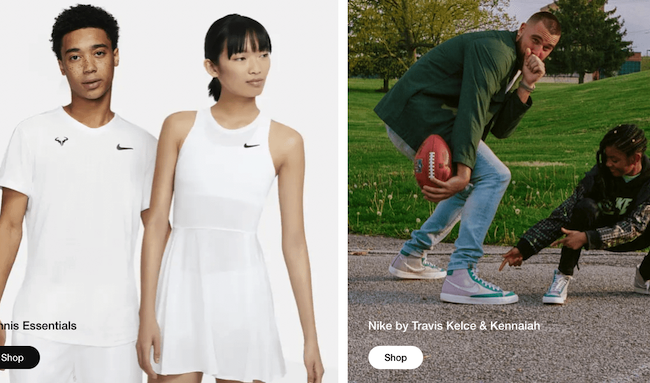 Source: Nike
This should help shape the scope of your design process: Leverage a branding kit to ensure that your website aligns with other key branding elements such as your logo, font, and colors.
Knowing Which Questions to Ask When Designing a Website Helps Streamline Your Web Design Process 
Asking the right questions will allow you to be able to formulate a plan of approach in designing your website. Take the time to understand what your website needs to ensure the efficiency of the process, keep the team on course, and save time and money. 
 
Need Help Finding a Company?