More than one-third of small businesses choose not to invest in a website, even though they need one to compete in 2020. We outline 5 ways businesses can improve their website management.
Updated April 14, 2022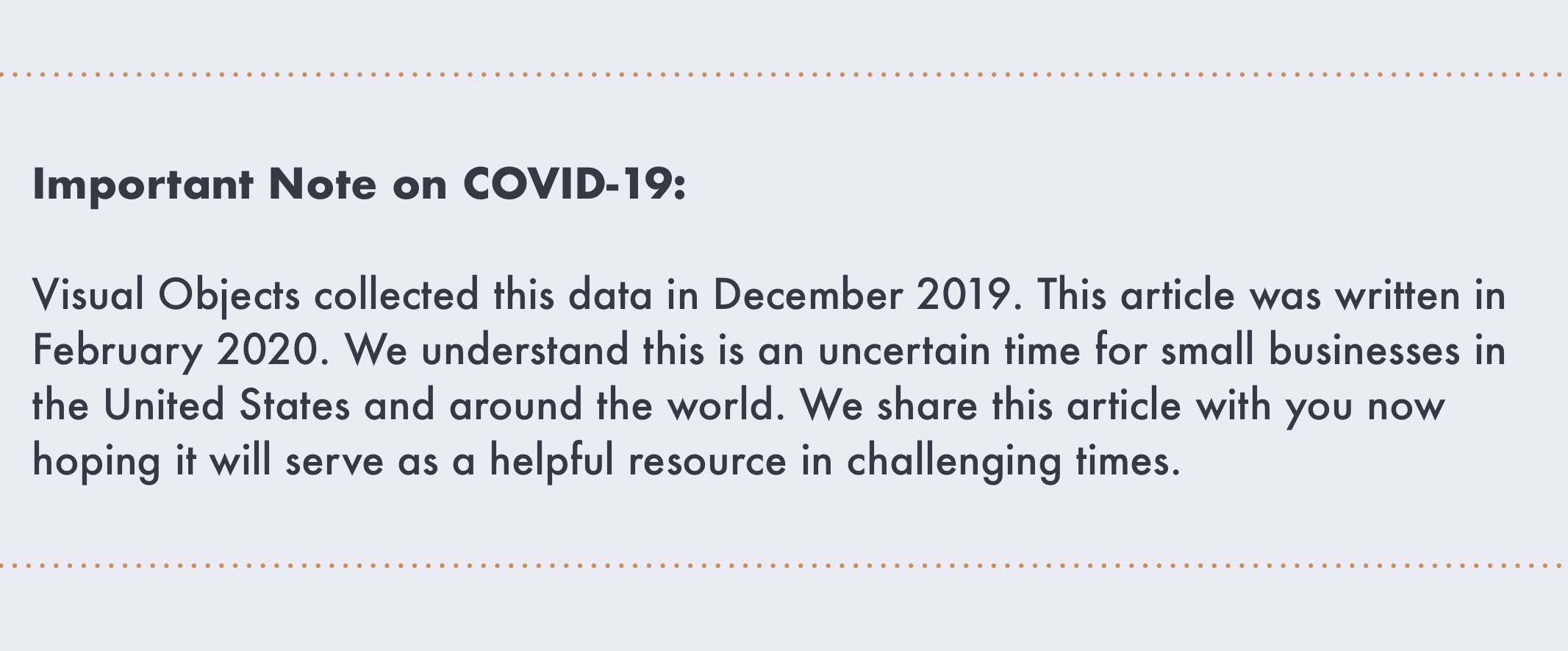 Imagine you're looking for a place to get a haircut. You search for a local barber or salon and find one that looks promising according to reviews on Yelp and Google. 
You excitedly look for a link to the business's website and find that it doesn't have one. How do you feel? Do you decide to risk a haircut at a shop with no website, or do you continue searching for another hair salon that has a website? 
Websites are a comprehensive resource for users to find essential company information such as location, teammates, case studies, and mission statements.
Websites validate information people might find elsewhere online, such as on social media or third-party reviews. Websites are critical for businesses developing and maintaining customer relationships. They are often the first places people will go when they want to learn more about a business.
Still, many small businesses choose not to have a website. More than one-third of small businesses didn't have a website in 2019, and a report on Top Design Firms shows that number has decreased to 27% in 2021. 

Consumers expect businesses to have a website, however. If you don't have a single source for essential information such as contact information and addresses, your business could appear illegitimate to potential customers. 
Businesses might choose not to have a website because of the cost or time investment or because they believe their business offerings do not require an online presence. Some companies also might be tempted to use social media as a placeholder instead of a website. 
We surveyed 500 small business decision-makers in the U.S. to see how they use websites in 2020.Our data confirmed that businesses should build websites that are well-designed, consistently maintained, and full of relevant content.
Our Findings
More than one-third of small businesses (37%) don't have a website.
Nearly one-third of small businesses (29%) have a website primarily to better rank in search engine results.
Almost a quarter of small businesses (23%) struggle with the time and expertise required to build and maintain a website.
Most small businesses (69%) have in-house employees managing their websites, but more than three-quarters (77%) of those in-house employees balance running the website with other responsibilities.
Visual content is the most popular form of website content for small businesses, and the most effective at driving traffic back to small business websites.
Based on our findings, here are four tips for managing a website:
1. Build Your Website for People, Not Search Engines
Ranking in search engines is important for reaching the right audience. Current and potential customers, however, should come first when designing your website.
We found in 2019 that almost one-third of small and medium businesses (29%) had a website to rank organically in search results.
Ranking in search engine results pages (SERPs) was the second most popular reason business owners gave for creating a website. 
Read this: '2022 Small Business SEO Report'
More than one-third of businesses (34%) said that they used their website primarily to showcase products and services.
Websites that place a heavy emphasis on search engine readability appear inorganic to website visitors.
You can easily spot websites trying to rank in the SERPs at the expense of their customers. Their website copy usually reads unnaturally. Keyword stuffing is one example of websites trying to rank in SERPs at the expense of website experience. Customers might be confused and frustrated reading the same keyword or phrase repeated.
Create your website content for searchers, not the search engine, to optimize the experience for your current and potential customers.
2. Conduct Regular Website Maintenance
The best websites are created and updated with care and regularity. Website visitors will be disappointed if the information on your website is out-of-date or if your website is slow.
About one-quarter of businesses (23%) said the biggest website challenge in 2019 was the lack of knowledge and time needed to maintain a website.
Even simple websites require dedicated time to make sure the interface is pleasing to users, links are working, and the content is up-to-date.
If you neglect or put off website maintenance, you risk increasing your website's bounce rate and disappointing potential customers.
A 2018 survey from Clutch, for example, found that 63% of people would stop using an unreliable website permanently.
Half of people (50%) will also leave your website permanently if the content isn't relevant to them.
When you build your website, make sure you allow enough time and resources to keep it running and updated.
Additional Reading: 'What Does it Cost to Build a Website?'
3. Hire Outside Resources
Building and maintaining a website is easier with the right teammates in charge of the task.
In 2019, most small businesses (69%) used in-house employees to build and manage their websites. Most of those in-house employees, however, balance website management with other responsibilities.
When employees try to maintain the company website while supporting customers or managing finances, for example, it could lead to some of those tasks being neglected.
Only 23% of in-house employees worked on the website exclusively in 2019.
Our report also found that 30% of small businesses use website builder software such as Squarespace and Wix.
These types of software make it easy for people with limited web design and development experience to create a basic website from scratch.
Wix, for example, is a free website building tool that lets users choose between an automated design tool and customizable templates.
Wix's Artificial Design Intelligence (ADI) is an AI-powered solution for businesses looking for a fast website with minimal work. 
The Wix Editor lets users customize templates with fonts, text, images, and color schemes.
These tools are useful for small businesses with in-house teams who don't have the time to focus on a website exclusively.
Website designers and consultants, however, are also helpful resources when you want to improve your small business website with advanced functions.
Some web design companies even specialize in website building software to help you get the most out of the tools.
Small businesses can then perform ongoing maintenance after the web designer constructs a high-quality site in line with the company's brand and vision.
4. Publish Visual Content 
Too much text on a website can be boring and unengaging for potential customers. Small businesses should prioritize publishing engaging visuals on their websites.
According to our 2019 survey, a quarter of businesses (25%) said visuals drive the most traffic to their website.
Businesses also say product descriptions (19%) and videos (12%) drive website traffic. 
Websites that are overloaded with text resemble the early days of the internet, when websites such as The Economist were less sophisticated and user-friendly than they are today.
Images and text combined make your website scannable and engaging for potential customers. 
Visuals can include graphic designs, photos, or infographics that break up large portions of text. 
Include visuals such as logos and graphics on your homepage and product pages. You should also supplement your blog posts and other long-form, written content with graphs, screenshots, or other pictures to make your content more engaging for readers.
Additional Reading: '4 Creative Content Examples for Your Website'
Avoid Common Small Business Website Mistakes
Websites are often the first stop on the customer journey. It's imperative that small businesses build and maintain useful, functional, and appealing websites for their target market.
More than one-third of small businesses did not have a website in 2019. Of the businesses that had a website, one-quarter of them struggle with building and maintaining that crucial online presence. As the world has shifted more online during the coronavirus pandemic, having a website is more crucial than ever for small businesses. 
Rather than relying solely on in-house employees, whose responsibilities are often divided between website management and other activities, businesses should hire professional freelancers or web designers to assist in website maintenance.
About the Survey
Visual Objects surveyed 500 small business owners and managers at companies in the U.S. with fewer than 500 employees. We define small businesses as having limited revenue and between 1 and 500 employees, which corresponds to the Small Business Administration's definition of small business.
Seven percent (7%) of respondents' businesses have 1 employee; 75% have 2 to 10 employees; 14% have 11 to 50 employees; 2% have 51 to 250 employees; and 1% have 251 to 500 employees.
Sixty-one percent (61%) of survey respondents are female; 39% are male.
Four percent (4%) of respondents are Generation Z (born after 1996); 20% are millennials (1981-1996); 33% are Generation X (1965-1980); and 44% are baby boomers or older (before 1965).
Respondents are from the South (36%), West (23%), Midwest (22%), and Northeast (15%).
Need Help Finding a Company?