Video marketing drives engagement and results for businesses, and businesses no longer need to spend thousands of dollars on fancy equipment and external experts to reap these benefits. A new survey of 501 businesses who use inbound marketing shows that it's easier than ever for businesses to create and promote video content with in-house technology. This report will show businesses how to implement a new video marketing strategy using a case study as a guide.
Video marketing is a dynamic way to connect with and draw in potential customers. Wyzowl reports that 79% of people say a company video has convinced them to buy software or an app.
Video marketing is an effective and accessible form of content that businesses can use to promote their products and engage with younger audiences, particularly Generation Z.
Although some types of video require big production budgets and lengthy editing processes, many effective video marketing materials are produced in-house with little time and expertise required.
This article explores one business' successful video marketing campaign alongside data from 501 businesses in the U.S. that use inbound marketing.
Our Findings
Almost two-thirds (60%) of businesses use videos in their inbound marketing strategy, which shows that videos are easy for businesses of all sizes to produce.
How-to videos for products and services are the most popular video for 19% of businesses because how-to videos help people understand a brand's products and services.
Most businesses that use videos (63%) create their videos in-house, which means that businesses are either hiring video production companies or training employees on-the-job.
Businesses with more than 10 employees are more likely to hire outside video producers, though most still prefer to create videos in-house.
Videos are easy to promote across inbound marketing channels. More than one-fifth of businesses that use inbound marketing (21%) use HubSpot, which has email and social media tools that make it easy to promote content.
How to Create a Video Marketing Strategy
Establish a Goal for Video Marketing
Decide What Type of Video to Create
Choose Who Will Create and Produce Video Content
Establish a Video Promotion Plan
1. Establish a Goal for Video Marketing
Video marketing is a common strategy for businesses using inbound marketing, but strategies are only successful when they have a goal.
Almost two-thirds of businesses use video marketing as part of their inbound strategy.

Businesses should establish clear goals for their video marketing before production begins. Some examples of measurable goals include:
Increase the number of views
Increase the number of clicks back to a website or landing page
Determine what types of video content generate clicks
Samantha Russell is the chief marketing and business development officer at Twenty Over Ten, a website software firm in State College, Pa. creating solutions for financial companies.
Russell was inspired to launch a video marketing campaign after seeing an increase in video content from brands on LinkedIn. Russell's initial goals focused on building engagement on the platform — improving metrics such as views, likes, comments, and shares.
"Back in 2017, specifically on LinkedIn, I saw a few CMOs using smartphone videos to cut through the noise of branded corporate ads," Russell said. "I thought it was really compelling and authentic."
Smartphone videos made C-suite executives seem more approachable and authentic on LinkedIn compared to other branded, more professional-looking content that existed on the platform.
Posting smartphone videos directly on Russell's personal LinkedIn made Twenty Over Ten accessible and put a human face to the brand.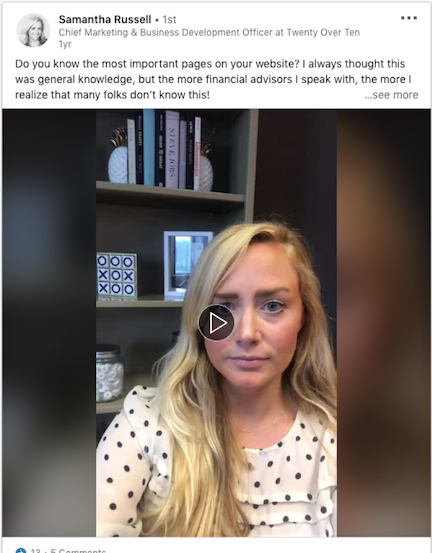 Russell also wanted Twenty Over Ten's videos to be an organic representation of the brand. She knew she wanted videos that would allow audiences to experience a more personal side of Twenty Over Ten.
Smartphone videos have a "homemade" feel. Audiences often use smartphone videos on social media to connect with one another, so these videos make brands and professionals seem friendlier and more accessible.
These videos were an almost instant success for Russell.
"Every week I'd post a video, and it went from 700 views to 2,600 views in a 90-day period" Russell said. 
Russell's video views more than tripled over the course of 90 days, demonstrating her strategy's success.
She attributes that success to the personal connection users feel with homemade videos.
"In a B2B environment, people don't connect with brands," Russell said. "They connect with other people."
Russell's videos inspire a personal connection that stands out from the branded, highly produced content from many businesses on LinkedIn.
Russell's initial goals focused on increasing views, likes, comments, and shares on the original post. Businesses, however, should be able to scale and adapt the goals they set for their videos.
2. Decide What Type of Video to Create
Once businesses have established a goal for their video marketing campaign, they should decide on a type of video that will help them achieve that goal.
"How-to" videos that demonstrate products, services, or concepts are the most popular form of video for inbound marketers — 19% of survey respondents say they create how-to videos the most often.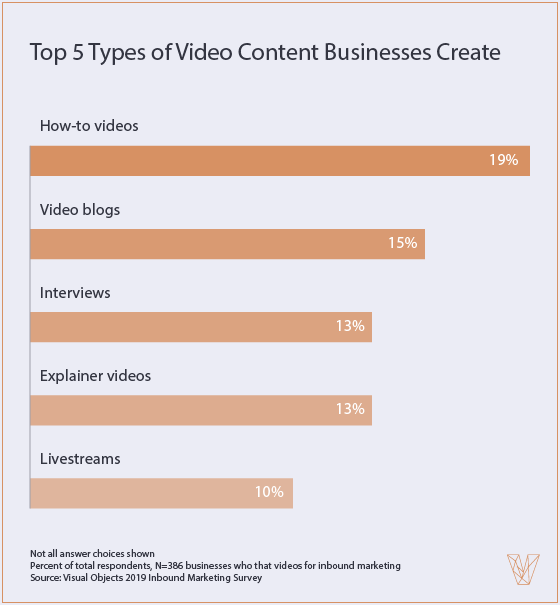 One-fifth of businesses that use video marketing (15%) create video blogs. Video blogs can replace traditional, long-form written blog posts. 
Businesses also create interview videos (13%) and explainer videos (13%), which are often animated videos that explain aspects of the company.
"How-to" videos are most popular because they provide an opportunity for businesses to connect with potential customers by showing them how to use or implement a product or service.
Other types of videos, such as video blogs or explainers, require time and financial resources to complete.
Twenty Over Ten's original marketing videos were created to bust myths about popular marketing or web design concepts for their audience – financial tech companies in need of websites.
Russell also developed the video program into a YouTube channel, shown below, where she posts the "how-to" content alongside webinars and question-and-answer sessions.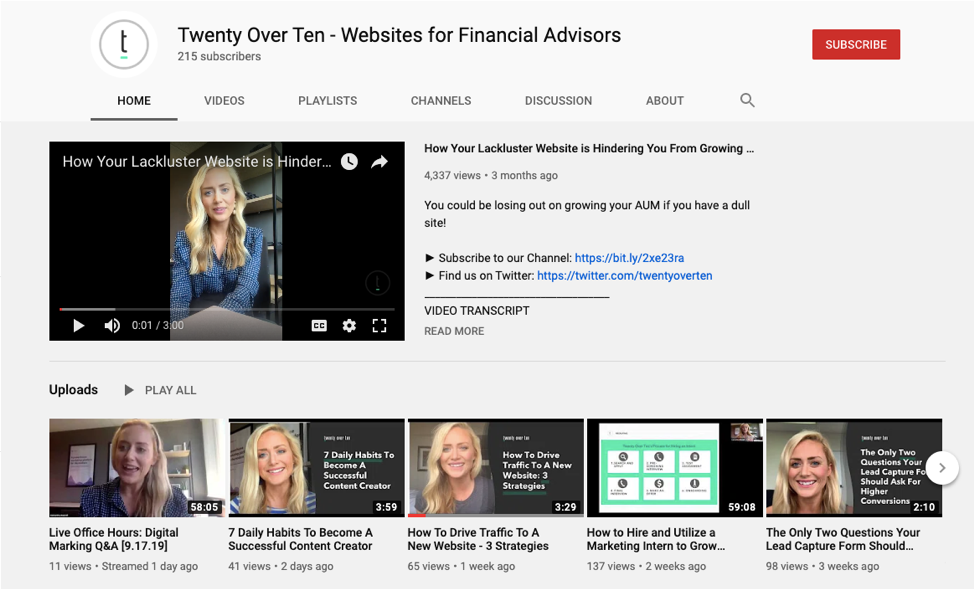 Russell still films these videos herself, but they now include graphics and title cards to make the videos more appealing to YouTube users.
Mike Farnham, managing director at VeracityColab, a video marketing agency in Newport Beach, Calif., says that businesses should execute their approach to video to accomplish a core business objective.
"When we engage with a client, we're really looking to understand what they're strategically looking to accomplish," Farnham said.  
Once businesses identify a goal for their video marketing, they can design a video campaign to achieve that goal. Russell, for example, originally used homemade "how-to" videos to increase views and engagement on social media. 
3. Choose Who Will Create and Produce Video Content
Video marketing can intimidate smaller companies that may lack the financial or human resources to produce unique content. 
Identifying goals and types of videos to create, though, can help narrow the search for the right video producer, whether in the office or elsewhere.
Almost two-thirds of businesses (63%) create videos in-house. Some types of video, however, might require professional video producers or animation companies.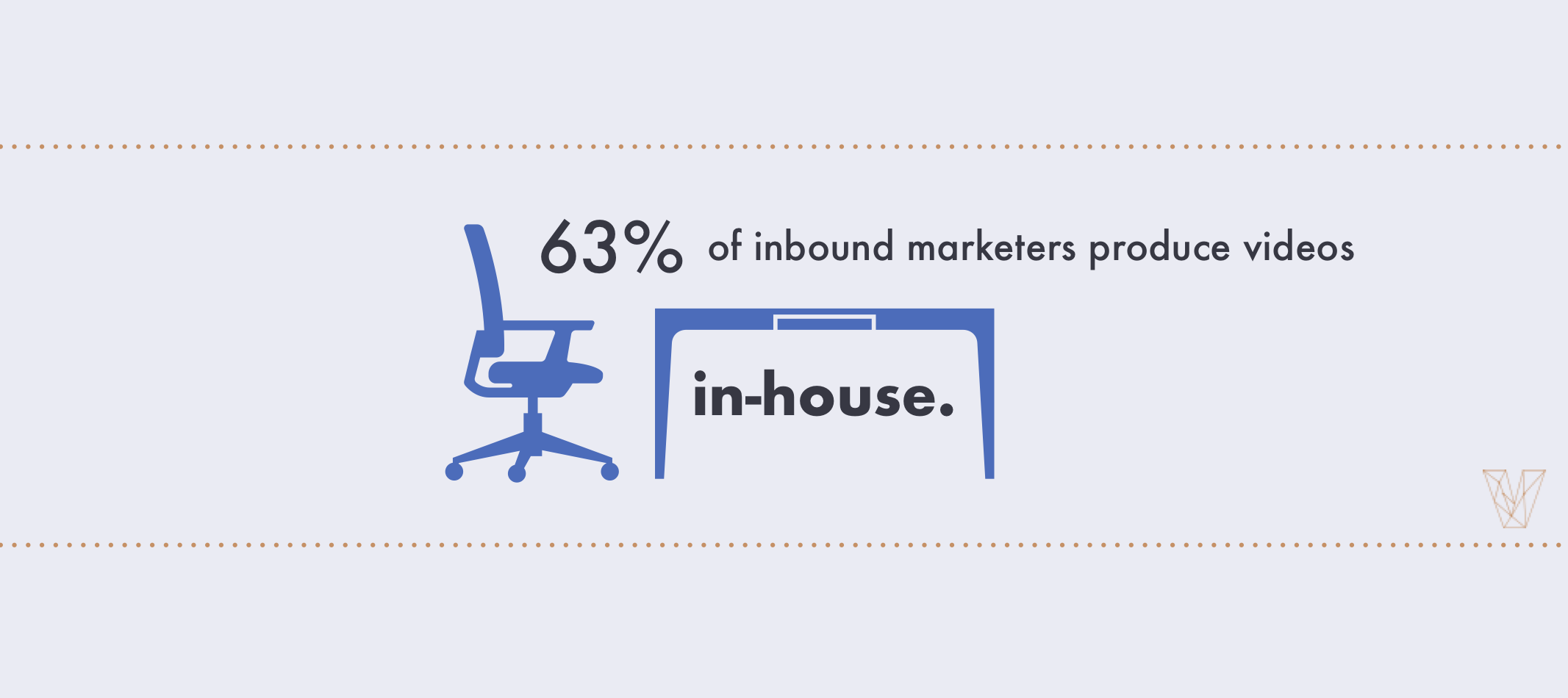 Fewer than one-fifth of businesses that use video (16%) hire freelance video producers or video production agencies, while 10% hire digital or content marketing agencies to create videos.
In-house videos can take on a "homemade" quality that helps potential customers connect with the people behind a brand. 
In-house employees can use video production materials on hand, such as smartphones and webcams, to create low-budget videos for social media or a company website.
"I can usually do the video in under three takes," Russell said. "We found the rawer the videos are, the highest engagement they get. It stands out in someone's feed. It looks like something their friend might have posted versus a branded company video."
Russell's main video content is unedited, which she has found increases audience engagement.
Some businesses, however, may want videos with more editing and branding to achieve their desired results and can turn to a video production company or professional.
Consider Your Company's Size and Capacity
Businesses should consider their company's resources when deciding who should produce their video marketing materials.
Our survey data shows that although most businesses, regardless of size, choose to produce videos in-house, larger companies are more likely to outsource video production.
More than one-third of businesses that have 11 or more employees (34%) outsource their video production to freelancers or agencies, compared to 21% of businesses with 10 or fewer employees.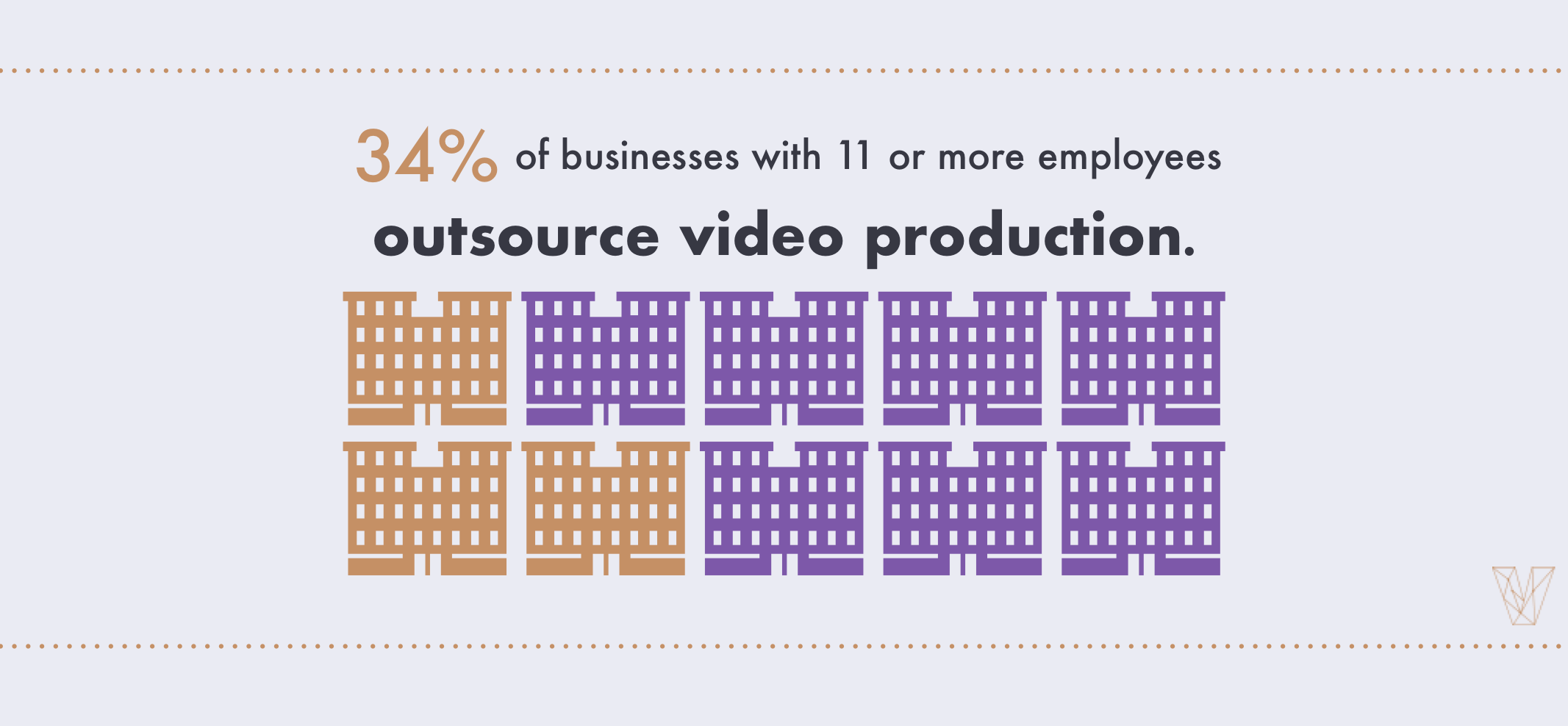 Farnham said SMB  and enterprise brands will outsource video production when they want higher-end production content similar to popular television ads.
"[SMB and enterprise businesses] want to have key pieces that feel like a Nike ad or a TurboTax ad," Farnham said. "The brand develops the initial messaging objectives and then trusts an outside partner to elevate it."
Businesses approach video production companies to create branded and highly produced videos using internal ideas and inspiration.
Beyond GREEN, LLC, a sustainable manufacturing company in Lake Forest, Calif., wanted professional videos made after winning an award that left it with a marketing budget surplus.
"Our company lacked video content for our YouTube channel, website, and social media channels," PR Manager Katrina Hart said. "We felt a professional team would be able to turn around a quality product quickly since they have high-end equipment and a whole team behind each phase of the production cycle."
Hart and the Beyond GREEN team found a video production company to create  highly produced videos on a short production timeline. 
In one video, shown below, the production company used special effects to communicate a message about biodegradable pet waste bags.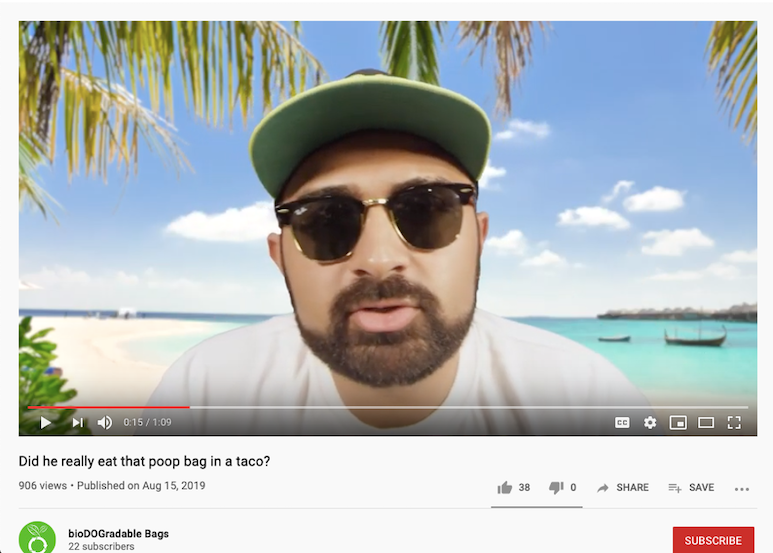 The production company used technology to make the video's subject look like he is in a tropical location, despite being filmed in the company warehouse.
Businesses should keep timelines top of mind when investing in an external video production company. The video in this example took less than one month to produce.
Farnham says the best video producers take a brand's in-house ideas and elevate them while challenging their clients to think differently about their messaging approach.
"The best marketers have a keen awareness of how to leverage a singular message within video," Farnham said. "If you're really close to your product or service, it's often challenging to step back and have an unbiased view of how you might be over-messaging in video. Video is a tool of persuasion and you have to be really clear about what you want your audience to walk away with."
Video marketing agencies provide valuable outside perspective on in-house ideas.
Even though it's easy for businesses to produce videos in-house, video production agencies can be a valuable resource for providing expert insight and elevating video content with special effects and professional branding.
4. Establish a Video Promotion Plan
Businesses should make plans to promote their video content before production begins. A promotion plan can help businesses stay organized and track their videos' metrics.
Marketing automation tools help businesses promote their videos. HubSpot in particular allows digital marketing agencies to promote content across different marketing channels such as newsletters and social media. 

Russell uses the Twenty Over Ten newsletter to promote the weekly marketing videos and monthly webinars.
"We have a newsletter that goes out to about 20,000 people, and we'll feature one of the videos as one of the main pieces of content," Russell said. "Some of our partners will republish our videos or email them out to their audiences as well."
Russell promotes videos in the monthly newsletter and relies on partners to republish and email their videos to expand their reach.
Newsletter, Email, and Social Media Promotion
Including videos in a newsletter can increase both video views and newsletter opens and clicks. One email marketing study found that including the word "video" in a subject line increased email open rates by 6%. 
Marketing automation platforms such as HubSpot can also help businesses schedule social media content across different channels. 
The dashboard below shows how businesses can track engagements on their posts using HubSpot's tools.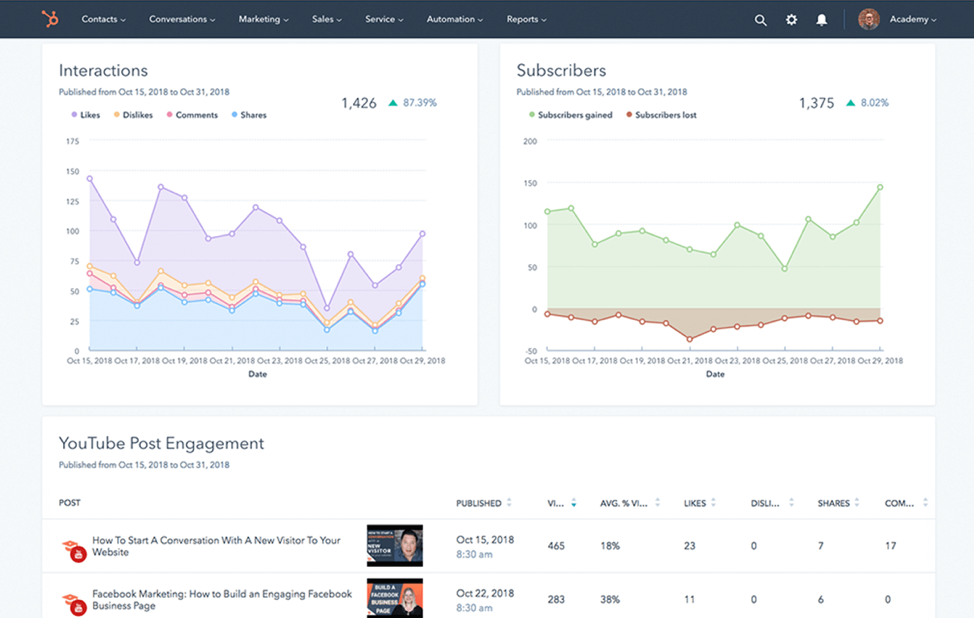 The dashboard has graphs of a post's interactions on YouTube and the channel's subscribers.
SEO and YouTube Promotion
Businesses should also consider SEO and YouTube when promoting their videos. Russell also optimizes Twenty Over Ten's YouTube channel to rank in YouTube's search results by including keywords in video titles, headers, and descriptions.
The image below shows a video from Twenty Over Ten's YouTube channel that includes a full transcription of the video in the description. This transcription includes keywords that search engines can identify and rank.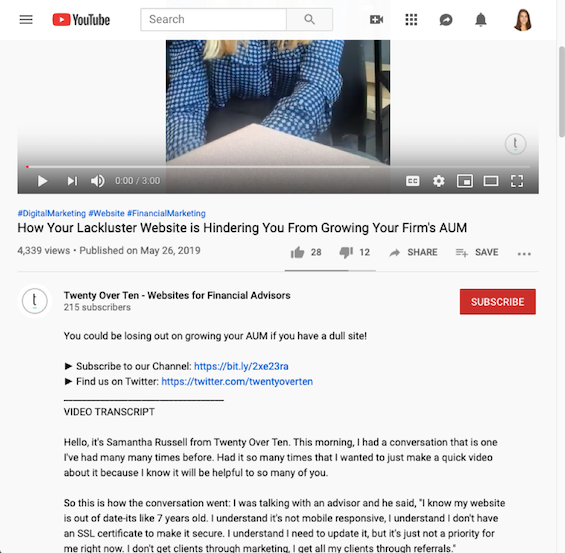 Russell also uses the video titles and descriptions to target specific keywords to improve the video's rankings on YouTube's search results pages.
Social Media Promotion
Beyond GREEN's production company offered tips for promoting its new video asset, but in-house marketers managed all promotion on social media. They share the video on channels such as YouTube and LinkedIn, shown below.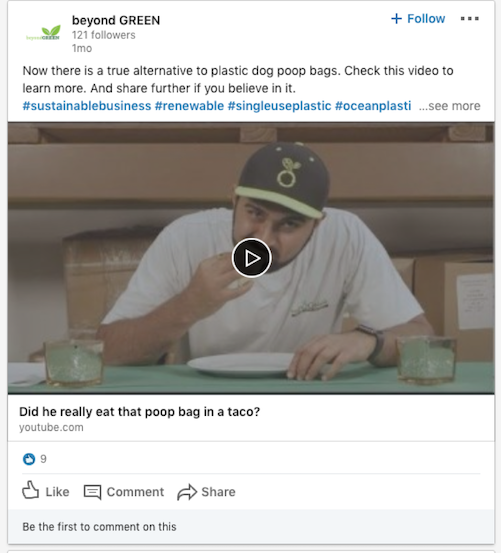 Beyond GREEN is also exploring outbound marketing efforts such as advertising on broadcast and TV shows.
Digital marketing tools can help businesses manage the promotion of their video content in-house, regardless of who produced the video.
Video Marketing Is an Accessible Medium for Businesses to Connect With Current and Potential Customers
Videos allow businesses to connect with and educate users across the web. Video marketing is now easier to implement than ever with the help of smartphones or outside resources such as video production agencies.
First, businesses should decide on a goal for their video. Once they have a goal in mind, they can decide what type of video would best help them meet this goal.
Some types of videos may require more sophisticated means of production than others. Businesses should keep their size and resources in mind when deciding to create videos in-house.
Finally, businesses should create a promotion strategy for their videos that allows them to use digital tools to track their progress toward their goals.
By implementing these steps, businesses can create successful video marketing campaigns that engage users and drive them to conversion.
About the Survey
Visual Objects surveyed 501 businesses in the U.S. that use inbound marketing as part of their overall marketing strategy.
Almost one-third of businesses surveyed (29%) have 500 or more employees, 20% have between 101 and 500 employees, 27% have 11-100 employees, and 24% have 10 or fewer employees.
Most respondents (71%) are managers or more senior employees; 28% are entry-level or associates.
Almost one-third of businesses (30%) are from the South region, 25% are from the Northeast, 23% are from the Midwest, and 18% are from the West.
Nearly half of respondents (48%) are millennials, 44% are Generation X, and 9% are Baby Boomers.
Almost three-quarters of respondents (74%) are female, and 26% are male.
Need Help Finding a Company?