Adding a dash of creativity to your website can set it apart from other companies in your field. Businesses can showcase their brand by finding innovative ways to update creative content for your website's sections. Take a look at some examples of creative content ideas to help with your next website revamp.
Spice up your company's website with creative content.
If your company wants to rank highly on SERPs, attract more leads, and increase revenue, it is necessary to offer valuable content to your customers and prospective clients. 
What's a better way to attract customers to use your services than through your website? 
All web development projects in this digital age should include some type of eye-catching or visual content that highlights services and attracts potential customers. 
Creative content within a website can take many shapes and forms. Discover four different areas of your company website that can use a dose of creativity.
4 Types of Creative Content
About us page
Blog
Case studies
FAQs
1. About Us Page
Any about us page should give users insight into your company. 
Your "about us" page should have a personality along with key components like a company description, contact information, and company values. 
Your about us page has the ability to showcase creative content by highlighting your company's culture and core message.
For example, The Farmer's Dog, a pet food service based on natural ingredients, focuses on the heart of their business in their "about us" page. 
As a business started by two dog lovers, they used their experience with their puppies as a launching pad for their company.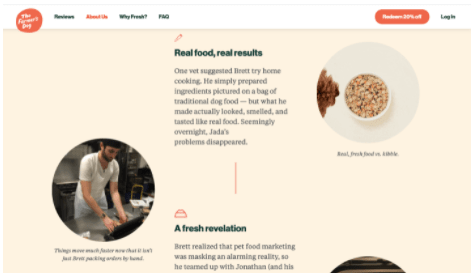 Their "about us" page functions as a timeline, taking their site visitors through their business journeys. 
One of the co-founders was having issues with their dog's digestive system. While creating fresh meals for their pup, they came up with the idea for their business that now has over 100 employees. 
Using interactive elements and engaging content is a good way to help users learn more about your business and the people behind it. 
2. Blog Section
Blog content is necessary for businesses looking to break into the digital and online world. 
On your blog, you can share business updates, helpful tips, and industry news. 
Blogs are the perfect opportunity to include creative content within your website. You can play around with the actual blog's content, the website section's layout, and organization. 
The Clean Mama is a blog that focuses on what its name suggests. Their blog section provides insights and information for site visitors looking to find new ways to keep their homes clean.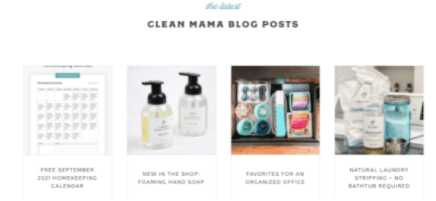 The blog section is formatted in a "clean" way – all of the blog posts are organized succinctly, the text is formatted the same way, and all of the imagery follows a similar color scheme and pattern. 
This simplistic blog section delivers creative content in a seamless way that fits the company's message. 
3. Case Studies
97% of B2B customers cite testimonials and recommendations as the most reliable type of content 
Case studies are a powerful tool that validates your business's services and credibility. Sharing case studies on your website allows your customers to see the results you can drive.
Through working with a lot of different customers, businesses can craft creative content easily through case study postings. Businesses can play around with visuals like digital marketing infographics and videos. They can also use layout to their advantage by organizing each case study in a creative way.
As part of TikTok's business initiative, the social media platform displays case studies on their website to gain more marketing business. 
The platform has worked with a variety of companies in vastly different industries. 

As part of their case study section, visitors can sort by industry and work. Each individual case study lists their location, industry, and a short description about the service provided. Each one also displays an image that was part of the specific campaign. 
Case studies encourage the opportunity for creative content through engaging testimonials, images, and more. 
4. FAQ Section
A FAQ section is a list of commonly asked questions potential users or consumers might have. 
Some might think that limits the option or opportunity for creative content, but a successful FAQ section has innovative information that meets the needs of their potential audience. 
Businesses can play around with color, font, headers, and layout when designing a creative FAQ section. 
For example, Instagram, a social media platform known for its visuals, keeps it simple with their FAQ section. 
The content that they provide makes it a creative choice for the platform.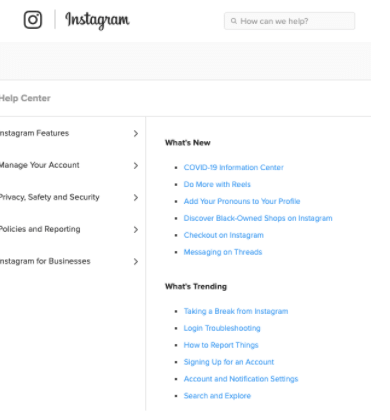 Instagram's Help Center is broken down into sections that could appeal to any user. Within those sections, they provide creative topics that can meet niche needs within the platform.
Under "What's New," the platform provides answers regarding how to add pronouns to an Instagram account or where to discover black-owned shops on the app. 
These questions are unique to the company's offerings, making them stand out from other similar platforms. 
Their "What's Trending" section also gives specific answers to questions for ongoing users. Having that information be in the forefront lessens search time for frequently asked questions. 
Businesses can experiment with their FAQ section by adding functional changes and visuals, but they can also use creative content through the questions they're answering for potential users. 
Experiment With Creative Content on Your Website
For businesses looking to try something new with their website's outdated sections, find opportunities to experiment with creative content on your platform.
Take a look at what your site already offers and see how you can mirror the content to fit your branding checklist and customer expectations. 
Consider what adds value to your website as a starting point for experimenting with creative content.
Need Help Finding a Company?