Businesses need to adjust how they plan their marketing process to match customer expectations in a new business environment. 
Recent events such as the COVID-19 pandemic, increasing unemployment, and social movements changed consumer behavior and their perspective on brands. 
Consumers have become skeptical of messages from brands promoting their businesses during the global health crisis, especially from products and services deemed "non-essential." 
This is why marketers need to find new types of branding strategies focused on sensitive and compassionate messaging. 
After all, it's costly and embarrassing to make a marketing faux pas that seems to be taking advantage of the pandemic—without implementing truly valuable action plans that benefit consumers and other major stakeholders of the company. 
Want to learn how to create a new marketing plan in the new normal, when so many things about business have changed? Then read on to find out how to shift your marketing strategy to be more sensitive to the changing situations of the pandemic. 
Update Your Buyer Persona
Consumers are worried about the effects of COVID-19 on their health and in the economy. Lots of buyers are stocking up on sanitary and food supplies. Workers are getting laid off or retrenched. The atmosphere brought by the pandemic is tense and uncertain. 
McDonalds, for example, learned this the hard way: They launched a marketing campaign centered around separated arches to signal solidarity with social distancing, but were criticized for focusing on their image rather than health of their employees.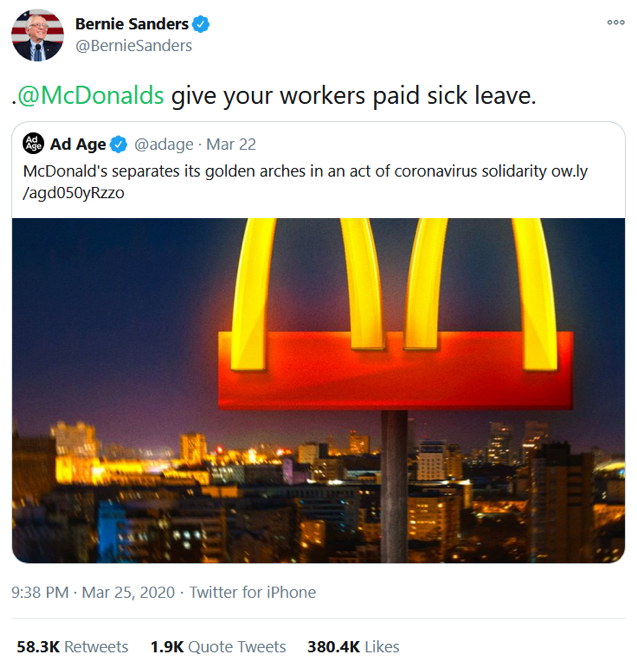 There is no longer any one-size-fits-all marketing campaign. You need to adjust your messaging to adapt to the changing buyer persona. 
Highlight your buyers' worries and concerns, as well as new priorities they might currently have. Use the information you know about them now to inform them about how your business can offer services that can help address or alleviate their problems. 
If you want to know how the pandemic affected your customer base, you can conduct surveys or feedback sessions to help you tailor your services to these customers. For example, social media can play a role in understanding what your buyers are talking about on a daily basis.
Once you get to know your customers, you can adapt your messaging apply it to your digital marketing strategy. 
Adjust Your Buyer's Journey 
More consumers are stuck at home and resorted to online shopping for their needs. Even though they purchased mostly groceries and essential goods, about 30% of millennials increased their online spending because of COVID-19. 
Because of this, you need to adapt your buyer's journey to this new almost-completely online model. This is also where updating your buyer persona comes in handy: You're able to identify new needs, wants, objections, and more that your customer might have in various stages.
This updated buyer's journey will then inform the rest of your campaign. Will you need to rely on new channels other than your existing online accounts? Should you adapt your branding and messaging to answer additional objections they have prior to purchase such as safety of deliveries and returns policies? 
Improve Your Brand's Customer Experience
Consumers are looking for trustworthy resources and information about the pandemic and its effects on their favorite businesses. They also consume content and buy products or services related to health, wellness, and mindful purchases. More consumers are also looking to support local businesses within their community. 
In order to reach out to your socially conscious customers, you can provide resources that offer relevant and timely information. 
Increase Personalization
The ongoing situation can affect brand loyalty and trustworthiness. In order to communicate that you value your consumers, you can provide personalized messages based on their current situation. 
Send them newsletters with their name on the subject line to let them know that your business is available to meet their needs. Use tags and segments to help you deliver custom information and content that best suits their preferences.
You can also organize your website homepage to show essential products or services as well. Through the use of AI, you can keep track of customer behaviors and quickly adjust your marketing strategies according to their changing needs. 
Stay Transparent
It's more than likely that consumers feel vulnerable during this difficult situation. If you want to stay relevant as a company, empathy is key to reaching out to your customers. 
You should inform your customers of any changes or adjustments to your business hours, to package delivery schedules, or to the availability of certain products. You can also tell them how your business is adjusting to the changing times to meet sanitation requirements or how you're providing support to your staff. 
It's alright to acknowledge the uncertainty of the times. What's important is to tell your customers how you'll continue to provide the necessary products or services so they know you're a reliable brand. 
Implement Omnichannel Marketing 
The scope of your digital marketing efforts can determine how well you engage with your target customers. An omnichannel marketing strategy is necessary to reach and to target more customers throughout several channels before they convert.
Through the use of omnichannel marketing strategies, you can further nurture your leads and guide them throughout the sales funnel. 
After all, people need to engage or interact with multiple touchpoints of your brand before they can buy. And sometimes certain platforms have strengths not seen in others. Make the most of these and create tailored content that uses the strengths of varying platforms, and provides value to your customer in a whole new way.
As consumers live in the new normal, social distancing and minimal contact is encouraged to avoid infections. You can use this context to promote a click and collect system where the customer orders online or through an app and picks up their order in-store.  
Make Testing a Must
A/B testing is a necessary part of any marketing campaign, and several tools for A/B testing are widely available as well. Now more than ever, A/B testing is important in order to gauge how certain audiences would respond to your messages. 
By optimizing your pages, you can measure and test how customers engage with and respond to a particular message. You can also monitor which messages are more effective for increasing traffic, getting conversions, and improving the overall user experience on your website. 
You can use A/B testing software to make small changes to your site such as changing CTA button colors or moving the position of an input field.  Small adjustments like these allow you to observe how people respond to your messages so that you can optimize your site to achieve the best results. 
Businesses Sould Adapt Their Marketing Planning Process and Execution for the New Business Normal 
Marketing during the pandemic is a delicate subject. But with these tips, you can shift your marketing strategy and offer compassionate messages and build trust among your customers.
Need Help Finding a Company?