Negative reviews are part of running a business. The difference between a successful business and a failure lies in how it deals with negative reviews. Read on to know more about negative reviews and how you can deal with them.
 
Review sites are the new superpower for the new-age consumer, and negative reviews could feel like an arrow right through your chest as a business owner. Often, public complaints on products or services are warranted and fair.
It's only natural that potential customers will want to look up your product reviews before purchasing it. Negative reviews can be a strong deterrent for potential customers, especially when the negative reviews create a lot of attention. 
Reputation management affects businesses of all sizes; it is key for businesses to respond quickly to any sort of feedback – negative reviews included. 
Here's how to respond to negative feedback and deal with those reviews:
1. Be Active and Fix Your Error
Around 61% of B2B buyers first check company reviews before approaching the company sales team. The faster you fix the error highlighted in the negative reviews, the more manageable the discussion will be. So, timing is also crucial. 
Buyers notice and appreciate businesses that pay attention and swiftly fix errors highlighted in their feedback. 
For example, Sprout Social has built its company credibility because they are known to attend to customers swiftly. They have excellent customer service, responding to negative feedback positively: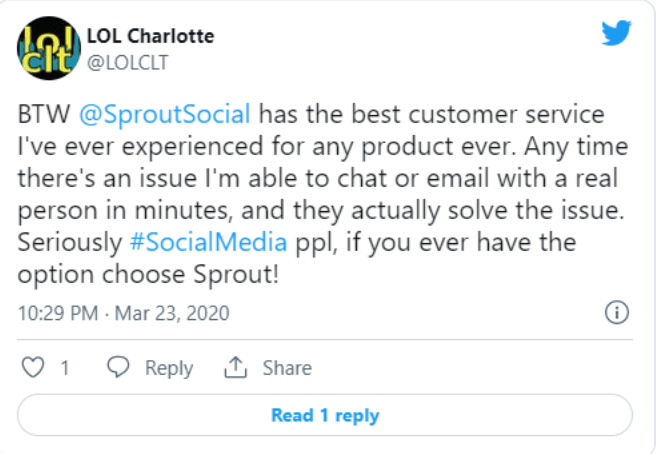 If you know how to respond to negative feedback, you can protect your brand reputation. You can even generate new purchases and repeat sales. 
According to WalkerInfo, customer experience is a crucial differentiator between brands, outshining product and price. 
Here are a few tips to consider while fixing the errors highlighted in the negative feedback:
You can start by investigating the matter by gathering information from the complaining customer.
Remember that your business should keep a responsible and professional approach in addressing or clearing up any misunderstandings.
Try to maintain an accountable approach to issues since the more accountable you are, the more credible you'll seem.
Try making an objective assessment of who was in the wrong based on the information and notify the department concerned for the necessary action.
The most effective way to handle negative reviews is to fix what was highlighted, whether they were customer service mistakes or product glitches. 
Customers expect you to act immediately – make sure you don't take too long to rectify the error. 
2. Ask Questions to Understand the Problem
Feedback from the customer takes the business through a learning experience. Consumers appreciate a business keen to understand their pain points and ask their opinions. Always ask open-ended questions to help you understand the problem or how it occurred.
Asking for specifics will help you understand the feedback clearly. Questions such as, "How would you like us to improve?" help you narrow down what should be fixed.
Here's an example of a negative review on an application by SoGoSurvey: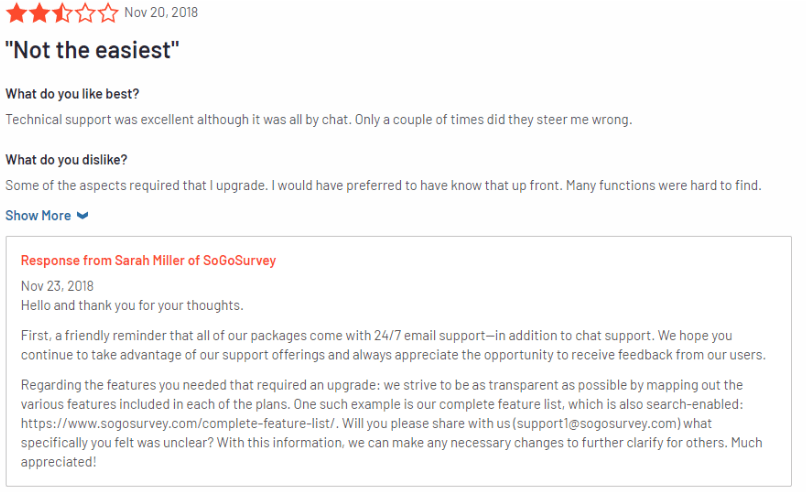 Notice how the company tries to make things right by asking questions to help them understand what happened.
On the other hand, dealing with anonymous negative employee reviews on a site such as Glassdoor can be tricky. 
You might be tempted to ask for more details, but try to respect the anonymity by encouraging the reviewer to give feedback to your HR privately.
3. Communicate Your Solutions
Once you have all the facts (both from your customer's end and the concerned department's) about the issue, communicate your solutions to the customer. 
Through user research, you can determine how to approach these customers.
The general rule is that when you're explaining a course of action to a customer's problem, you should be as specific as possible. Remember that your goal is to get the customer to understand that you did all you could to resolve the complaint. So, you need to outline all the steps you took to address the problem.
If the process required to solve a problem is still ongoing, communicate your solutions even before the problem has been fixed. For many customers, what matters is that their complaints didn't fall on deaf ears. They want to feel like you heard them and that the company is doing something about their complaint.
Here's an example of how BSS Commerce responded to an unsatisfied customer: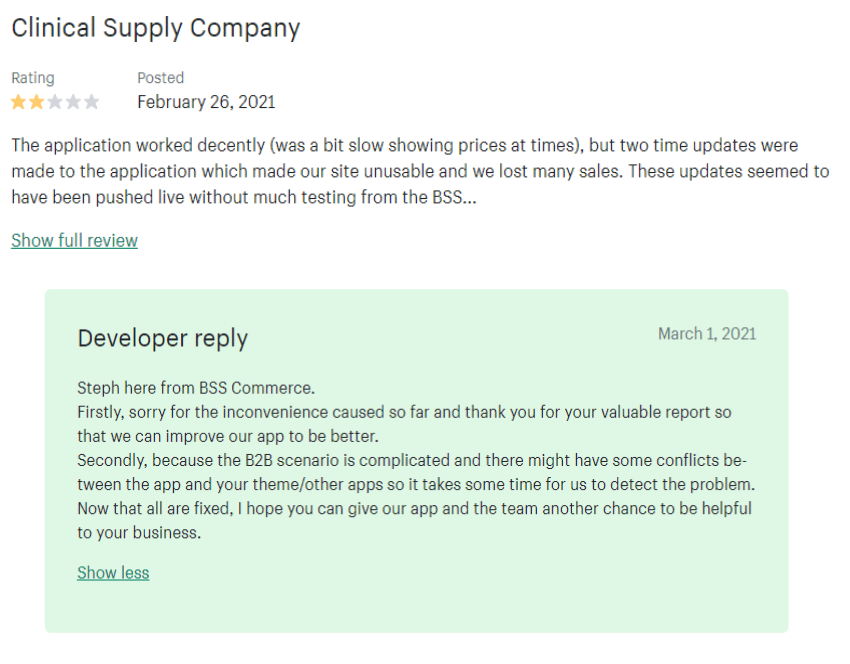 While you can use an email address finder to help you personally reach out to customers, I suggest asking customers directly for their email address or offering your work email address so you can continue the conversation via email.
Regardless of the channel where you take the discussion, subsequent website visitors who see your response will see it as a great display of business ethics.
4. Try to Provide Value to Unhappy Customers
Any business may have unhappy customers here and there once in a while. But that doesn't mean you can no longer turn things around for yourself. Give your unhappy customers value, and they'll appreciate your effort.
For instance, you can offer a free product/service as a peace offering or replacement for the last product/service they didn't like. Alternatively, you can offer a refund if that works best for the consumer. You can use copy templates to avoid writing the same things repeatedly. 
There are other ways you can offer value. Here's how Freshbooks did it.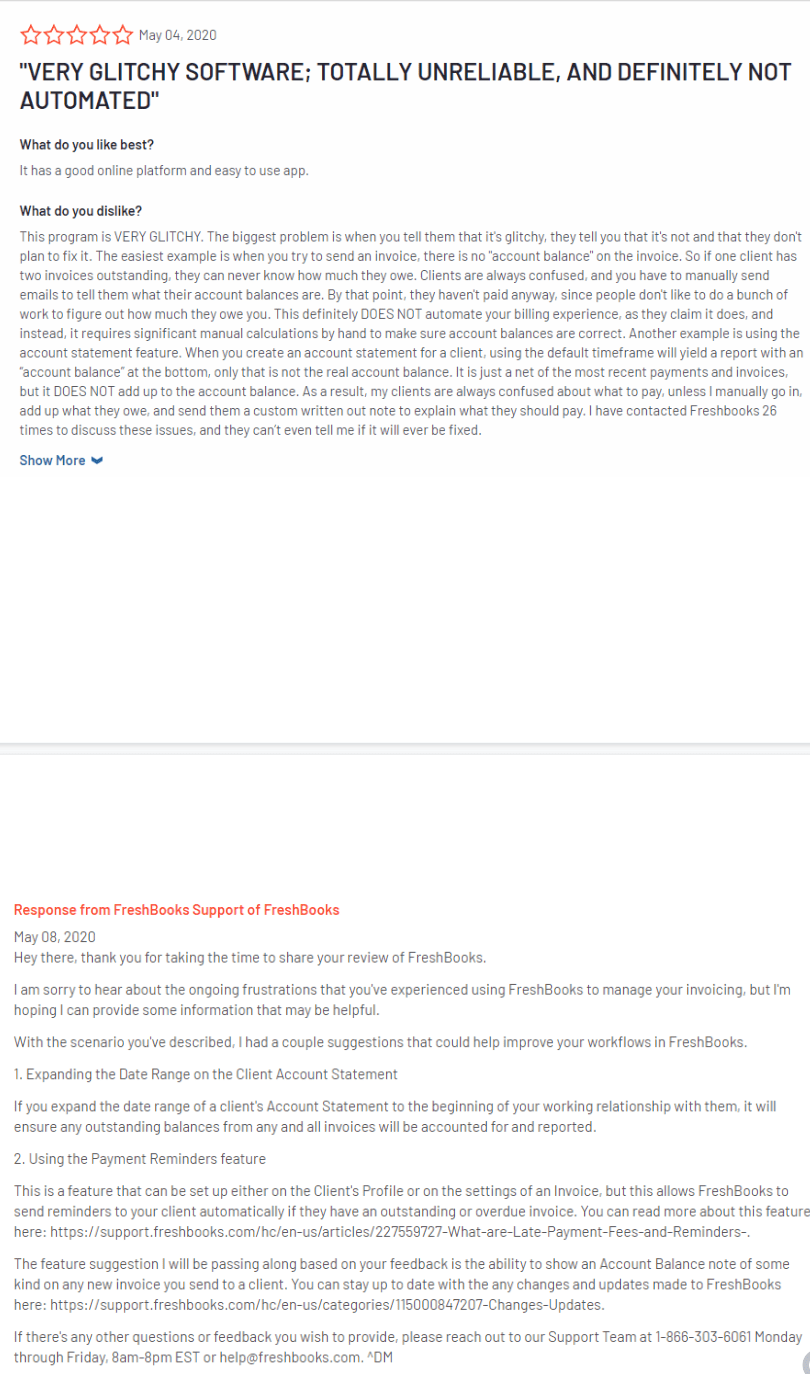 The company took the time to explain all the product's features that could help the client navigate their system better. 
That's a lot of value right there because, ultimately, customers want to be able to use the product they purchased from you.
5. Determine the Constructive Feedback
Instead of ignoring customer complaints, think of ways to ensure no other customer will rant about the same issue again. 
The most successful businesses make the necessary changes to their products, services, and processes based on the negative feedback they hear. The result is that these same products, services, and processes improve, and they keep their customers happy.
That's not to make changes based on what customers say about your brand. There's destructive feedback. Destructive rants typically have no substance. Rants will often be full of misrepresentations, inaccuracies, and insults and are often designed to defame your business. 
So, before you overhaul your systems or remove a product feature, determine if a piece of customer feedback is worth making changes for. 
If you can't make an objective assessment about a customer complaint, ask other people who have no emotional investment in your brand to make the assessment. If they share your customer's opinion, that just means you need to make changes ASAP. Your business still can reach its full potential because all of the changes will be worth it in the end.
Dealing with Negative Reviews Shouldn't be a Negative Experience
Businesses might be hesitant to have customers leave reviews. However, not allowing this could potentially have clients hesitate to select your product as well. For instance, customer reviews on your website, whether positive or negative, help build your credibility.
There's no way to stop clients from reviewing your business, with sites like Google My Business, Yelp, and social media platforms like Facebook allowing consumers to review businesses publicly.
However, what you can control are your responses and reactions to these negative comments. Follow these tips, and you'll know how to respond to negative feedback properly. You'll turn things around for you and even use these negative reviews to improve your business reputation. 
Online reputation management is key for businesses. Hire an SEO agency to support your company's online presence. 
 
Additional Reading:
Need Help Finding a Company?