Learn six crucial steps every business owner should take when creating roundup posts for websites.
Do you want to create a successful roundup post that attracts more leads to your site? If so, you've made it to the right place!
Content marketing is essential to your success as a business owner or marketer. Research shows that B2B companies that consistently post content on their blog see 67% more leads than those that don't.
Furthermore, surveys reveal that 60% of marketers say building their collection of blog posts resulted in more traffic, leads, and engagement. 

At this point, it's clear that content marketing comes with a long list of benefits. But what makes roundup posts so special?
What is a Roundup Post? 
Roundup posts are a collection of tips, insights, and opinions from experts in your industry. These articles are an excellent way to enhance brand awareness, build social proof, and create valuable content for your website.
People flock to these blog posts because they contain relevant, thought-provoking advice that users can apply to their own lives.
For instance, an email marketing SaaS may have a roundup post titled "15 Email Marketing Experts Share Their Predictions for 2024." A small business owner interested in this topic would quickly click on this post because they can use the advice to enhance their email marketing strategy.
Now that you know what roundup posts are and how they can help you attract more leads, let's talk about the six crucial steps needed for a successful roundup post.
How to Create a Successful Roundup Post
1. Brainstorm for Relevant, Interesting Questions
The first step in starting a roundup post is brainstorming for relevant, interesting questions. You can't gather responses, start formatting the article, or any other key parts of the process without knowing the question or theme around your post.
There are plenty of places you can turn to for information while brainstorming. Your first stop should be your buyer personas. Buyer personas are fictional profiles that help business leaders understand their target audience's goals, pain points, and needs.
Examining your customer personas will help you determine what type of questions your audience would find the most helpful.
Review existing blog posts to identify which articles generate the most traffic. Since 70% of people prefer getting to know businesses through their content, we can learn a lot by examining how visitors engage with published posts.
You can also use AI tools like ChatGPT to develop ideas for your next roundup post. Here's a sample response after the prompt, "Can you give me topic ideas for a roundup post on email marketing?"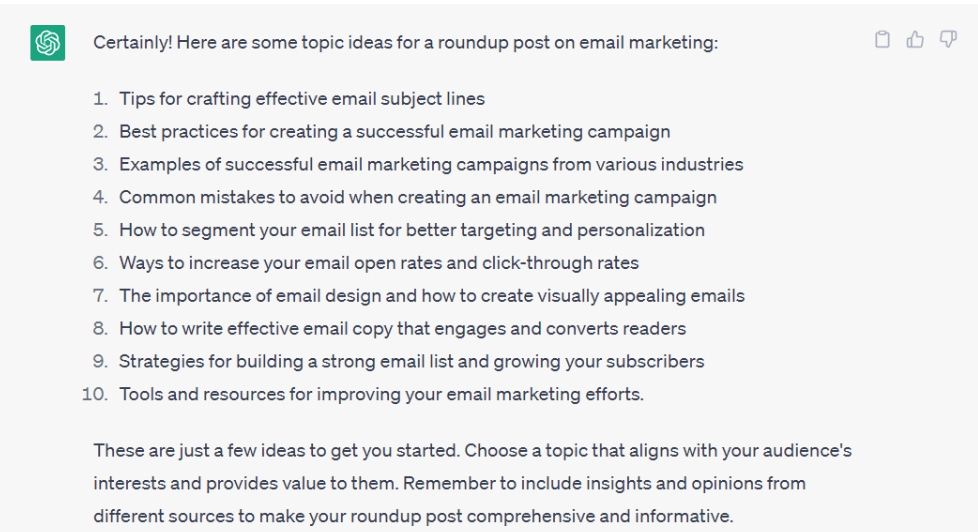 There are countless other tools you can use to brainstorm. Customer surveys, social listening tools, and reading through popular searches on sites like Quora can inspire you to start your article.
2. Ask the Experts
Now that you've decided on a question, it's time to reach out to experts in your industry. The internet has unlocked virtually limitless ways to connect with like-minded people who would love the opportunity to participate in your roundup post.
LinkedIn is an excellent place to start because it's one of the only social media sites designed specifically for professionals. You'll have no problem getting plenty of engaging, interesting responses for your article if you have a large network. You can create a public post or contact people individually via direct message.
Here's an example of a post where someone on LinkedIn decided to ask the experts: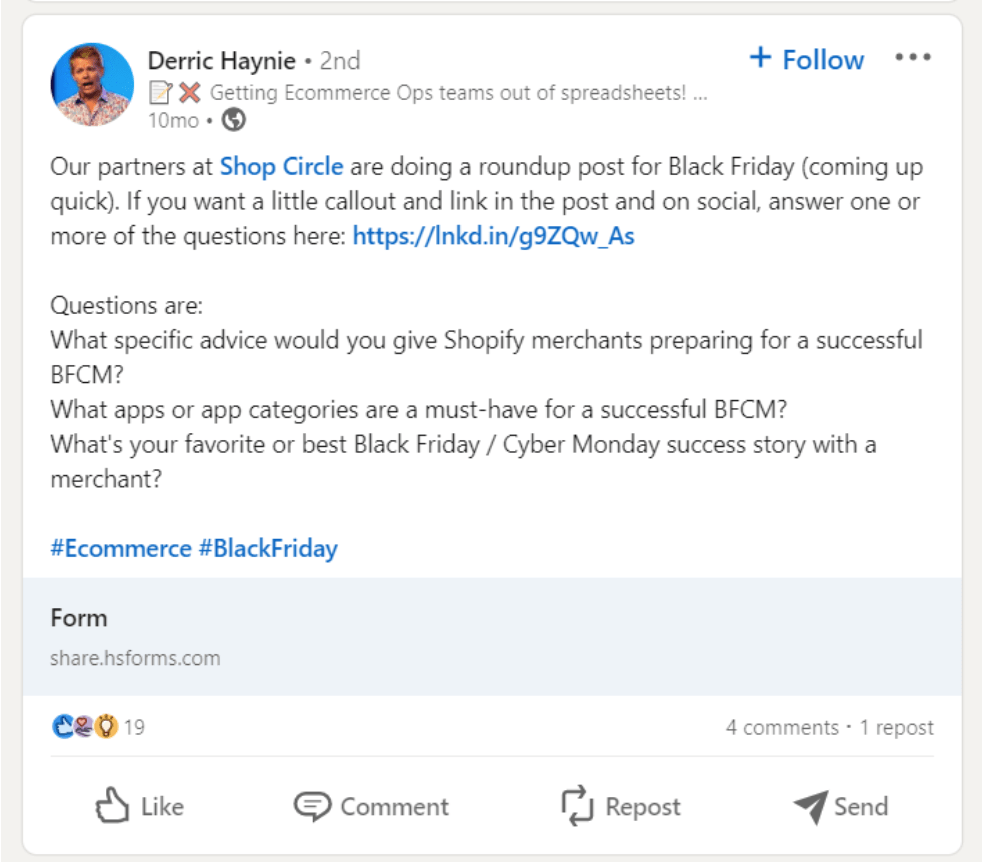 You can also find people who've participated in roundup posts in the past. Simply search for "expert" or "roundup posts" centered around your industry, and you'll find people who have already shown interest in getting featured in this type of content.
One way to make this process easier is to keep a spreadsheet with the contact information of people you think would be a good fit for your article.
You can use a website like Help a Reporter Out (HARO) to get as many answers as possible. HARO is a site for journalists and sources to connect and collaborate.
Once you create an account, you can create a query with your website, question, and other relevant information. You can also choose multiple categories for your query, enhancing the responses' quality.
After submitting your query, all you have to do is sit back and wait for expert responses to roll in.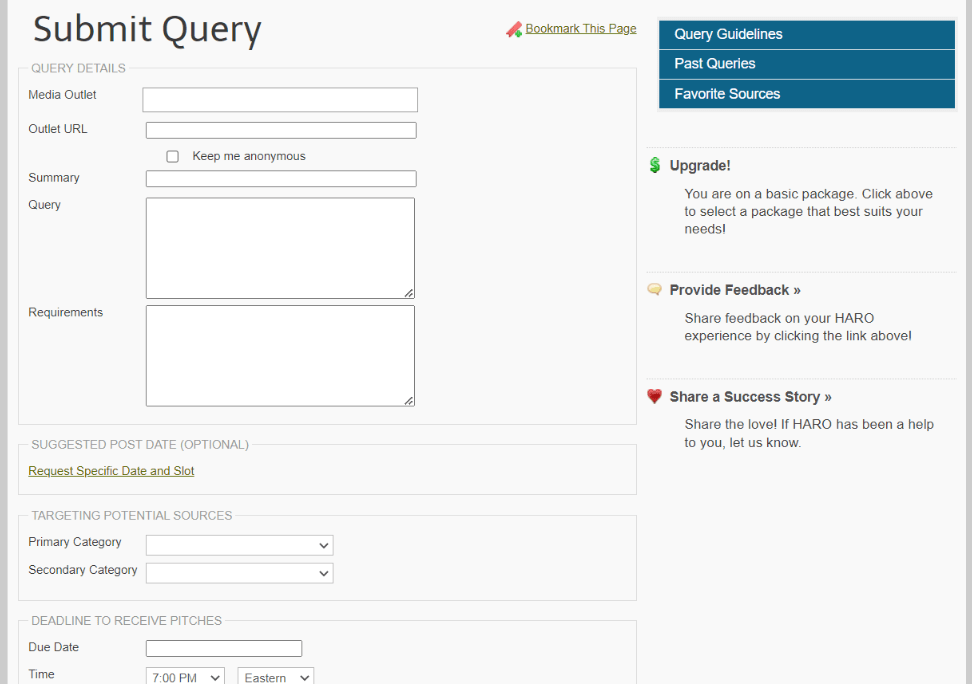 Asking many different experts in your industry to share their thoughts or advice on a topic will help you gather plenty of interesting, thought-provoking responses for your roundup post. 
3. Find the Best Answers
At this point, you'll have a long list of answers to sort through before you can start formatting and building your article. I advise choosing at least 10 answers for your post so it's fully developed and engaging.
The truth is, you can have way more than 10. It's common to see titles like "33 Experts Chime in on the Future of Digital Marketing" or "51 Marketing Professionals Share Their Predictions for Email."
It's important to remember that the answers must be unique and bring value to the core theme behind your roundup post. If you have 50 responses and most are repeated but worded differently, you won't see as much positive engagement as you would if you only shared 25 unique answers.  
Spend plenty of time finding the best answers, then reach out to the people you want to feature in your article. Use this opportunity to thank them for their contribution, then ask if they could share a link to their website and their headshot for the article. 
4. Put Together Your Post
At this point, you should have everything you need to start putting your roundup post together.
A good roundup article features a strong headline, an introduction by the author, and a clear value proposition. In other words, it's not enough to talk about the topic of your article. Instead, you have to dive in and explain to users how this collection of tips, tools, and resources will help them find success.
Once you finish your introduction, you can begin plugging in each person's answers, headshots, and links. Your formatting will vary based on how many experts you include. You can also place their portfolios, websites, or business logos if they have one to establish authority and contact information.
Articles with 20 or more responses should be broken down into sections so users can find the topic that matches their specific interests. If you're doing a top 10 post, there probably isn't a need to break them up into separate sections.
Here's a sample from a real roundup post to see the formatting for yourself: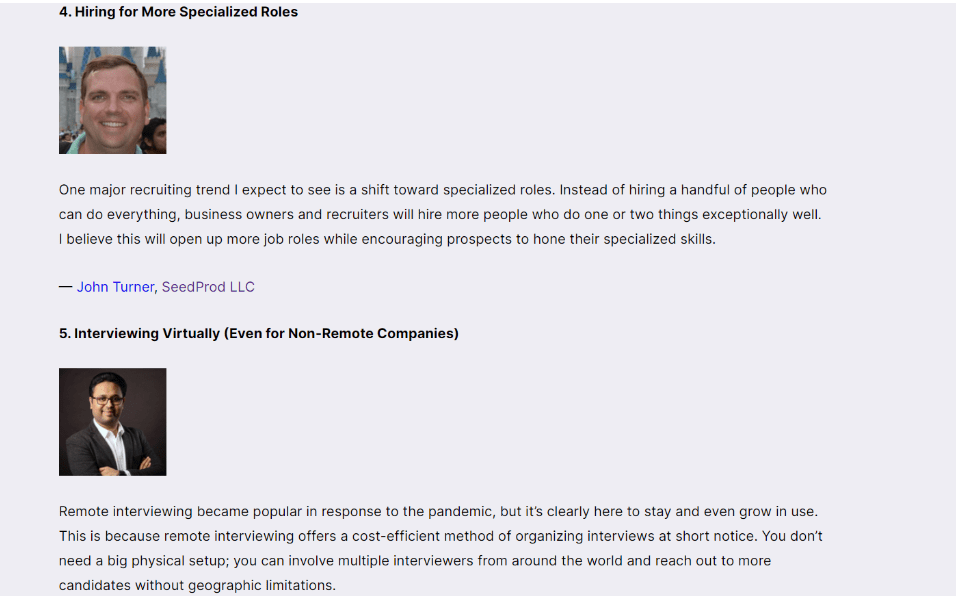 Formatting your post in an organized and scannable way will make it more engaging, click-worthy, and shareable. 
5. Show Participants the Results
Here's a very important tip that many marketers forget when creating their roundup post; reach out to everyone who contributed before the post goes live. You don't want to go back and make edits after you hit publish.
Not only will this cost extra time, but it can also harm the relationships you've built with contributors. If someone took time out of their day to share their response, you don't want to make a careless mistake, like misspelling the link to their website or omitting a key part of their response.
I suggest emailing each person and asking questions like:
Are you happy with how your answer is presented?  
Is the link to your website accurate?  
Do you want to use a different headshot?
In my experience, asking these basic questions will help you build rapport with people in your industry and result in a more complete, well-rounded article. 

Building rapport with other experts will also increase the odds that they share the finished post, which means more exposure and opportunities to connect with your target audience. 
6. Share the Finalized Article
Finally, it's time to share your article.
How you share the post can vary based on your goals, budget, and marketing platforms. One sharing method you don't want to skip is social media.
Research shows that well over 4.62 billion people use social sites monthly, which is growing. There's a 100% chance that potential leads are on these platforms and willing to read your article. If you don't take the time to share your post across your social accounts, you could miss out on countless leads and growth opportunities.
Here's something else to consider; around 60% of online shoppers turn to social media when they need shopping inspiration. Your roundup post could catch their attention, and before you know it, they are browsing your product catalog and ready to place an order.
If prospects haven't heard of your brand, sharing your roundup post could be just the thing that helps them get familiar with your products and services. Also, on social media, consistency goes a long way. You must post consistently and at regular intervals to stay abuzz. Opting for social media automation tools to achieve this is a good option.
Include your roundup post in marketing emails, like your newsletter. This strategy will help you connect with subscribers, driving traffic to your site and increasing sales. 
Start Your Own Roundup Post
As you can see, a lot of work goes into creating a roundup post. It's not easy, but it's certainly worth it. These types of articles will help you connect with new visitors and existing customers and skyrocket engagement, especially if you get well-known experts featured in your posts. The only thing left to do is to get started!  
 
Additional Reading:
Need Help Finding a Company?