A digital content strategy can help you meet your content marketing goals. To develop a comprehensive strategy, make sure you establish KPIs, identify your audience, choose engaging subjects, and create an organized content calendar.
Updated June 14, 2022
According to Drift, content marketing produces 3 times as many leads as other marketing channels but costs 62% less. Because of this, it is important for businesses of all sizes to optimize their content marketing strategy.
By creating useful content, you can position your company as an industry leader, grow brand awareness, and even increase sales. Done wrong, though, and your team will spend unnecessary time and resources on the project. 
Rather than posting just about anything regarding your business, you must be thoughtful about the quality content you're producing in order for your campaign to be worth the investment. A comprehensive strategy includes details such as: 
Which channels to publish great content on
What type of content to produce (videos, blogs, social media, etc.) 
How often to schedule content
How to promote content 
Which audiences to targeting
Which topics and content ideas to cover
In order for your digital content strategy to be effective, you must carefully consider what your audience is looking for and how you can reach them. Here are four steps to follow when building a digital content strategy: 
Hire a content strategist to assist with your digital content marketing.
Set Goals and Establish KPIs
To determine which content efforts you want to pursue, you must establish goals to guide your decisions. 
Are you more focused on growing brand awareness or generating traffic to your site? Do you want to improve your site's search rankings or educate customers about your products? 
The answers to these questions will help you decide what type of content to produce and what channels to post it on. 
For example, to nurture leads, you will want to provide informative editorial content that can answer their questions at different stages of the purchasing process. 
However, if you want to focus on brand awareness, you may want to focus on building content on social media that can help you grow your following or perform keyword research to create successful content. 
Although it's okay to have more than one goal, remember to pinpoint what your primary objective is to determine where you should allocate resources. 
With your business goals in mind, you can establish which key performance indicators (KPIs) to use to track the success of your content marketing campaign. You can measure performance based on: 
Time on page
Unique page visits
Traffic
Conversion rates
Lead generation
Followers 
Shares, likes, and comments
By establishing clear goals, you can create a framework to guide you as you develop your content strategy. 
Read this for more assistance with your marketing plan: 'Transformation Marketing: How to Revamp Your Strategy'
Study Your Audience
In order to create high-quality content that truly engages your audience, you must develop an in-depth understanding of what your customers are looking for at different stages of the buying process. 
If you're not sure what your audience looks like, start by analyzing your existing customers' data. Look at details such as their demographic information, job position, spending power, interests, and challenges. 
This will help you recognize patterns and identify your ideal audience. You may notice that you have several different audience personas. As you start to move forward, think about whether you have the budget and resources needed to target each of these audiences or if you just want to focus on one. 
From there, map out their buyer journey. As you identify the touchpoints your customers have with your brand, take note of how potential buyers gather information. Once you begin developing content, you will want to post your articles, blogs, or videos on the channels that your target audience visits frequently. 
Additional Reading: 'How to Create an Effective Buyer Journey Map'
Identify Topics 
Choosing which topics to cover is arguably the most important part of your digital content strategy. Your content must engage audiences, but also stand out from your competitors in order to be successful. 
Ask yourself: what are potential clients interested in? Feel free to utilize content ideation tools such as: 
Even popular sites such as Quora, Reddit, and Twitter can give you a good idea of what's trending or if there are any big changes in your industry. Look to these sites for inspiration. 
In addition to providing valuable information for potential customers, you can use this as an opportunity to build links to your site and improve your SEO. 
Use tools like Google and Ahrefs to identify frequently asked questions and commonly searched keywords. Target keywords that you're likely to rank for on search engine results pages (SERPs) by identifying phrases with a high search volume but a low difficulty rating. 
Once you've identified the types of content for your content plan, you'll want to break down what areas you're expanding into.
If you decide on video content, are you planning to share them on social media platforms or in email marketing campaigns? Do you want to optimize existing content for a LinkedIn campaign or schedule webinars for that audience?
Along with exploring new avenues for your digital content strategy, you'll want to break down any pain points that could arise. Not everything will work instantly, so be prepared to think critically about the topics and channels you choose to focus on.
Create a Content Calendar
Once you've determined which topics to focus on, it's time to create a content calendar that features all aspects of your digital content strategy. 
Content calendars build alignment between teams, help you think about your content strategy as a whole, and hold your entire team accountable. 
Look for free online templates that can keep your content strategy organized. For example, this downloadable template from HubSpot helps users keep track of what content they plan to produce and when it will be published.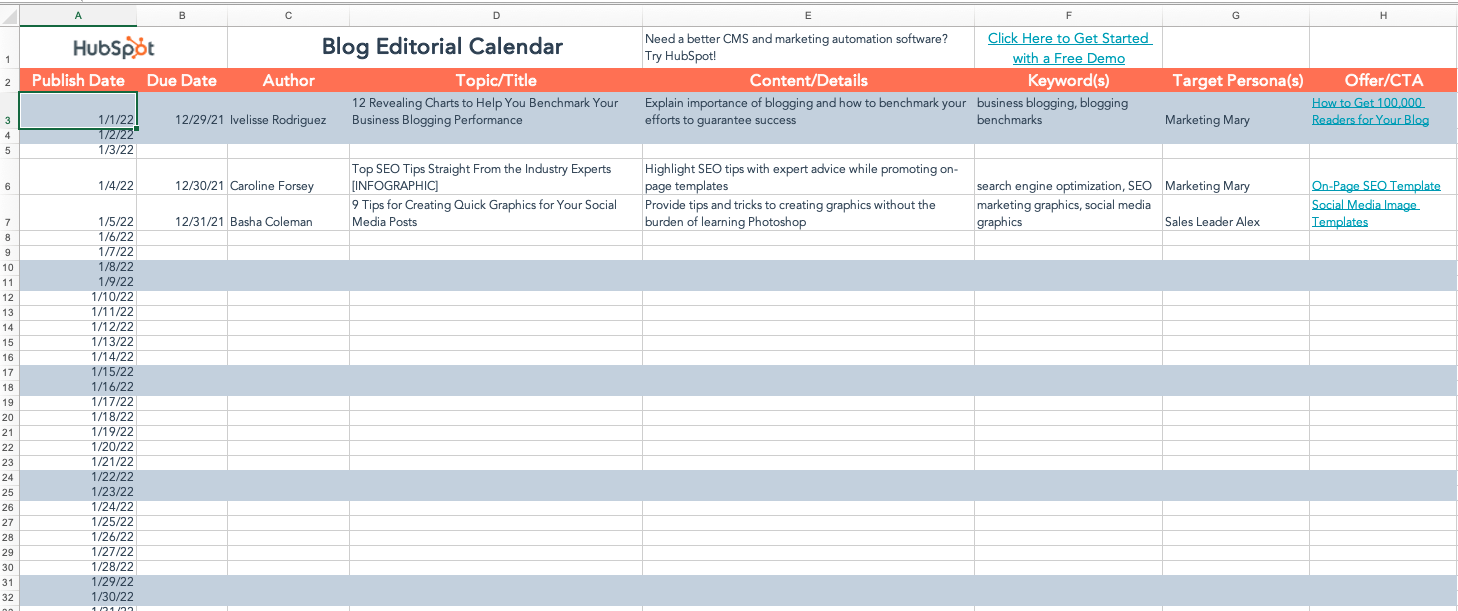 Source: HubSpot
With successful content, it is important to think about the user experience and quality. Brainstorm an editorial calendar that fits your business goals and buyer personas.
Digital marketing agencies can use this calendar to assign content, keep track of keywords, and determine which audiences they're targeting with each post. On top of that, it will ensure that they're posting content regularly. 
Create an Effective Digital Content Strategy 
Content marketing is a great way to grow brand awareness and generate interest in your products or services. However, in order to be effective, you must develop a detailed digital content strategy to guide your decisions. 
Be sure to track your success using KPIs that align with your goals. Once you've determined the objectives of your campaign, carefully study your audience to identify the best way to reach them. Focus on what they're most interested in in order to create engaging content that ranks on SERPs. 
Once you've identified what type of content to produce, what topics to cover, and what channels to publish on, create a content calendar to align your team and ensure that you're posting content regularly. 
After structuring your content marketing strategy, take the time to play around with the workflow and pieces of content. In the future, you can reassess and perform a content audit to see what's working and what isn't.
All businesses need a successful digital content strategy to keep ahead of the competition – don't let your team fall behind.
Hire a marketing team to support your digital content strategy.
Additional Reading:
Need Help Finding a Company?