With a competitive landscape, it is more prevalent than ever to update any outdated marketing methods to attract customers. Businesses looking to engage new and existing customers should hire a video marketing service to create conceptual and eye-catching content. Learn how to find and hire a video production company.
Digital marketing strategies are relying heavily on video content. With the popularity of social media impacting all generations, companies need to find more opportunities to increase clicks on their products and services. 
It is time for companies to figure out how to engage their audiences by pressing play.
Video marketing is a tactic that uses videos to promote and inform consumers about your product or service. Videos boost engagement on social media, educate audiences, and reach a larger audience. 
In fact, between 2016 and 2019, the amount of time users spent watching online videos increased by 59%.
Videos are attractive to consumers, but also provide marketers with a medium that is versatile and appealing. 
If your company is looking to leverage video marketing, it is time to find the right video production company that will deliver all aspects of video marketing services. 
Use this article as a guide to starting your journey into the video production realm. 
Read, '4 Trends Shaping the Digital Marketing Landscape.'
4 Major Opportunities for Video Marketing Services
Before hiring a video production company, it is important to know what type of video your company wants to make. 
There are four main video marketing opportunities for businesses:
Educational: Videos that teach your audience something new - these can be tutorials, industry updates, and explainer videos. Educational videos will build trust between your company and audience by establishing your expertise in the industry. 
Company Culture: Videos that show off your company's personality – these include videos that explain your mission, events, and branding. Company culture videos can give your audience an idea of what's important to your business.
Product: Videos that get people interested in your products – these include demos and product launches. Product videos are an easy way to show off what your product can do. 
Testimonials: Videos that show what people think about your business – these can be from customers and employees. Testimonial videos allow potential customers to see what your most trusted audience thinks. 
With an idea in mind for your video, it is time to seek out an agency to put your vision together. 
Additional resource: 'How to Build a Strong Video Marketing Strategy in 2019'
Common Questions About Video Marketing
How Much Does a Video Project Cost?
Video production costs are based on a few factors. Creating an accurate quote at the start of the project might be difficult as changes and updates arise. 
In the US, the average video project can cost between $800–$1200.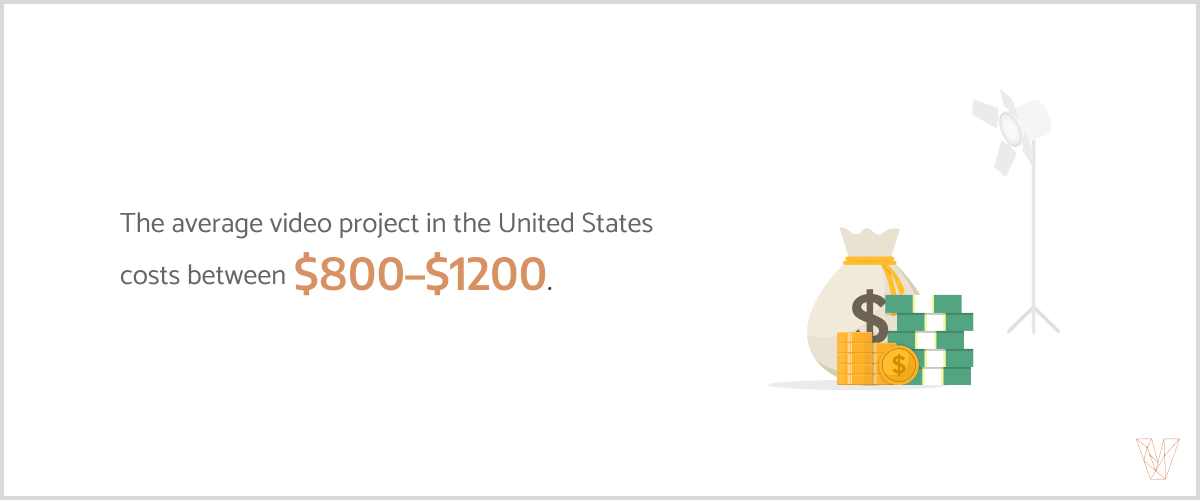 If your video is simple and within a reasonable length, it will likely cost less. But to create an engaging video with animation, sound, and other elements, the price will likely go out as logistics are settled. 
Dan Lichtenberg, CEO & Creative Director of Slow Clap Productions, says that, 
"The way Slow Clap works is that every project is a "small batch" custom produced project, with its own unique variables like subjects (if it's doc-style) or talent (if it's scripted), locations (local or out of town), production values (for more polish, expect to pay more money), labor costs (dependent on market's cost of living), and so many other things. But the single most important piece of the scope that dictates cost is creative."
The CMO at MediaPeanut, Sofia Morales, believes that experience is also a factor. 
"Established video marketing agencies charge more as they have a good portfolio and body of work for their projects while new agencies charge lower because they are yet to prove their body of work and the quality of videos produced," Morales said. 
Your video's budget could also be determined by turnaround time. Be sure to plan ahead and leave plenty of time for your project to keep your costs reasonable. 
Factors that Impact Video Production Costs: 
Talent
Location
Production value
Licensing fees
Editing
Labor costs
Agency experience 
Turnaround time 
How Long Can a Video Project Take?
The time it takes for a video project is also dependent on what you're looking for. 
On average, the entire production process should take about two months with the right plan in place.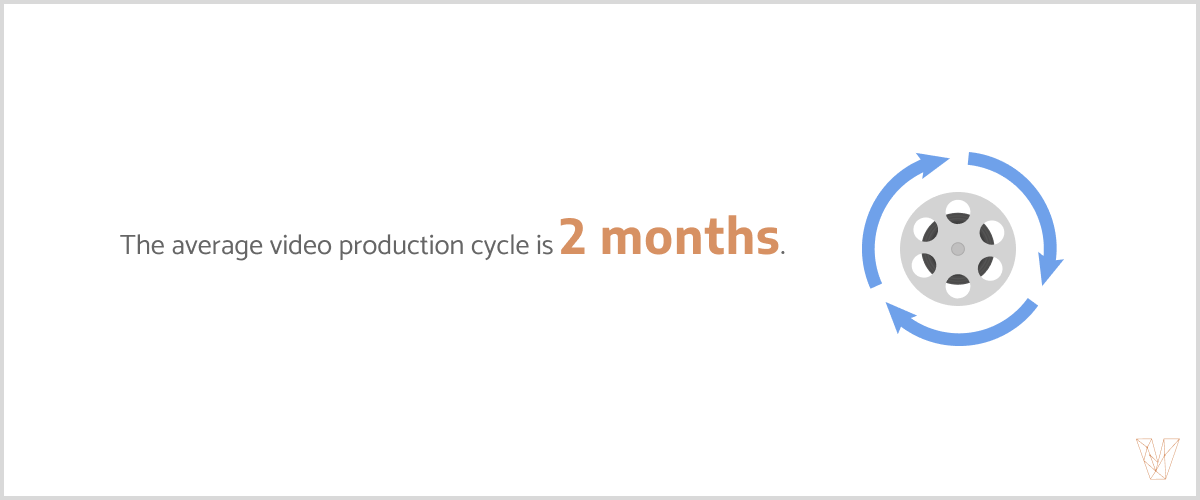 Kat Green, a multimedia creative strategist at Online Optimism, says that video marketing has a different timeline than other digital marketing projects. 
Video projects can include scripting, location scouting, and other factors, depending on the video type. 
"Unlike other departments in digital marketing, video requires more work from outside vendors and participants, so the project timeline is longer," Green said. 
Ryan Yount, the founder of LuckLuckGo, agrees. 
"It depends on the video length and the project's demand," Yount said. "What are the demands of the client? What is the niche? What type of graphics and visualizations?"
Once all logistical aspects have been handled, make sure to know exactly who you're working with. 
Who is in a Video Marketing Team?
A successful video marketing team will need to include at least four key people.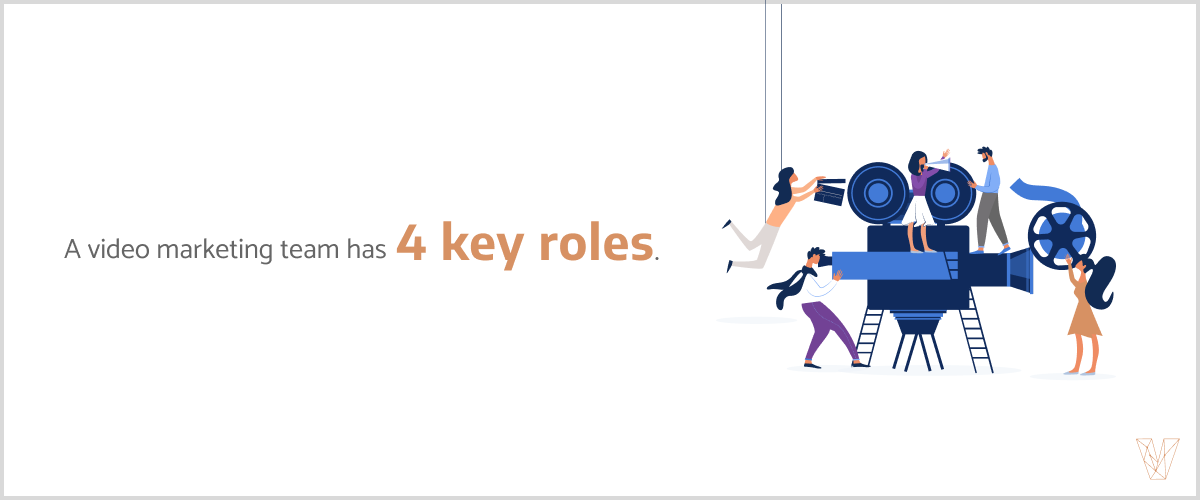 Every company is structured differently, and there is also room for additional team members to help with the overall production. 
To pull off video marketing services, these four roles need to be met:
Videographer: the primary content creator that helps with scripting, storyboarding, editing, and more.
Video Content Manager: the team member who spearheads all of the logistics.
Video Coordinator: the team member who works closely with the manager and helps with all of the planning.
Video Marketer: the team member who will help with promotion and building campaigns. 
Make sure that you're working with a video marketing team that is best equipped to fit all of your needs. 
Steps of a Video Project 
A video production project contains multiple steps, but all of them fall into three main buckets. 
Video production includes pre-production, production, and post-production.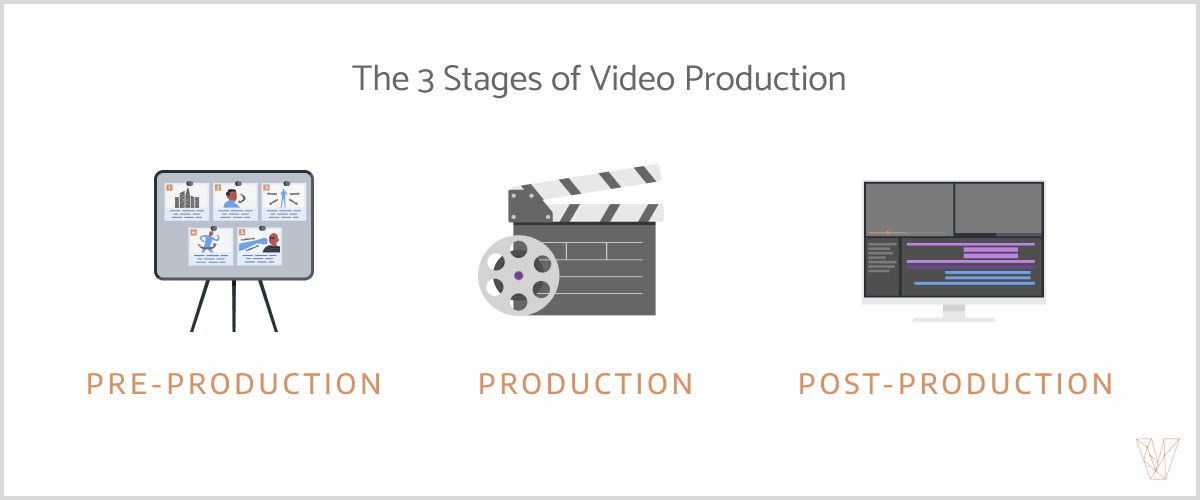 All of these production phases include specific processes:
Three Stages of a Video Production

| | |
| --- | --- |
| Pre-Production | the planning stage where strategy, scripting, and logistics are discussed |
| Production | the stage where the video is shot or created |
| Post-production | the stage where editing occurs - sound and other effects are added, and changes are made.  |
Once the video is completed, it is time for you to work with the video marketing team to see the best strategy for promoting the video. They will have the right insight into how the campaign should occur. 
Explore the best video production packages. 
What to Look For in a Video Editor
When hiring video marketing services, it is important to have a connection with your potential provider. 
Danielle Redcloud, a researcher at NWPH, says, "It's critical to consider whether the video production company you're about to hire can create high-quality content on time and on budget." 
Redcloud follows up by saying that motivation, desire, and other factors are crucial to finding the perfect fit in a video editor. 
Experience is also a major factor – be sure to ask for examples of past work to get an idea of if this company can produce. You also need to inquire on what services they offer — is it just video creation or do they provide added support after the project is completed? This information is important to know because it lets your internal team know what to expect from their end. 
During the pre-production phase, you will get an idea of how well a video production company can capture your vision. It is even more important for your company to be prepared for hard questions – make sure you're as transparent and prepared as possible. 
Lichtenberg continues by saying:
"The more educated our clients are about the video production process, the smoother the process tends to be." 
After all, it is a partnership. 
Video Marketing Services: Time to Hire
Adding a well-produced video to your website and social media can improve your customer engagement and user experience, develop credibility with your audience, and drive conversions for multiple domains. 
With businesses employing video marketing services now more than ever, it is important for your business to avoid getting lost in the shuffle. The search should begin today!
Interested in video marketing services? Take a look at our directory of video production companies to begin your vetting process. 
Additional Reading
Need Help Finding a Company?