Mobile video advertising is a great outlet for businesses looking to improve their company's advertising approach. Take a look at four examples of different mobile video advertising campaigns that were effective for popular businesses.
Updated November 4, 2022
How long are you on your phone each day? How long do you spend time on social media?
While these answers might vary depending on the individual, a study found that people spend nearly two hours a day between the top social media platforms including Youtube, Instagram, LinkedIn, and Snapchat. 
During that time, how much of that time is spent sifting through mobile video ads? 
As the time spent continues to grow, businesses are starting to use video and leverage mobile video advertising to generate business with larger audiences and at a lower cost.
What is mobile video advertising? It refers to any online advertising that includes a video component. They go beyond traditional online advertising by including different aspects of video production within different channels for mobile users.
The benefits of mobile video advertising are endless – mobile videos drive better engagement, encourage sharing online videos with other parties, and can easily be tracked with key metrics like click-through rates and install numbers. 
Your marketing and advertising team should think of how your business can incorporate small instances of mobile video advertising in their overall marketing strategy. 
This article will cover how larger named businesses use mobile video advertising through social media to attract new users and increase retention rates with their target audiences. 
Hire a video marketing service to assist with your marketing strategy.
Mobile Marketing & Advertising Examples
1. Grammarly Allows Users to Travel the World on YouTube
2. HelloFresh Makes Users Hungry on Instagram
3. Hopper Targets Travelers on Snapchat
4. Chipotle Blends Creativity & Promotion on TikTok
1. Grammarly Allows Users To Travel The World on YouTube
YouTube, the landmark video platform, saw an increase in ad content as we moved into 2021. 
With over 2 million users, brands and businesses of any size can leverage YouTube to establish a new following and increase engagement with a cost-effective ad campaign.
Grammarly, a web extension that provides grammatical support for writers, builds their social marketing strategy using mobile video advertising on YouTube.
One of their ads branded as "Words to Travel the World" focuses on a recent college grad, avid traveler, writer, and of course, a Grammarly user.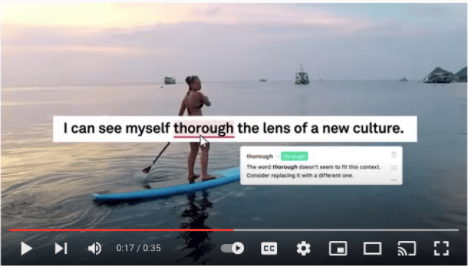 In the YouTube ad, the subject mentions how Grammarly helps her become a better writer and how it helps her impact other people's lives.
With visual imagery from her travels and Grammarly pop-ups throughout the ad, users can join in on her story through transitions that go beyond words on a page. 
It also encourages potential users of the platform to be successful writers using the service. 
2. HelloFresh Makes Users Hungry on Instagram
Instagram allows mobile video advertising to take shape in different forms. Instagram ads appear throughout a user's feed or their story menu on mobile apps and desktop formats.
Since Instagram is known for breathtaking imagery and creative content, mobile video advertising is just another way for businesses to showcase their services and products in a creative way.
Meal kit delivery service HelloFresh advertises videos on the social media platform. Whether it is ads that showcase deals for free meals or longer cooking tutorials, the brand regularly advertises their products in high-quality content. 
The in-app video ad seen below shows an overall unboxing of a HelloFresh meal kit, prep work, the entire cooking process, and final product within 30 seconds.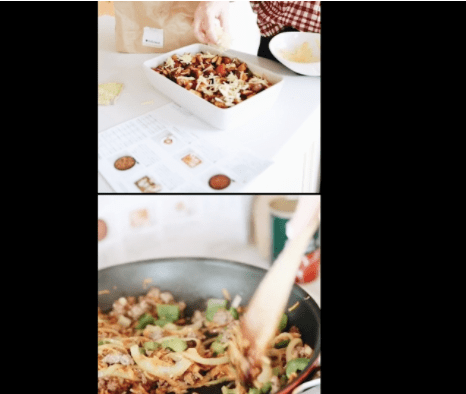 These ads grab the attention of inspiring cooks or foodies looking to try something new in a quick turnaround – most HelloFresh meals take longer than 30 seconds, but less than an hour.
People generally watch ads that they're interested in, and food and food prep are a high priority for many internet users. 
HelloFresh uses Instagram to leverage food lovers to use their products and services, using stimulating visual and interactive elements. 
Additional Reading: 'How to Create an Instagram Content Calendar'
3. Hopper Targets Travelers on Snapchat
Snapchat offers a lot of opportunities for businesses looking to reach younger generations. In fact, that platform reaches 75% of Gen Z and Millennials in the US.
Over the years, Snapchat has gone beyond Snapstreaks and sending funny filters to friends. It's become a marketing channel on mobile devices that helps companies with brand awareness. 
Hopper, an airline booking app that helps users know the best time to book flights, uses Snapchat in-app video ads to leverage their business.
Using geotracking and radius targeting, their simple ads are able to reach Snapchatters in different areas with relevant offers.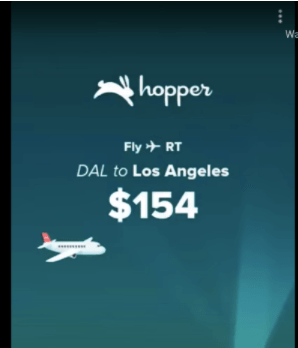 The creative was designed to promote specific deals with hyper-local ad targeting that promoted the urgency and luxury of travel while delivering a seamless user experience to attract users. 
In the end, this mobile video advertising campaign worked well for Hopper, leading to 4x flight book rate and increase in downloads. 
With a simple call to action, Hopper was able to quickly scale by targeting a specific audience using a video ad format. 
Additional Reading: 'How to Make a Group Chat on Snapchat'
4. Chipotle Blends Creativity & Promotion on TikTok
TikTok has become the primary social media platform for younger generations. More and more businesses are taking their services to the next level using their short video highlights – making it the prime outlet for mobile video advertising.
Chipotle has over a million followers on TikTok. Their content varies, promoting potential Chipotle-inspired Halloween costumes, new menu items, and hacks for how to eat their products.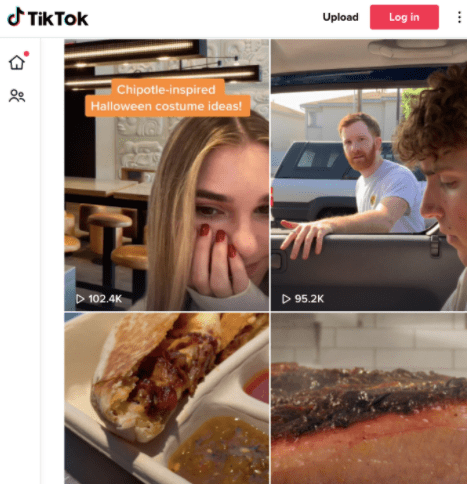 By appealing to food lovers, Chipotle can take their traditional offerings and add a creative twist that encourages user engagement and increases in sales and monetization.
Additional Reading: 'TikTok Branding: Ultimate Guide'
Use Mobile Video Advertising to Promote Your Business
Mobile video advertising allows brands and advertisers to remain connected to their customers, which is prevalent in a world that's always online or on their mobile devices. 
The idea of mobile video advertising allows for more creativity, personalization, and flexibility in the app marketing field. 
Use these examples to inspire your mobile video advertising campaign on social media to increase brand awareness and conversion rates. 
Explore how to find and hire a video marketing agency. 
Additional Reading:
. 
Need Help Finding a Company?