You can make your landing pages convert by putting your most important content at the top, making the page part of your sales funnel, and showing off your brand's story on the page.
"Never start a marketing campaign without a dedicated landing page," proclaimed Oli Gardner, founder of Unbounce and one of the foremost CRO experts of the industry.
For the uninitiated, a landing page is a standalone web page that is designed to provide information about a specific product, service, or brand campaign. The purpose of a landing page is to get visitors to take a deliberate action that eventually leads to them making a purchase from you. Web design companies and user experience designers can help you identify what to include on landing pages that convert.
Quite a task, isn't it? This is why landing page optimization is a topic on which treatises are written and certifications are offered.
Crafting the perfect landing page falls within the wider domain of conversion rate optimization (CRO), which in turn is the logical continuation of digital marketing channels such as SEO and PPC.
Needless to say, it's a process marked by endless trial and error, adjustments, and experimentation. In this post, I reveal some of the lesser-known — but more effective — of the myriad options you have to subtly "nudge" visitors on your landing page toward conversion. From my experience, these tactics work equally well for business websites of different products and services, verticals such as retail or SaaS, or transactional divides such as B2B and B2C.
3 Ways to Improve Your Landing Pages
Put your most important content at the top
Make the landing page part of your sales funnel
Show off your brand's story
1. Put Your Most Important Content at the Top
Your landing page must get to the point as soon as it displays. Your main message should be crystal clear to users the moment they set their eyes on the landing page.
Just like a newspaper displays its attention-grabbing headlines first, your website should exhibit its main points at the top of your page. This design practice is termed "above the fold" — from the newspaper business — and makes it easy for customers to understand your products or solutions from the second they land on your site.
Although people do scroll intuitively, every element of your page needs to encourage them to do so, especially if you have more information you'd like them to see. Data from Nielsen shows that people spend more than half of their time (57%) on a page just viewing the first screenful of content.
Source: Nielsen
This means only one thing: You need to place your most important content and elements prominently at the top of your screen. This can include banner images, CTAs, taglines, form fields, the headline and first paragraph (if it's a blog post), product images (if it's an e-commerce product page), widgets, and even ads (if those are what you want users to click on).
QuickSprout, for example, makes it clear what its main message is: "Grow your website traffic."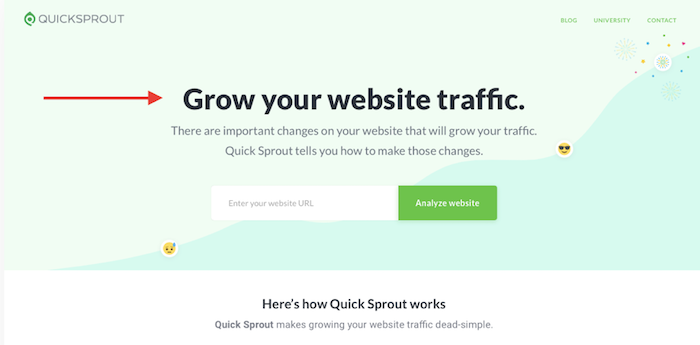 You know what QuickSprout is about the moment you look at its landing page.
You also need to form a deep understanding of the browsing and interaction patterns of your target audience (including page scanning, viewing, reading, clicking, tapping, and typing) and design the visual hierarchy of your web page or app screen accordingly.
2. Make the Landing Page a Crucial Part of Your Sales Funnel
Before you put countless hours strategizing digital media campaigns, developing target personas, designing your ideal customer's journey, and perfecting your landing page, get this: 96% of the visitors who come to your website have no intention of buying anything from you.
What do they want, then? Well, your marketing is likely what brought them to your site in the first place. So in all probability, they're just looking around, gathering information, and trying to find solutions to a problem.
This is why a foolproof, integrated marketing strategy, involving click advertising with retargeting, drip email marketing, personalized content, and non-interruptive but proactive customer relationship management (CRM) combined with multivariate testing is necessary to keep customers moving through your funnel.
The landing page lies at the center of every path that brings in visitors and leads them through all these channels. Therefore, it's imperative to map the customer experience with your strategy across various channels. Your marketing automation stack should facilitate solid customer workflows and be able to capture leads as they enter, interact with, leave, or return to your landing page.
Contrary to the oft-given "expert advice" of using just one clickable CTA per landing page, you might need a balanced set of on-page elements to convert the bulk of your visitors (except for the "ready-to-buy-right-now" segment). These include:
Live chat
Email subscription box
Inquiry form
Video
Links to critical references or resources
Kajabi is one example of a platform that's especially helpful if you're looking to monetize a brand with a DIY website that uses easy automated marketing sequences to sell products. It has a multifunctional interface that lets businesses build, publish, and sell courses and premium membership subscriptions via landing pages that can be part of multichannel buyer funnels.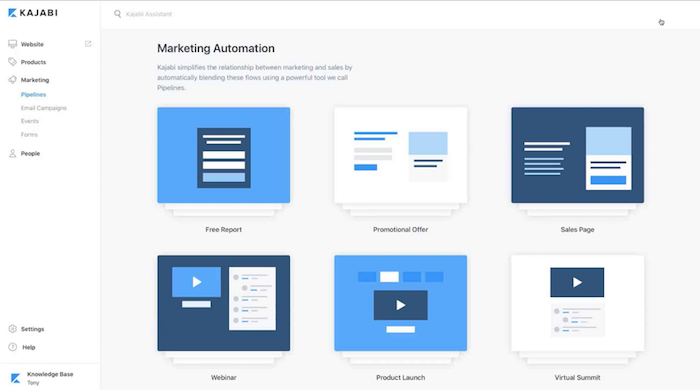 One of the most important features of Kajabi is Pipelines, which are essentially multi-channel automation workflows for turning your landing pages into powerful funnels via pre-built templates. You can tweak these depending on the use case — whether it's a product launch, a webinar or event invitation or a limited-time sales promotion.
You can go on to make your landing pages media-rich by adding overlays, video backgrounds, and scroll-triggered animations and integrate them into to your pipelines, spanning email message drips, webinars, and other content assets.
When all is said and done, your landing page must be a critical cog in each and every one of your cross-channel sales funnels. The tools you use to build and maintain your landing page need to:
Enable you to build a comprehensive customer experience
Put in place triggers for further interactions
Facilitate extensive A/B and multivariate testing
Track visitor behavior for further segmentation and remarketing
Collect and use customer data via your CRM
Integrate with other tools in your martech stack
A landing page is essential for every step of your sales funnel.
3. Show off Your Brand Story
Without storytelling, there is no conversion. Your brand may have the most fascinating story and noble values in the world, but if you don't convey them to your audience at the decisive moment when they're about to establish a monetary association with you, it amounts to nothing more than a tree falling in a forest.
Take outdoor clothing brand Patagonia, for example. Over the years, it has become one of the most respected brands in the world. At the very mention of Patagonia, what are the initial thoughts that run through your head? Most likely, these include traits such as:
Active contribution to (not just awareness of or concern about) the environment
Adventurous
Transparent
Socially responsible
Obsessed with quality
Much of Patagonia's success can be traced back to its values and well-crafted brand story. At one point, its homepage proclaimed, "What if running could save the rainforest?" From this alone, you can tell what the company's brand values are, the customer segment its products are geared toward, and how the brand and its audience can join hands to contribute toward a greater cause.
How do you replicate this success and build a bond with your customers at every landing page? The copywriting team behind the scenes uses their superior storytelling abilities to sell more than just gear; they sell a lifestyle. Simply wearing anything that has the logo on it is a statement that reflects everything Patagonia stands for.
For example, every product page on Patagonia's website has a section that reinforces its brand values of environmental responsibility and fair labor practices by detailing how and where that particular product is manufactured.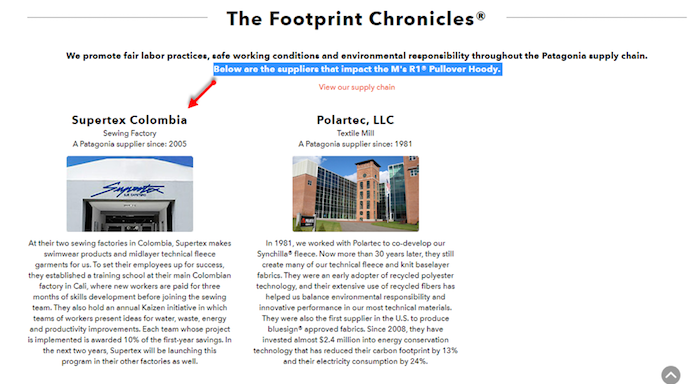 Source: Patagonia
Patagonia is fully transparent about its products and their origins.
Can you go behind the scenes and be radically transparent about your product or service like Patagonia does?
The ability to set yourself apart in today's crowded landscape comes down to exceptional storytelling.
Ultimately, "selling" your brand story in a way that connects with people on a personal level by aligning to their values and life goals is what creates lasting relationships and loyalty.
Successful Landing Pages Lead to Conversions
In every industry today, buyer journeys are becoming increasingly complicated and fragmented. Higher competition isn't making things any easier. Brands can wrest some degree of control over the sales process by using behavioral changes that induce action via their landing pages.
Conversion optimization is seeing constant improvements, thanks to new technology that leverages user data and behavior to identify user pain points, deliver dynamic and relevant content, and create an integrated, personalized cross-channel customer experience. An engagement-focused approach to conversions that straddles both the needs of the customer and revenue targets of the business while also building brand loyalty is one that will find success.
Designing a successful landing page will lead to more conversions and, therefore, more money for your business.
Need Help Finding a Company?