Are UX design and web design the same? When looking at UX design vs web design, it is important to consider all aspects of the design types and their overall importance to a visual experience. 
You're browsing a website for a new pair of shoes for your cousin's wedding next month. You find yourself impressed with the color palette, navigation, and overall user experience. This encourages you to make a purchase and sign up for their email list that sends out sale opportunities and deals. 
Are you complimenting the site's design or UX? Or both?
For non-designers, the difference between UX and web design is likely unknown. But if you're looking to build a website for your business, knowing UX design vs web design becomes an important factor. 
How to find out what your company needs for your website? The answer is likely both, but this article acts as a guide for businesses that are unsure what they're looking for. 
This article defines UX design and web design, before going into their key aspects.  
UX Design vs Web Design
What is UX Design? 
User experience (UX) design is all about understanding why. Is there a reason why this button is a different color than the others? Are there more ways to scroll through the content on this page?
A UX designer focuses on those questions and more – their goal is to deliver a high-quality user experience for site visitors, app users, and more. 
Kevin Mann, Clutch Senior UX Designer, says that "a great UX design is a product that doesn't get in the way of a user accomplishing a task, rather, it makes it easier and delightful in accomplishing tasks."
To create an impactful UX design, it is important to understand user habits, needs, behaviors, and more. 
UX and UI design are generally lumped together, but UI design focuses more on how a user interacts with a website or product. 
Additional Reading: 'Five Elements of UX Design'
What is Web Design? 
Web design is defined as a process for creating and executing a visually appealing presentation of content and information.
This includes layout, content production, graphic design, functionality, and more. 
Web design focuses on the "frontend" or what users can see, while web development focuses on the "backend" or what users can't see. 
A successful or unsuccessful website design can impact the site's search engine performance, which helps users find your website. 
Web designers have a mastery of different tools and software. Their expertise should provide an added value to your company's website. 
Read this: 'How to Find & Hire a Web Designer'
Key Aspects of UX Design
As we've mentioned, the main component of a great UX design is user feedback. Without that, there is less value in your company's website. 
"The value of UX design is really simple: listen to your users," Mann said. "If you listen to your users, involve them in the process of designing your products and refine your products based on their feedback."
This turns potential users into loyal customers, according to Mann. 
UX design involves:
Strategic development
Building wireframes and task flows based on users
Collaborating with other designers and developers
Mann's process as a UX designer includes the following key aspects:
Define the problem
Research the audience
Design rough ideas into low-fidelity wireframes or sketches
Get user feedback on those rough sketches
Implement the feedback to create a more polished design
Conduct usability tests to validate the designs
Prioritize any feedback gained from that round of testing
Iterate, iterate, iterate
Since UX design focuses on the impact of the user, it also directly correlates with business goals. If you want a customer to make a purchase or sign up for a service, your website needs to promote that action and encourage that behavior. 
For example, a directory on Visual Objects uses different colors to communicate important information to potential buyers. 
All content that buyers would want to know when hiring an agency is written in white, and any buttons or navigational elements are in orange. 
This choice might seem subtle to the average site visitor, but the UX designer made this choice for a reason – to encourage visitors to browse through and find out more about different companies. 
Key Aspects of Web Design
While UX design prompts certain behaviors, web design helps drive the user there. 
Aspects of web design can include:
Webpage layout
Navigation
Programming of features and functionalities
Content production
Graphic design elements
Typography
SEO factors
All of these aspects have a different level of importance but need to be included to have a well-thought-out web design. 
Web design services focus on components from both a visual and messaging perspective. 
Using the same example as above, a Visual Objects directory page includes portfolio items for each company. 
By featuring these different projects, users can see what these companies offer potential clients.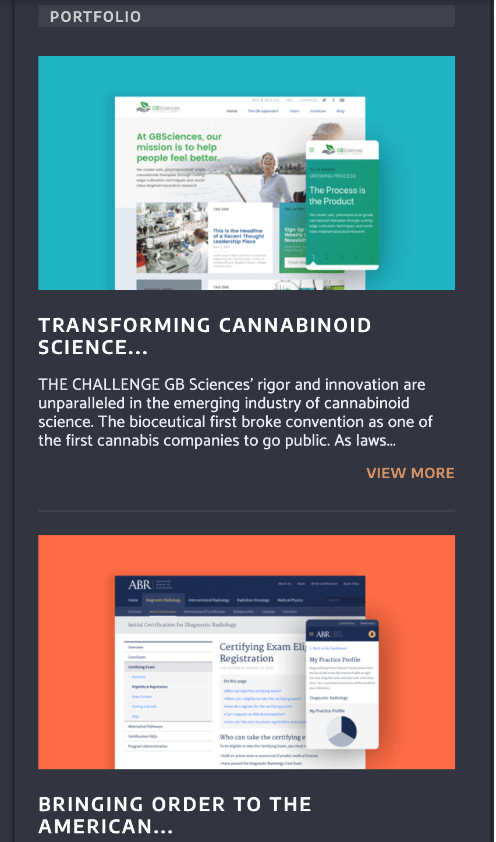 Behind that messaging, users are able to see a visual representation of their work, which wouldn't be possible without a seamless website design. 
UX Design & Web Design: What Makes Them Work Together 
When discussing the difference between UX and web design, it is important to factor in how they work together. 
"UX design is actually an aspect of web design," Mann said. "Font usage, colors, messaging style, layout, and button interactions are all a part of web design."
For example, selecting the color green can be an artistic web design choice while selecting green to entice users to have a specific emotion falls in line with UX design. 
To create a seamless and visually appealing website, factor in all aspects of UX and web design to attract users and strengthen web presence. 
UX design v web design? They both come out on top. 
Find a web designer or UX designer for your business needs. 
Additional Reading:
Need Help Finding a Company?