Businesses that consistently evaluate and invest in their web design, UX, content, and online reputation management have a strong approach to their web presence management. 
Updated August 29, 2022
If you want to keep up with the competition, you need a good business website and a strong online presence. But it's not enough to just hire a web designer, build a website, and maintain active social media feeds. You need to proactively manage your web presence – make changes, adapt to trends, ensure your brand is being represented in the right ways online. 
This broader effort is referred to as web presence management or online presence management. This article defines web presence management and methods through which businesses can improve how they manage their web presence. 
Business owners looking to improve their website should hire a web developer to assist with their overall online presence management. 
What Is Web Presence Management?
Web presence management is the process of managing and maintaining your business's digital footprint all over the internet. The main goal of this process is to boost your brand's value and reputation and driving more traffic towards your business.
Web presence management can encompass an enormous amount of content creation tools and techniques: 
Web design 
Social media marketing 
Digital marketing 
SEO (search engine optimization)
Content marketing  
PPC (pay-per-click) advertising
Reputation management
It's all about using these different tools to make your brand's web presence the best it can be for target markets. A few key ways businesses can pursue web presence management include: 
Improving user experience and page load speed
Developing user-focused content 
Growing email outreach
Managing online reputation with social media profiles
Improve Your Website's UX and Load Times
Slow and poorly designed sites are a real turn-off for users. 
From these statistics, it's clear to see that user experience is a serious web design challenge. Your business website needs to be fast, reliable, and engaging.
A element of web presence management is to always look for ways to improve your web design, making your site speedier and easier for customers to use. Focus strongly on your website's functionality and accessibility for all types of users. 
Quality user experience design firms understand the importance of intuitive design and optimizing for site speed. Make sure you communicate with your design partners that you want your site to align with UX best practices. 
Additional Reading: 'Five Elements of UX Design'
Create Value Through Customer-Focused Content  
It's important to create content that genuinely appeals to your audience and offers some benefit to them. Simply creating blog content that isn't useful or relevant can hurt your search ranking.
If you want to manage your online presence effectively, you also have to understand the importance of SEO. Quality, customer-focused content supports is a critical part of an effective website strategy and benefits your site's SEO. The vast majority of people use Google to find things, and if they're looking for products or services your brand offers, you need to make sure your content appears on the first page of their Google search results. 
VineBox offers a monthly wine subscription, introducing subscribers to new wines on a regular basis. It uses its blog to connect directly with its users – who are likely wine enthusiasts – with content about wine that is useful, educational, and well-written articles.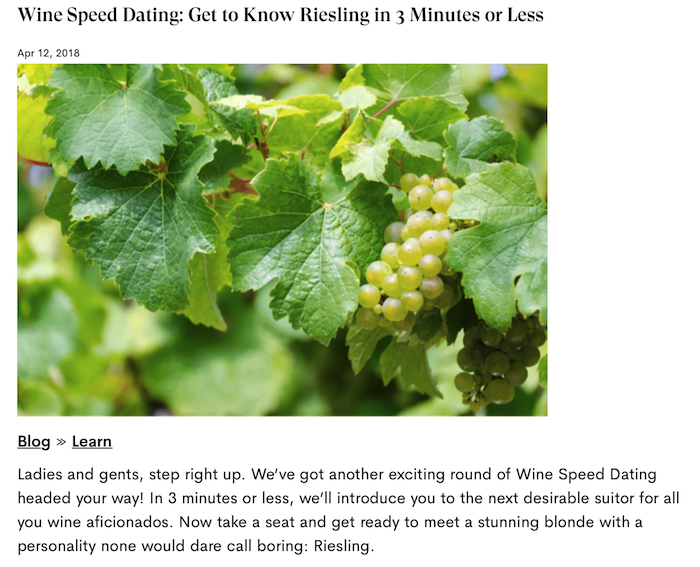 These articles are excellent for SEO and also build brand value by portraying VineBox as knowledgeable and helpful.
Read this: '4 Benefits of Local SEO'
Content shouldn't only be for your website - think about the content on your social networks like Instagram and LinkedIn. How your social media presence appears to outsiders is a key question when crafting a web presence management strategy. 
Your social media accounts should avoid controversy, provide helpful insights, lead consumers to their next steps, and more. Your social media accounts should also include your brand voice to ensure customers that you are serious about your services and mission. 
Build Your Email List
Another great method to strengthen your online presence is to build your brand's email list. The bigger your email list, the more people you'll be able to contact and market to. This can result in your brand's reach stretching further and further, leading to great ROI in many cases.
Digital Trends is a good example of how to build an email list for a target audience with an effective CTA. They recognize that people who are on Digital Trends are most likely looking to keep up with tech and computing news. So, they've tailored their email CTA accordingly, urging visitors to sign up to avoid "falling behind."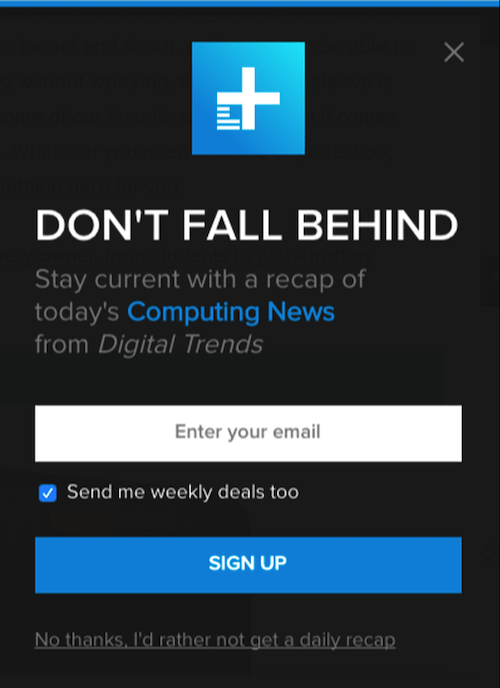 They also give users a choice of opting out of marketing emails, which helps maintain customer experience. 
Hire an email marketing agency to assist with your company's email campaigns. 
Reputation Management
Online reviews hold enormous influence in the modern world, especially within the buyer's journey for many potential customers. Statistics show that 94% of people have avoided a business after reading a negative review of it. What's more, customers don't tend to trust companies that have less than 4-star ratings. 
You can't just simply delete bad reviews or prevent people from writing them, but you can respond in the right ways.
Nike, like other brands, has set up its own Twitter help account, specifically designed to respond to user issues and complaints.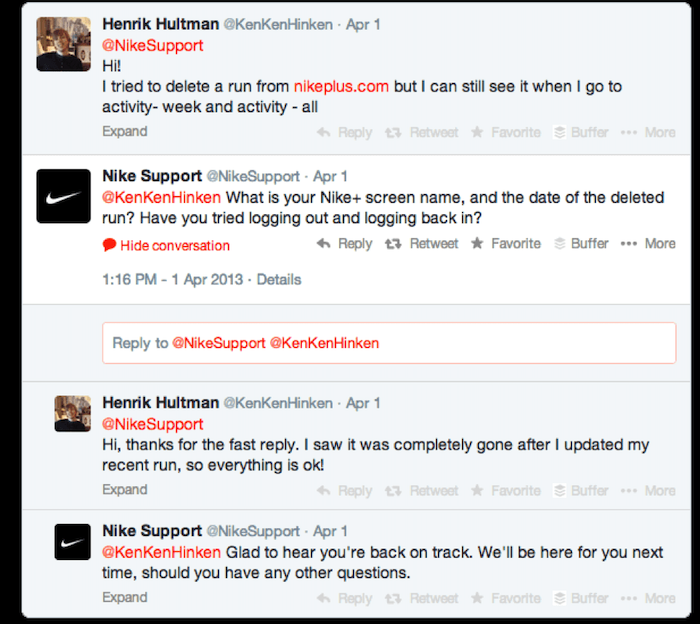 Source
This process is called reputation management. It's basically the way in which your company can influence its online reputation by responding to customer comments, complaints, and feedback appropriately. 
Reputation management also should impact other areas for companies like social media platforms and Google My Business listings. All of these platforms allow for users to comment on how a business works. 
If your small business manages your online marketing succinctly, your services will become more appealing to new and potential customers. 
Invest in Web Presence Management is a Continuous Process
Web presence management is a key tenet of brand awareness for companies in this age. 
These are just some examples of ways to manage your web presence. Web presence management is incredibly complex, and there are countless methods out there, so businesses should continue to do additional research and find the techniques that work for them. Continuing to visit and invest in their web presence will help businesses succeed over time online.
Additional Reading:
Need Help Finding a Company?