With modular web design, businesses can create a well-designed website in an efficient and seamless manner. For companies looking to design a website quickly, consider building a modular web design that meets client needs and encourages creativity. Read on to learn more about how your business can benefit from modular web design in your next web project. 
Updated October 27, 2022
What is Modular Web Design?
Modular web design gives more control and flexibility to less experienced developers and designers.
This web design process has shifted into the modern era of traditional website design. Traditionally, website design has involved a page-based design process. 
Designers create unique page templates for each page type.
Modular web design involves creating a design system with reusable and scalable components and patterns. These patterns or features can be combined in various ways across a website to create pages with very little effort.
For larger businesses, this is extremely beneficial because it saves time and effort.
The way modules are arranged to create new pages is entirely up to you, and as content needs a change or if you need to complete a redesign, those existing modules can be adapted.
Explore our directory of UX (user experience) designers. 
Features of Modular Web Design
Modular web design takes pieces of a design and fits them into a visually appealing block. 
These modules allow for more fluid and flexible design layouts, similar to building blocks.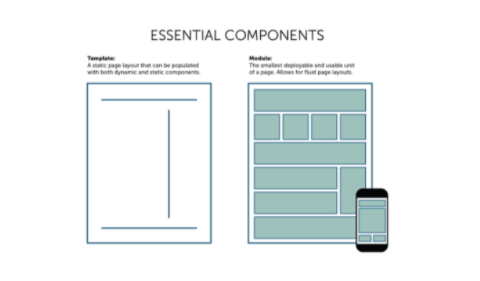 Each template contains these content blocks. But while the conventional web design method focuses on creating additional templates, the modular web design approach focuses on the creation of specific modules and elements that can be available for reuse.
As your team works through the modular web design, it is the perfect opportunity for your business or website owners to look for interactive elements that can be reused elsewhere on the website. 
That way, your business can identify rules and patterns for future design projects. Putting together documentation for this is another way for your business to save time with a modular website design as well. 
Uses of Modular Web Design
Reliability and consistency are key design pillars for web pages and other design assets. These are incorporated in modular web design, in particular with pillar pages.
A pillar page is an index for topic clusters on a webpage or even a homepage. The role of a pillar page is to cover all aspects of a topic and then link out to smaller posts or landing pages to explain topics in more detail.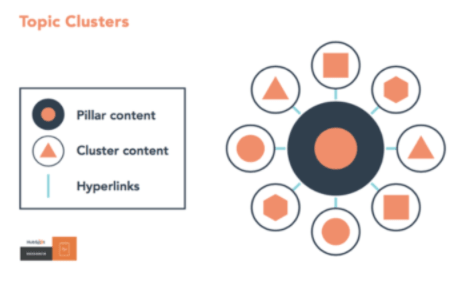 These pages also create link networks within a site. 
Modular web design is used in this type of website because all of the components from a main page are combined with new ones, piecing together different types of information. 
Your business needs to add components with a purpose to your website's design. All of the components your team builds should have a specific goal in mind. 
Having a modular web design allows businesses to be strategic when it comes to creative content and graphic design elements.  
Additional Reading: 'What is Drupal Web Design?'
Advantages of Modular Web Design
The major benefit of a modular web design is that there is a lot less work that goes into this process - consider it as a way to streamline your web development workflow. 
New pages can be launched quickly because it's easy to create new modules that don't require the full cycle of design and development to launch. 
This process is also less expensive to build and maintain. Once all of the original components are developed, your team will never have to add new designs again.
Over time, you'll be making smaller changes and improvements to your site, which limits the amount of backend development work required. In turn, you will be saving a lot more money without sacrificing quality.
Modular web design allows the potential for growth. If your company is in a competitive market, your website has to move fast to keep up, while remaining user friendly. This design tactic gives your team the flexibility to make changes to your website without having to do a complete overhaul. 
These components are easy to maintain and amend as well. With traditional design approaches, the smallest change could be time-consuming. With modular web design, your team can adjust your content based on real-time preferences of your target audience. 
Businesses Should Invest in Modular Web Design for Future Projects
While modular web design allows for creativity like bespoke website design, it also allows for different opportunities for future web projects and new websites. 
Modular web design requires users to be organized, anticipate future needs, and remain flexible. 
A modular web design project saves time and money for all parties involved while remaining an opportunity for creativity and originality. 
Larger companies might find that a platform that uses modular web design might be the best path for their growth. 
For businesses looking to invest in an efficient website strategy for their websites and web platforms, it might be time to consider a modern or modular web design approach. 
Additional Reading:
Need Help Finding a Company?